Podcast: Play in new window | Download | Embed
---
"There are two kinds of cardiologists: vegans and those who haven't read the data."

Dr. Kim Williams, MD President, American College of Cardiology
---
Imagine four commercial airliners crashing every single hour of every single day of every single year.
It's unfathomable. And yet that is how many Americans die from heart disease annually. In fact, an unbelievable 1 out of every 3 people in the U.S. will perish from this one disease.
Meanwhile, 70% of Americans are obese or overweight. In the coming decade, 50% of Americans will be diagnosed diabetic or pre-diabetic. An economic disaster, 75% of all health care costs in America are attributable to these and a few other chronic lifestyle illnesses.
It's devastating. And yet the most heartbreaking aspect of this crisis is that 80-90% of these illnesses are very easily preventable  and often entirely reversible via some rather simple diet and lifestyle alternations.
It's the food, stupid.
This week I'm joined by Kip Andersen and Keegan Kuhn, the filmmaking dynamic duo behind the groundbreaking documentary Cowspiracy, to talk about their brand new follow up. Equally groundbreaking, What The Health explores the relationship between our food systems and big business, exposing the collusion and corruption that is making us sick, keeping us sick and costing us trillions in healthcare dollars.
Whereas Cowspiracy explores the impact of animal agriculture on environmental health, What The Health focuses on human health. Perhaps the most important documentary you will ever see, it's a film about the power of special interest groups to drive unhealthy consumer spending habits. It's about environmental racism and the impact of animal agriculture on community health. And it's about why you need to rethink for yourself everything you've ever been told about the relationship between business and food, the impact of food choice on personal health, and your body's incredible, innate power to prevent, fight and even reverse the chronic lifestyle illnesses that are unnecessarily killing people by the millions.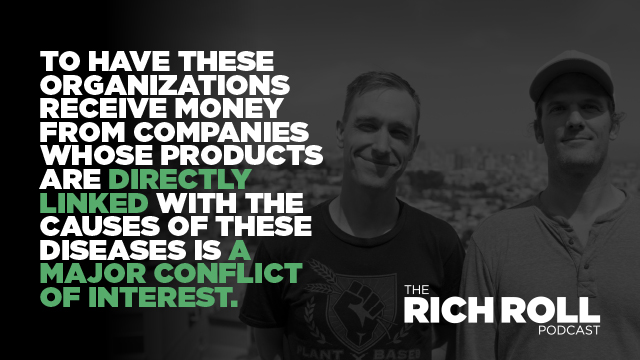 Starting March 16, the film will be available to watch worldwide at whatthehealthfilm.com – where you can also pre-order the DVD and cookbook as well as set up a screening in your town (I'm hosting one on March 29). In addition, for the first four days of the film's release (between March 16 – 20), Keegan and Kip will be donating half of all proceeds to Food Not Bombs – an amazing, for-purpose organization that feeds thousands of people free vegan meals across North America and the world.
Kip and Keegan are truly breaking paradigms. Making the world a better place. And changing lives with what I think is the most important film of the year. A film that just might save your life or that of a loved one. I aspire to their level of courage and advocacy. And I sincerely hope you enjoy this exchange.
On a final note, I'm hosting a private screening of What The Health on March 29 in Thousand Oaks, CA. Only a few tickets remain. To grab one, visit: whatthehealthfilm.eventbrite.com. [Update: As of March 16, all of the tickets are sold out].
Peace + Plants,

Listen & Subscribe on iTunes | Soundcloud | Stitcher
*Disclosure:Books and products denoted with an asterisk are hyperlinked to an affiliate program. We are a participant in the Amazon Services LLC Associates Program, an affiliate advertising program designed to provide a means for us to earn fees by linking to Amazon.com and affiliated sites.
The Plantpower Way  is available at these fine retailers!
Amazon  |  Barnes & Noble  |  IndieBound  |  Penguin
Are you a company interested in sponsoring the podcast? Click here to learn more & take our sponsor survey.
HOW CAN I SUPPORT THE PODCAST?
Tell Your Friends & Share Online!
Subscribe & Review:  iTunes | Stitcher | Soundcloud | TuneIn
Donate: Check out our Patreon account!
Download Our Free App! Now you can access, stream, download and share the entire RRP catalog in the palm of your hand on any iOS mobile device (iPhone, iPad and iPod Touch) with our mobile app. Never miss an episode, plus special announcements, discounts, giveaways. Already downloaded? Awesome. When you have a minute, and it feels right to you, do us a solid and give the app a review in the iTunes Store.