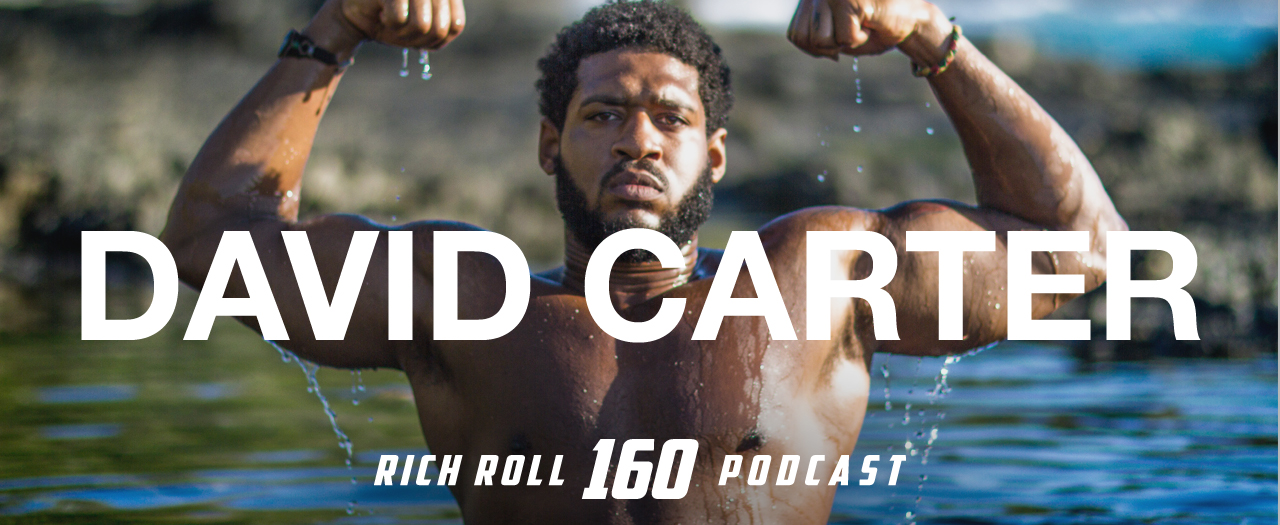 ---

"I can honestly say that being vegan is not only the most efficient way to be full-body strong, it's also the most humane; everyone wins."

David Carter
---
It's one thing to thrive on a plant-based diet as a skinny endurance athlete. But what about sports that place a premium on size, speed, agility, power, quickness and just plain brute force?
Is it possible to compete at the highest level of the NFL not as a punt returner, not as a quarterback or even a running back, but as a defensive lineman – a position where only the absolute biggest, baddest, strongest and fastest survive?
Meet David Carter — aka The 300 Pound Vegan.
Introduced to the game at age 5, David began his football career playing Pop Warner. He made waves at Fontana's Kaiser High School in Southern California and went on to become a star player at UCLA. In 2011, he was drafted by the Arizona Cardinals in the 6th round and has since been a bit of a journeyman defensive linebacker, playing for the Dallas Cowboys, the Oakland Raiders and most recently the Jacksonville Jaguars.
Like most athletes, David grew up eating tons of meat, fully adhering to the conventional mythology that in order to become muscle you must consume muscle – the more the better.
But as his career matured, David became plagued by a variety of persistent, chronic injuries including arthritis, tendonitis, nerve damage and chronic muscle fatigue. Not surprising given the nature of his job, but nonetheless devastating — ailments he simply could not overcome that left him sidelined despite the best sports medicine and rehabilitative resources of the NFL at his disposal.
David soon realized that in order to continue playing, something had to change. He began researching the cause of his conditions, as well as alternative remedies to resolve them at the source. Heavily influenced by a series of documentaries that included Forks Over Knives and the holistic lifestyle habits practiced by his wife Paige, David arrived at a rather counter-intuitive conclusion for an athlete whose professional career relies entirely upon physical prowess and sheer brute force:
all the nutrition he had been relying on to maximize his size and strength was actually killing him.
Therefore, in February 2014, David made a rather radical and quite controversial decision: he adopted a 100% plant-based diet.
Criticism came swift from all sides. Trainers, coaches, friends and fellow players all chimed the familiar refrain: it's impossible to maintain your weight and strength without meat!
But David has remained steadfast and confident in his decision.
Why? Because a battery of unexpected positive results came and came quickly. Eating entirely plant-based, David experienced more energy. His recovery time was profoundly accelerated. His stamina went through the roof. To the great surprise of his coaches, trainers and teammates, every single one of those nagging, persistent injuries mysteriously corrected themselves and ultimately vanished altogether. All his numbers in the weight room actually went up – this is a guy who can bench 470 and squat 660. Amazingly, he found himself quicker, more agile and responsive than ever. And perhaps most important to David, no living thing had to die in order for him to thrive.
Through football and his off the field advocacy for healthier lifestyles, animal rights and the planet, David is now devoted to a cause greater than his on field performance — being an example of positive change in the world.
There is quite a bit of feverish intrigue and anticipation about this episode. I'm happy to report this conversation does not disappoint. It's a special exchange with an exceptional human being that explores:
a typical day in the life of the NFL
a peek into the typical NFL diet
the specifics behind his lifestyle shift
how he has weathered the criticism
what exactly he eats on a daily basis
why he spends his off-season in Costa Rica
how yoga and meditation inform his game
his commitment to animal advocacy
redefining the social norms of masculinity
I sincerely hope you enjoy our discussion & look forward to your thoughts in the comments section below.
Peace + Plants,

Listen & Subscribe on iTunes | Soundcloud | Stitcher
SHOW NOTES
David Online: Website | Instagram | Twitter | Facebook
Background, Context & Reference:
Notable People Discussed In Today's Podcast:
Related Podcasts You Might Enjoy:
Production, music & sound design by Tyler Piatt. Additional production by Chris Swan. Graphic art by Shawn Patterson.
Special thanks to today's sponsors:
Squarespace: the easiest way to create a beautiful website, blog, or online store for you and your ideas. Visit Squarespace.com and enter offer code roll at checkout for 10% off.
Quickbooks Self Employed: easy-to-use accounting software for the self-employed. Try QuickBooks Self-Employed and receive fifty percent off at TrySelfEmployed.com/rich
The National Academy of Sports Medicine: looking for people who want an exciting career in the fitness industry, where you wake up every day doing something you love. NASM guarantees you'll land a job as a personal trainer within 60 days of earning your CPT certification or your money back – guaranteed. 
Go to MyUSATrainer.com for a free 14 day free trial of their fast and fun online program.
*Disclosure:Books and products denoted with an asterisk are hyperlinked to an affiliate program. We are a participant in the Amazon Services LLC Associates Program, an affiliate advertising program designed to provide a means for us to earn fees by linking to Amazon.com and affiliated sites.
The Plantpower Way  is now available at these fine retailers!
Amazon*  |  Barnes & Noble  |  IndieBound  |  Penguin
Are you a company interested in sponsoring the podcast? Click here to learn more & take our sponsor survey.
HOW CAN I SUPPORT THE PODCAST?
Tell Your Friends & Share Online!
Subscribe & Review:  iTunes | Stitcher | Soundcloud | TuneIn
Donate: Check out the DONATE button on the podcast homepage or click HERE to learn more.
Download Our Free App! Now you can access, stream, download and share the entire RRP catalog in the palm of your hand on any iOS mobile device (iPhone, iPad and iPod Touch) with our new mobile app. Never miss an episode, plus special announcements, discounts, giveaways. Already downloaded? Awesome. When you have a minute, and it feels right to you, do us a solid and give the app a review in the iTunes Store.
---