Podcast: Play in new window | Download | Embed
---
"It doesn't matter what other people think. Not everyone is going to always support you 100% but as long as you are doing you and you know that you're becoming a better person then that's what's important."

 Gwen Jorgensen
---
How does a relatively conservative, risk averse person evolve into an unbreakable champion? Someone confident enough to put everything on the line for an audacious dream?
This is the story of Gwen Jorgensen — an accountant turned 'Queen of Triathlon' who walked away from swim-bike-run at the peak of her powers to ply her skills in an entirely new discipline: the marathon.
Gwen's athletic career began as a swimmer, competing at the University of Wisconsin as a walk on before making the switch to track & field, maturing into an NCAA standout and Big 10 Champion. But the end of college marked the end of her athletic ambitions. Declining a professional running career, she opted for civilian life, joining Ernst & Young as a CPA.
Eventually, USA Triathlon lured Gwen back to athletics. Within two years, Gwen made her first Olympic team and matured into the sport's dominant force, accumulating 2 Triathlon World Champion titles and 17 ITU World Triathlon Series wins, culminating in gold at the 2016 Games in Rio.
After a year off racing to give birth to her son Stanley, Gwen announced her retirement from triathlon, along with a brazen new goal: to win marathon gold in Tokyo.
It's a feat no American woman has accomplished since Joan Benoit Samuelson broke the tape at the inaugural women's marathon at the 1984 Los Angeles Olympiad.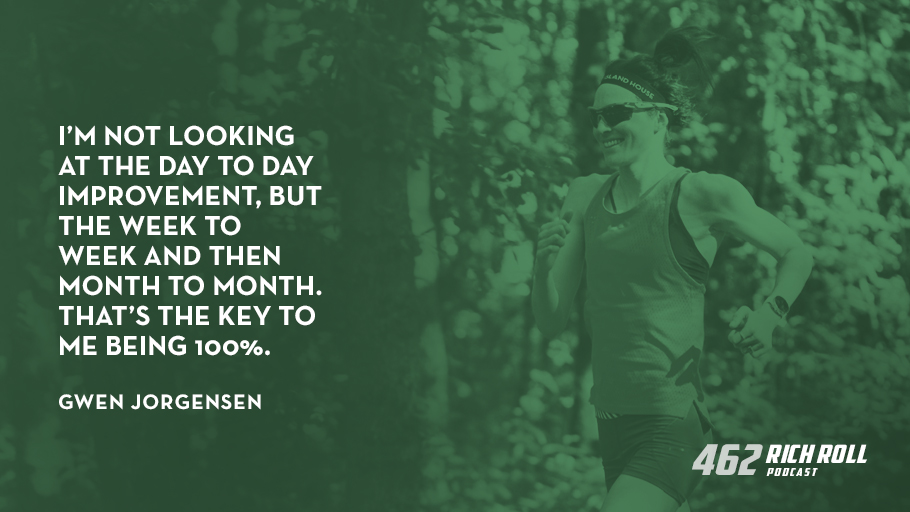 A few weeks ago I was invited by Jaybird Sport to join a group of adventure-seeking endurance junkies in Montana's Glacier National Park. The official occasion was to celebrate the launch of Jaybird's new Vista wireless earbuds (which I'm loving by the way). The unofficial occasion was to retreat and connect — old-school, analog campfire style — with like-minded, high vibration humans. It's a group that included Gwen and husband Patrick Lemieux, as well as a few former podcast guests like Knox Robinson (RRP #394), Timothy Olson (RRP #78), and Sanjay Rawal (RRP #389).
This podcast is a product of that uniquely beautiful experience — a great conversation and audience Q&A conducted outdoors with my fellow Jaybird retreat attendees.
It's about Gwen's career. Her philosophy on training and racing. Overcoming injury. And the why behind her decision to pursue the marathon.
It's about how her ambitious dream was received by the running community, and what she has learned training alongside legends like Shalane Flanagan at the Bowerman Track Club.
It's about her 'Champion Only' mindset. The nature of her motivation. The importance of agency — the freedom to forge her own unique path. And why this power is so crucial to Gwen's success and happiness.
Finally, we explore how she balances her career as a full-time professional athlete against marriage, family and motherhood — and the crucial role Gwen's husband Patrick (who makes a cameo appearance) plays in her success equation.
But most of all, this is an exploration of the tension between risk and certainty. The rare courage required to walk away from success. To gamble one's future. And pursue the heart.
This episode is audio only, available everywhere you listen to fine podcasts, including of course Apple Podcasts and Spotify.
This exchange was a highlight of my Montana experience. I sincerely hope you enjoy it as much as I did.
Peace + Plants,

Portraits of Gwen by John Jefferson IV & Talbot Cox
Listen, Watch & Subscribe
Apple Podcasts | YouTube | Spotify | Stitcher | Google Podcasts
Thanks to this week's sponsors
Grove Collaborative: The online marketplace that delivers all-natural & non-toxic home, beauty, and personal care products directly to you! For a limited time, listeners of The Rich Roll Podcast can get a free five piece Cleaning Set from Mrs. Meyer and Grove, valued at $30. Go to: www.grove.co/richroll
Quip: Your one stop solution for oral health! Quip starts at just $25 and if you go to: getquip.com/richroll right now, you can get your first refill pack for FREE. 
Jaybird: Premium sound Bluetooth headphones, perfect for athletes, runners, & fitness fanatics! Go to jaybirdsport.com to explore their line of high quality audio gear for the active, including their new, cutting edge Vista wireless earbuds — the lightest, most compact, and most advanced headphones ever made, with industry-leading battery life and an IPX7 waterproof rating.
Note: One of the best ways to support the podcast is to support the sponsors. For a complete list of all RRP sponsors and their respective vanity url's and discount codes, visit my Resources page and click "Sponsors".
Notable People Discussed:
Patrick Lemieux

: (

Gwen's husband

) is a former professional road racing cyclist from United States and was active between 2011 and 2012

Kerry Walsh Jennings: American professional beach volleyball player, three-time Olympic gold medalist, and a one-time Olympic bronze medalist and podcast guest
Shalane Flanagan: Olympic long-distance runner, holds the American record times in the 3000 meters, 5000 m and 15K road race and podcast guest
Amy Cragg: American track and field athlete, long distance runner; 2015 American champion in the Marathon, 2012 American champion in the 10,000 meters, and a qualifier for the 2012 Summer Olympics

Barb Lindquist

: triathlete from the United States. Lindquist competed at the second Olympic triathlon at the 2004 Summer Olympics
Related Podcasts You Might Enjoy:
*Disclosure: Books and products denoted with an asterisk are hyperlinked to an affiliate program. We are a participant in the Amazon Services LLC Associates Program, an affiliate advertising program designed to provide a means for us to earn fees by linking to Amazon.com and affiliated sites.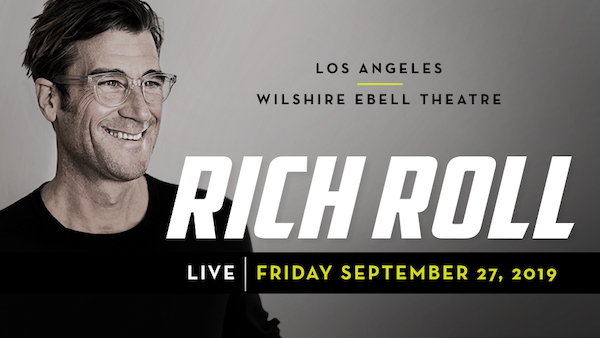 Thrilled to announce my first live show + podcast! Click here for tickets
 HOW CAN I SUPPORT THE PODCAST?
Tell Your Friends & Share Online!
Subscribe & Review:  iTunes | Spotify | Stitcher | Soundcloud | Google Podcasts
Donate: Check out our Patreon account
Download Our Free App: Now you can access, stream, download and share the entire RRP catalog in the palm of your hand on any iOS mobile device (iPhone, iPad and iPod Touch) with our mobile app. Never miss an episode, plus special announcements.
Support The Sponsors: One of the best ways to support the podcast is to support our sponsors. For a complete list of all RRP sponsors and their respective vanity url's and discount codes, visit my Resources page and click "Sponsors".