Podcast: Play in new window | Download | Embed
---

"Some days it just flows and I feel like I'm born to do this, other days it feels like I'm trudging through hell. Every day I make the choice to show up and see what I've got, and to try and be better. My advice: keep showing up."

Des Linden
---
On April 16, 2018, Des Linden captured the hearts of millions the world over by becoming the first American female in 33 years to win the prestigious Boston Marathon.
It wasn't just that she won.
It's how she won.
You see, this wasn't supposed to be Des' year. It wasn't supposed to be Des' race. Her preparation wasn't ideal. She didn't feel great. And doubt crept in. On top of everything, the weather conditions were unprecedented. So Des Linden decided to do what nobody does — sacrifice herself and her personal performance for the benefit of her friends. She famously pulled up when Shalane Flanagan detoured to the porta potty to pace her back to the group. Then selflessly repeated the gesture to help Molly Huddle bridge a separation gap.
These are not things you do when you are in it to win it.
But Des Linden is no ordinary athlete. And this was no ordinary race. At mile 22, Des surged out of nowhere, impossibly depositing her into the lead. In the biggest race of her life — on a day when Mother Nature and her icy rains and 25mph headwinds proved the biggest antagonist — she finally claimed the precious victory that had always previously eluded her.
Today the 2-time Olympian shares her story.
How she did it. What got her there. What it all means. And what's next.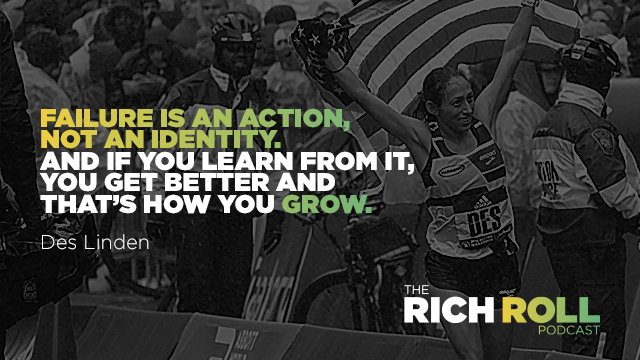 This is a conversation with Des and her long-time manager Josh Cox — the U.S. 50K record holder and former elite marathoner in his own right — about a storied athletic career that until now lacked just one thing: a major marathon victory.
It's about what this particular victory means not just to Des, but to American women's marathoning and running in general.
It's about the mindset that propelled her career to this historic moment.
It's about leveraging past failures as an opportunity to grow — because failure is simply an action, not an identity.
But more than anything, this is a conversation about the power of showing up. Because when you simply keep showing up for that which you love, you make room for the miracle.
Applicable in running. Perhaps even more applicable in life.
I sincerely hope you enjoy the exchange.
For the visually inclined, you can watch our entire conversation on YouTube here: http://bit.ly/richanddes
Peace + Plants,

P.S. – Photo credit for images of Des courtesy of Carrie Cox.
Listen, Watch & Subscribe
Apple Podcasts | YouTube | Soundcloud | Stitcher | GooglePlay
Thanks to this week's sponsors
On Running: Born in the Swiss Alps, On Running shoes feature the first patented cushioning system which is activated only when you need it – during the landing. To learn more about On go to  www.on-running.com/richroll.
Squarespace: The easiest way to create a beautiful website, blog, or online store for you and your ideas. Save 10% at checkout when visit squarespace.com/richroll and use the coupon code "RICHROLL" at checkout.
Health IQ: A new paradigm insurance company that helps health conscious people get special rates on term life insurance.  Go to healthiq.com/ROLL to support the show and learn more.
Note: One of the best ways to support the podcast is to support the sponsors. For a complete list of all RRP sponsors and their respective vanity url's and discount codes, visit my Resources page and click "Sponsors".
SHOW NOTES
Background, Context & Reference:
Notable People Discussed in today's podcast:
Related Podcasts You Might Enjoy:
Thanks to Jason Camiolo for production, audio engineering, interstitial music. Video, editing and graphics by Blake Curtis and Margo Lubin. Theme music by Ana Leimma.
*Disclosure: Books and products denoted with an asterisk are hyperlinked to an affiliate program. We are a participant in the Amazon Services LLC Associates Program, an affiliate advertising program designed to provide a means for us to earn fees by linking to Amazon.com and affiliated sites.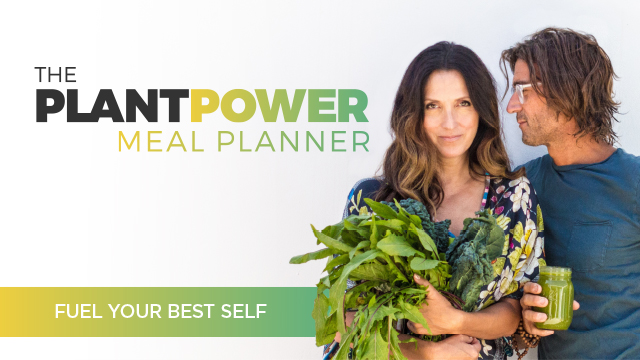 Check out The Plantpower Meal Planner — 1000's of recipes at your fingertips!
HOW CAN I SUPPORT THE PODCAST?
Tell Your Friends & Share Online!
Subscribe & Review:  iTunes | Stitcher | Soundcloud | TuneIn
Donate: Check out our Patreon account!
Download Our Free App! Now you can access, stream, download and share the entire RRP catalog in the palm of your hand on any iOS mobile device (iPhone, iPad and iPod Touch) with our mobile app. Never miss an episode, plus special announcements, discounts, giveaways. Already downloaded? Awesome. When you have a minute, and it feels right to you, do us a solid and give the app a review in the iTunes Store.
Support The Sponsors: One of the best ways to support the podcast is to support our sponsors. For a complete list of all RRP sponsors and their respective vanity url's and discount codes, visit my Resources page and click "Sponsors".