Podcast: Play in new window | Download | Embed
---

"There truly is a way out. Once an anorexic, NOT always an anorexic."

Dotsie Bausch
---
We tend to think Olympic athletes live perfect, charmed lives. Genetically gifted, they inhabit a world beyond mortal challenges — physical specimens oozing talent so rare, it effortlessly skyrockets them onto the global stage.
I would stridently challenge such a notion. I don't think that is the experience of any Olympian. And it's definitely not the experience of this week's guest – an Olympic silver medalist with an almost unbelievably improbable story. A very human story of struggle and pain that underpins her athletic accomplishments, fueling them with a fundamental sense of purpose and meaning.
A 7-time U.S. National Champion, former world record holder and two-time Pan American gold medal winner in track cycling, Dotsie Bausch earned silver in team pursuit at the 2012 London Olympics. Not only was she a long-time vegetarian at that time (she's now vegan), she was almost 40 years old when she won that medal – the oldest ever in her discipline and one of the oldest athletes to ever compete in an Olympic Games.
Dotsie's accomplishments are extraordinary. But more remarkable is the hard-fought road this exceptional athlete trudged to achieve such heights. Because Dotsie's greatest achievement isn't athletic. Her biggest victory is the battle won to resurrect her life from the depths of an eating disorder so severe, it very nearly claimed her life.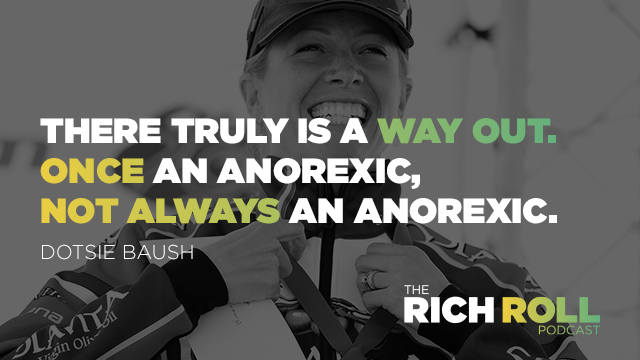 Now retired, Dotsie is a public speaker (check out her TEDx Talk, Olympic Level Compassion), a mentor to aspiring female professional cyclists, and a color commentator for NBC Sports. But most importantly, she is a role model for women and men around the world in their battle to return to healthy eating and living habits as an ambassador for The National Eating Disorders Association.
I know Dotsie through the vegan athlete world as a staunch advocate for animal rights and the health benefits of plant-based eating for health and performance. She is also the force behind a recent anti-dairy commercial that aired during the closing ceremonies of the recent PyeongChang Winter Olympic Games. Entitled Switch 4 Good, think of it as an anti- "Got Milk" campaign featuring an array of former Olympic athletes.
Disordered eating is a subject I have been wanting to explore on this podcast for quite some time. I just needed the right guest. Dotsie delivers. Her experience as both a sufferer and survivor of this surprisingly common malady is as powerful as it is instructive.
This is a conversation about facing and overcoming a disease that affects up to 30 million Americans and 70 million individuals worldwide. A disease so formidable, it drove Dotsie to a suicide attempt.
It's an exchange about the bewildering nature of that disorder and the process she undertook to rebuild her life – from fashion model to athlete. It's a conversation about her most unlikely route to Olympic glory. It's about eating plant-based for performance. And it's about advocacy – what it means to live in service to your ideals.
If you suffer from an eating disorder or know someone who does, this is appointment listening. Towards that end, Dotsie conducts a free mentorship program for those in need. Her door is open to any and all reaching out for help. To contact her, click here.
Delightful, engaging and strong, I adore Dotsie.  I love this conversation. I hope you do too.
Watch & Subscribe on YouTube: http://bit.ly/dotsierrp

Listen, Watch & Subscribe
Apple Podcasts | YouTube | Soundcloud | Stitcher | GooglePlay
Finding Ultra Redux: This week marks the release of the brand new updated and revised edition Finding Ultra* – my redemptive memoir from alcoholic to plant-fueled athlete. A page 1 overhaul, it's now 100 pages longer + 30-40% brand new material. A new Foreword. A new 50+ page prescriptive chapter that chronicles my journey to present & lays out in detail all the tools, practices and strategies I employed to transform my life in mind, body and spirit. Plus just a ton more. And frankly, just better writing throughout.
This is not a book about running. It's not a book about how to be a better triathlete. It's a book for anyone who feels stuck. It's about refusing to settle for less, and the path towards a life fueled by meaning and purpose. It's about accessing untapped reservoirs of potential. It's about self-actualization. All told, it's about how – together — we can move towards our best, most authentic selves.
It's finally the book I always wanted it to be.
Even if you enjoyed the original, you will find the updated edition more than worthy of your attention. So if you have benefitted from my free content over the years, and it feels right to you, it would mean the world if you trusted me with a purchase. Thanks for all the love and support — without all of you, none of this would be possible. To purchase, click here*.
Thanks to this week's sponsors
Harrys.com: A superior shave at an affordable price. Friends of the Rich Roll Podcast can visit Harrys.com/ROLL to redeem your Free Trial Set,which comes with a razor, five-blade cartridge, shaving gel, and post shave gel. All you pay is shipping.
MeUndies: This Valentine's season, get 20% off your matching pair of the softest underwear you will ever wear, Free Shipping, and a 100% Satisfaction Guarantee when you visit MeUndies.com/roll.
Legal Zoom: Legal built for you No complicated forms. No robots. Just answer some questions and we'll take care of the paperwork for you. Get started today at: legalzoom.com and enter the promo code ROLL at checkout for special savings.
Note: One of the best ways to support the podcast is to support the sponsors. For a complete list of all RRP sponsors and their respective vanity url's and discount codes, visit my Resources page and click "Sponsors".
Notable People Discussed In Today's Podcast
Louie Psihoyos: photographer and documentary film director (The Cove*), known for his still photography and contributions to National Geographic
Rebecca Soni: six-time Olympic medalist. Soni has won a total of twenty-two medals in major international competitions: fourteen gold, seven silver, and one bronze spanning the Olympics, the FINA World Aquatics Championships, the Universiade, and the Pan Pacific Championships and podcast guest
Kendrick Farris: three-time Olympic weightlifter from the U.S.; competed for the U.S. in the 2008, 2012 and 2016 Olympics; where he was the only USA male weightlifter to qualify for the Rio Olympic Games
Seba Johnson: youngest alpine ski racer in Olympic history. First black woman to ski at the Olympics
Kara Lang; 2015 Canadian Soccer Hall of Famer and 2008 Olympic soccer team member
Malachi Davis: Sprinter in multiple events during the 2004 Summer Olympics
Related Podcasts You Might Enjoy
Thanks to Jason Camiolo for production, audio engineering and show notes; Michael Gibson for videography and graphics. Theme music by Ana Leimma.
*Disclosure: Books and products denoted with an asterisk are hyperlinked to an affiliate program. We are a participant in the Amazon Services LLC Associates Program, an affiliate advertising program designed to provide a means for us to earn fees by linking to Amazon.com and affiliated sites.
Are you a company interested in sponsoring the podcast? Click here to learn more & take our sponsor survey.
HOW CAN I SUPPORT THE PODCAST?
Tell Your Friends & Share Online!
Subscribe & Review:  iTunes | Stitcher | Soundcloud | TuneIn
Donate: Check out our Patreon account!
Download Our Free App! Now you can access, stream, download and share the entire RRP catalog in the palm of your hand on any iOS mobile device (iPhone, iPad and iPod Touch) with our mobile app. Never miss an episode, plus special announcements, discounts, giveaways. Already downloaded? Awesome. When you have a minute, and it feels right to you, do us a solid and give the app a review in the iTunes Store.
Support The Sponsors: One of the best ways to support the podcast is to support our sponsors. For a complete list of all RRP sponsors and their respective vanity url's and discount codes, visit my Resources page and click "Sponsors".