Podcast: Play in new window | Download | Embed
I had to put my dog down the other day. I want to tell you about it. It might seem unrelated to introducing today's podcast guest, but it's not. So bear with me.
Bodhi was a great dog. Indeed, a prince. But over the last several months, cancer took the upper hand. Tumors filled his left lung until it shut down, diseased cells metastasizing at a horrible pace until the poor guy could barely lift his head, let alone stand up. Stalwart, Bodhi hid his pain well. But it was there; unmistakable and unrelenting. I felt helpless.  

It's the humane thing to do. You did the right thing.
The words of the kind veterinarian who handled the Kevorkian end of this pyrrhic victory to cease my dog's suffering.
I gently cradled his head and locked my eyes with his as the needle sank deep beneath his fur. What followed were my tears as the fragile life force dwindled from his limp body until his beautiful soul had vanished altogether. All the while, my only thought: this doesn't feel like the right thing. In fact, it all feels terribly, horribly wrong.
Bodhi is gone.
It happens. The heartache that accompanies the short lifespan of man's best friend is the very nature of this relationship. I signed up for it and I accept it. In truth, our golden retriever had a great 12 years with our family – a time we will always cherish and for which I am forever grateful. But that doesn't mean it doesn't hurt.  In truth, it sucks.
Bodhi is short for Bodhisattva – the ancient Sanskrit word for enlightened being. One who is motivated by great compassion. A more apt name for this dog does not, could not, exist.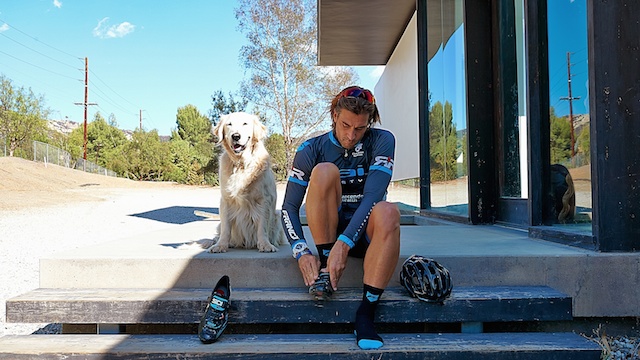 I guess the point is, as incredibly trite as this may sound – and it is nothing if not trite – life is short. Life is precious. Life is fleeting. And if one lives life motivated by fear and locked into habits that lead to regression, safety and misery, the precipitous end to that life will be nothing if not a lament to regret and remorse –for the authentic life of the higher self left unlived.
We live in our flawed memories of the past. And are experts at projecting outcomes and fantasies onto a future that simply does not (and unlikely will ever) exist. What we rarely do is live in the now. Present in the moment. Experiencing gratitude for the immediacy of what is happening right in front of our very eyes on a second-to-second basis.
Why is this so hard for us humans?
The answer to this question brings me to today's guest.
Timothy Olson.
A man who understands and appreciates what it means to fully embrace the present. To live his life in the throes of gratitude. Yes, he runs. Faster, further and wider than most anyone else on Earth. But it's this aforementioned spiritual perspective and journey that defines what this guy — at his core — is truly all about.
For the uninitiated, Timothy is an insanely accomplished world reknown ultrarunner. Aside from Kílian Jornet (who we can almost write off as otherworldly), you could make the argument that Timothy is one of the greatest — if not the greatest — ultrarunners on the planet right now.
After pulling himself out of a drug-fueled descent into the dark abyss — a journey that left him lost in life, depressed, desperate, incarcerated and on probation — Timothy found not just solace but an entirely new life through running. A path that unfolded a fundamental personal spirituality emanating from hours alone exploring nature on two feet. A journey that led to discovering the transformative power of gratitude. To touching and unlocking a deeper, more meaningful part of himself.  And to eclipsing the void beyond the limits of his preconceived physical, mental and emotional capabilities.
Despite an ultra-running career that began just 5 years ago in 2009, it didn't take long before he was racking up big wins in big-time races. But everything blew wide open in  2012  when Timothy didn't just cross the finish line first at the Western States 100 trail race — one of the most prestigious 100-mile ultra-running races on the planet — he destroyed the field, crushing the previous course record by a full 20 minutes.  Imagine running 100 miles on steep elevation trails in thin high altitude air in just 14 hours and 46 minutes.
No one hit wonder, Timothy returned to the WS 100 in  2013  and won it again decisively.
This July, Timothy's eyes are firmly set on the Hardrock 100  — a 100-mile trail run that entails 34,000 feet of climbing, 68,000 feet of total elevation change at an average elevation of 11,000 feet.  This is what we call hardcore.
To be sure, what Timothy has accomplished and will no doubt continue to accomplish on the trail is nothing short of remarkable, particularly in light of where he was in life just a few short years ago. But quite honestly, I am less interested in his victories and athleticism than I am in what got him there. I am convinced that the essential ingredient in Timothy's success equation is his unique perspective on life. His soul surfer approach to sport. 
Timothy is a guy who knows real pain.  Someone who has lived in the pitch black prison with no means for escape. Somehow, and against all odds, he found the keys to freedom and emerged on the other side not just intact, but whole. A man driven to continuously find, explore and embrace the love and the light in what he's doing, a living ambassador of his favorite social media hashtag: #neverstopexploring.
Living close to nature. Minimally and with priorities straight. At peace. On the trail. As a husband. A dad. A man.  A complete, authentic, actualized man currently in the full force of his talent and power. A man questing the fringes of his own personal enlightenment, motivated by great compassion.
One bodhisattva in my life moves on.  Another enters.  And I am grateful for both.
This is the cycle and what makes life beautiful. So breathe it in. Appreciate it with all of who you are. Embrace the gratitude. Find the moment. Take the risk. Leap into the void. And make it everything. In this you will find the beauty of who you are.
I told you I'd bring it around.
I hope you enjoy the conversation.
Peace + Plants,

SHOW NOTES
*Disclosure: Books and products denoted with an asterisk are hyperlinked to an affiliate program. We are a participant in the Amazon Services LLC Associates Program, an affiliate advertising program designed to provide a means for us to earn fees by linking to Amazon.com and affiliated sites.