Podcast: Play in new window | Download | Embed
---
"I don't want to be better than you or her or him—I want to be better than I am right now."

Kerri Walsh Jennings
---
The most decorated beach volleyball player in history and one of the most consistently dominant Olympic athletes of all time, Kerri Walsh Jennings (@kerrileewalsh) needs no introduction. But for those few off-grid souls who somehow avoided the last five Olympiads, here's but a taste of what this week's guest has accomplished:
she has competed in the last five consecutive Olympiads;
she is a 3-time Olympic Gold Medalist & 1-time Olympic Bronze medalist in beach volleyball (2016);
along with teammate Misty May-Treanor, she has been named the greatest beach volleyball team of all time;
during their 11-year run together, Walsh Jennings & May-Treanor won 21 consecutive Olympic matches and only lost one set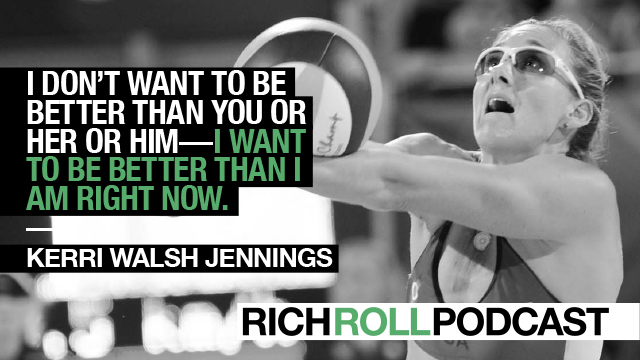 This is a unique and extraordinary exploration of the habits, practices and mindset behind one of the greatest athletes on the planet.
It's a conversation about the mentality required to be the world's best. It's an exchange about the crucial role effective communication plays in both sport and relationships. And it's about the power and responsibility of being a positive role model.
But ultimately, this is a conversation about pursuing what you love, loving what you pursue, and taking a stand for what you believe in.
I cannot overstate my respect for Kerri, her athletic achievements, and how this delightful, spirited, beautiful and tenacious human lives her life on a daily basis. I adore this conversation and am thrilled to share it with you today.
I sincerely hope you enjoy the exchange!
Peace + Plants,

Listen & Subscribe on iTunes | Soundcloud | Stitcher | GooglePlay
Spots are now available for Plantpower Austraila, Feb. 20-27, 2017. For info visit plantpowerworld.com
Check out Julie's podcast divine throughline
Thanks to this week's sponsor:
Headspace.com: Train your mind for a healthier, less-stressed life. Download the FREE app and begin their Take10 program, for 10 days of guided meditation at headspace.com/ROLL
SHOW NOTES
Background, Context & Reference
Notable People Discussed
Related Podcasts You Might Enjoy
Thanks to Jason Camiolo for production, interstitial music and audio engineering; Chris Swan for production assistance & show notes; Shawn Patterson for graphics. Theme music by Ana Leimma.
*Disclosure:Books and products denoted with an asterisk are hyperlinked to an affiliate program. We are a participant in the Amazon Services LLC Associates Program, an affiliate advertising program designed to provide a means for us to earn fees by linking to Amazon.com and affiliated sites.
The Plantpower Way  is available at these fine retailers!
Amazon  |  Barnes & Noble  |  IndieBound  |  Penguin
Are you a company interested in sponsoring the podcast? Click here to learn more & take our sponsor survey.
HOW CAN I SUPPORT THE PODCAST?
Tell Your Friends & Share Online!
Subscribe & Review:  iTunes | Stitcher | Soundcloud | TuneIn
Donate: Check out our brand new Patreon account!
Download Our Free App! Now you can access, stream, download and share the entire RRP catalog in the palm of your hand on any iOS mobile device (iPhone, iPad and iPod Touch) with our mobile app. Never miss an episode, plus special announcements, discounts, giveaways. Already downloaded? Awesome. When you have a minute, and it feels right to you, do us a solid and give the app a review in the iTunes Store.