Podcast: Play in new window | Download | Embed
---
"The biggest problem we all face is the story that we tell ourselves of what our lives have been. It's keeping us in a box. The 'cubicle' you're really living in is your story."

 Zach Bush, MD
---
He's back! One of the most fascinating and popular guests to grace this platform, Today Zach Bush, MD returns for a third mind-altering bend around the multiverse.
For the uninitiated, Zach's varied interests belie attempts to properly define him — but I'll give it a try. One of the few triple board certified physicians in America with expertise in Internal Medicine, Endocrinology and Metabolism, and Hospice/Palliative care, he is the founder and director of M Clinic integrative health center in Virginia.
In addition to his experience in functional medicine, longevity, autism, gut health, cancer, and many other areas of medicine, he is an avid environmentalist and activist involved in a multitude of projects that focus on ecology, regenerative agriculture, farmer well-being and spirituality.
To advocate for soil health & food independence, Zach is also the creator of Farmer's Footprint. Seen through the lens of farmers and their communities, it's a documentary series & grassroots movement that evaluates the impact of monocrop farming and pesticide reliance on chronic disease and planetary health — while simultaneously exploring evidence-based solutions to rebuild living biodiversity and ultimately reverse climate change.
But more than anything, Zach is a healer. A master consciousness. A gift to humanity. And someone I am very proud to call friend.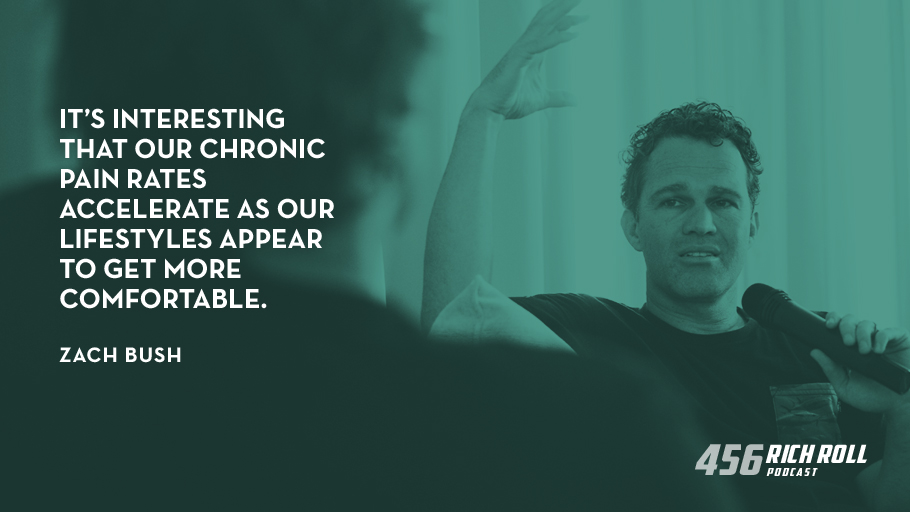 Zach's initial appearance on the podcast (RRP 353) blew minds across the world. Our second conversation (RRP 414) was one of the most moving conversations of my life. So it just seemed right to invite Zach and his holistic health coach, consultant and yoga teacher wife Jenn Perell Bush to join us on our recent retreat in Italy.
If you listened to either of our previous conversations, it would be reasonable to expect this discussion to further explore the impact of industrialized food systems on human and ecological health. However, that assumption would be wrong.
Instead, we delve inside to explore our individual and collective experience with pain, both psychic and physical.
We deconstruct our unhealthy obsession with comfort.
We stress test the stories we craft that form our identity, stunt our evolution, and ultimately hold us hostage.
And we explore a new path to freedom — liberation from that which ails us so that we can self-actualize, and together embrace our inherent divinity.
Akin to the recent episode with Gemma Newman, MD (RRP 449), this exchange was recorded before a live audience of retreat attendees in Italy (thus audio only) and concludes with Zach leading a meditation, edited down for time and the sake of the listener.
In closing, I want to express gratitude for our extraordinary Plantpower Italia community, who were collectively moved to donate $81,000 towards Zach's Farmer's Footprint organization and docu-series. On behalf of Zach, Jenn and the organization, thank you from the bottom of our hearts. If Zach's message moves you to get involved, you can learn more and donate at farmersfootprint.us
This is one is deep. Perhaps a bit different from what you've come to expect from Dr. Zach. But I'm confident you're going to leave this conversation changed for the better. Words cannot express my gratitude for this man. And it's my honor to share his wisdom with you today.
Peace + Plants,

Listen, Watch & Subscribe
Apple Podcasts | YouTube | Spotify | Stitcher | Google Podcasts
Thanks to this week's sponsors
Prints On Wood: Wood printing and instagram photos printed on wood. Upload your images from your computer, mobile device or choose photos directly from your Instagram or Facebook accounts. It's easy. It's awesome. And makes for a memorable gift. Go to printsonwood.com, enter code RICHROLL at checkout, and get 30% off your first order.
DesignCrowd: Custom graphic, logo and web design from over 550,000 designers around the world. Get the perfect custom design, every time! Visit designcrowd.com/RICHROLL or enter promo code RICHROLL at checkout and receive up to $100 off your design project now!
Squarespace: The easiest way to create a beautiful website, blog, or online store for you and your ideas. Save 10% at checkout when visit squarespace.com/richroll and use the coupon code "RICHROLL" at checkout.
Note: One of the best ways to support the podcast is to support the sponsors. For a complete list of all RRP sponsors and their respective vanity url's and discount codes, visit my Resources page and click "Sponsors".
*Disclosure: Books and products denoted with an asterisk are hyperlinked to an affiliate program. We are a participant in the Amazon Services LLC Associates Program, an affiliate advertising program designed to provide a means for us to earn fees by linking to Amazon.com and affiliated sites.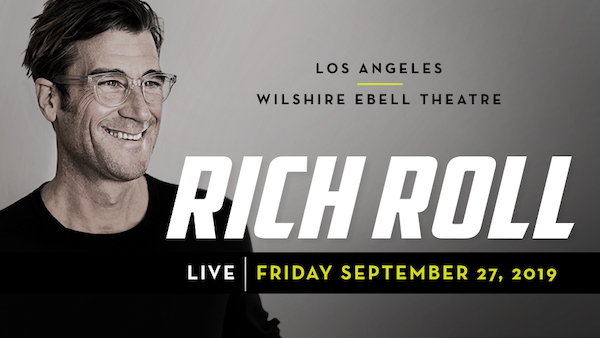 Thrilled to announce my first live show + podcast! Click here for tickets
 HOW CAN I SUPPORT THE PODCAST?
Tell Your Friends & Share Online!
Subscribe & Review:  iTunes | Spotify | Stitcher | Soundcloud | Google Podcasts
Donate: Check out our Patreon account
Download Our Free App: Now you can access, stream, download and share the entire RRP catalog in the palm of your hand on any iOS mobile device (iPhone, iPad and iPod Touch) with our mobile app. Never miss an episode, plus special announcements.
Support The Sponsors: One of the best ways to support the podcast is to support our sponsors. For a complete list of all RRP sponsors and their respective vanity url's and discount codes, visit my Resources page and click "Sponsors".