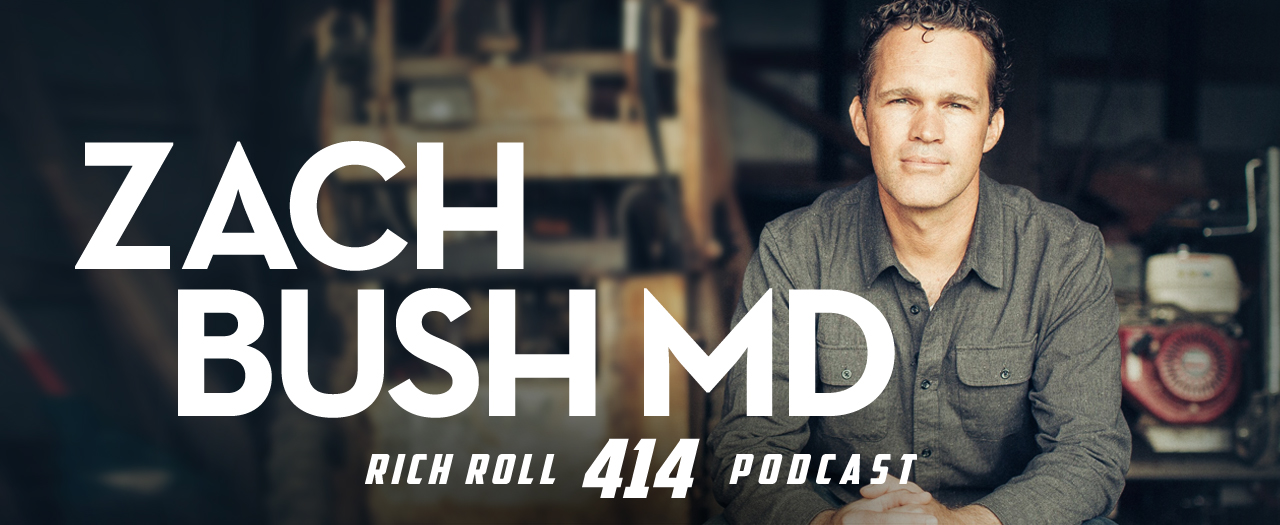 ---
"If we don't reconnect with nature, we will just destroy it again."

Zach Bush MD
---
In my humble opinion, Zach Bush, MD isn't just one of the most compelling medical minds currently working to improve our understanding of human and environmental health. He's a virtuoso healer. A master consciousness. And a gift to humanity.
Today Dr. Bush returns to the podcast (his first appearance was RRP #353 in March of 2018) for a formidable and moving conversation that will leave you rethinking not only how you eat and live, but what it means to be a conscious consumer and engaged citizen of this precious planet we all share.
A pioneer in the science of well-being, Dr. Bush is the founder and director of M Clinic, an integrative medicine center in Charlottesville, Virginia, and one of the only 'triple board-certified' physicians in the country, expert in Internal Medicine, Endocrinology and Metabolism, and Hospice/Palliative care.
How we treat the planet impacts human biology. Intuitively, we understand this to be fact. But what distinguishes Dr. Bush from his medical peers is his rigorous application of science, strength of humanity, and the intelligence of nature to his commitment to transforming our world. A man with a deep understanding of the interdependence of macrocosm and microcosm, Dr. Bush's brilliance truly shines on subjects like soil degeneration and regeneration. The relationship between intensive farming practices and the rise of environmental degradation and chronic disease. And his vision for a more integrated and holistic approach to physical, mental, emotional and spiritual well-being.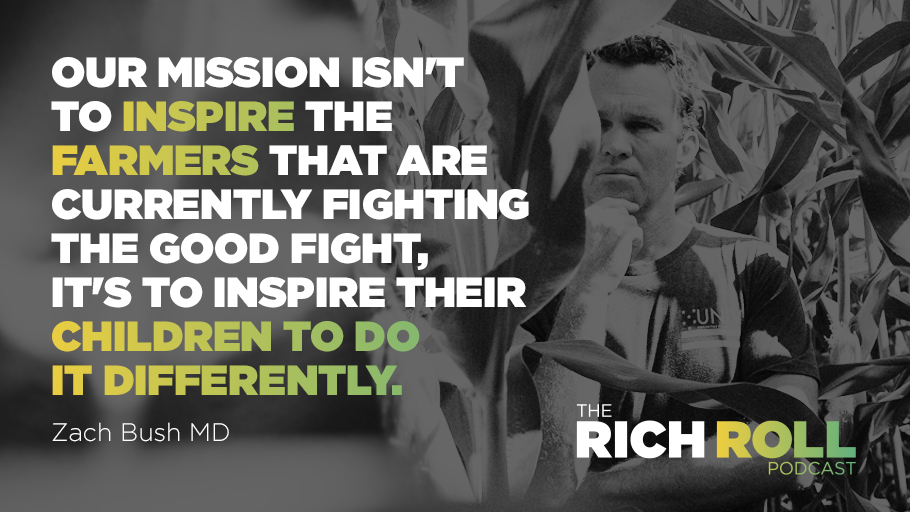 My initial conversation with Dr. Bush remains one of the most mind-blowing, impactful and popular discourses in the history of this show. Picking up where we left off, today's episode exceeds all expectations — another conversation for the ages that will permanently alter how you think about everything from health, nutrition, disease, medicine, agriculture and environmentalism to what it means to be a spiritual being in this human experience we collectively share.
It's 2019 people. It's time to stop screwing around. It's time to get educated. And it's time to once-and-for-all take control of our personal health and that of the planet we inhabit.
I ask only that you listen keenly. Take notes. And no matter what, stick around to the very end. Zach concludes the podcast with what I can only describe as the most poignant and moving closing monologue in the history of this program – a bold statement I don't make lightly.
If you thought last week's podcast with David Goggins was peak RRP, think again, Because today, the doctor is in.
Final note: the podcast is now available on Spotify and viewable on YouTube at: bit.ly/zachbush414
Final Final Note: My friend and team member David Kahn "DK" joins us this week for an extended introductory segment to discuss his health goals for 2019. I'm interested in your thoughts on having DK pop in from time to time so we can track his progress. Together, let's help him transform! Tweet @richroll and @daviddarrenkahn with your suggestions and feedback using the hashtag #DKgoals.
Peace + Plants,

Listen, Watch & Subscribe
Apple Podcasts | YouTube | Spotify | Stitcher | Google Podcasts
Thanks to this week's sponsors
Fully: From the popular Jarvis adjustable standing desks to their every-which-way active office chairs, to their many movement supporting accessories — anti-fatigue mats, treadmill desks and more — Fully is all about helping you bring more movement, energy and joy to your work and life. To get your body moving in your workspace, visit: fully.com/RICHROLL
Four Sigmatic: A superfood company popularizing medicinal mushrooms by incorporating them in delicious mainstream products like coffee and hot cocoa. Visit foursigmatic.com/roll and enter the promo code ROLL at the checkout and save 15% on your order!
Health IQ: A new paradigm insurance company that helps health conscious people get special rates on term life insurance. Go to healthiq.com/ROLL to support the show and learn more.
SHOW NOTES
 Background, Context & Reference
Connect with Zach: Website | Restore | Facebook | Twitter | Instagram | YouTube
Notable People Discussed
Colin Hudon: physician of Acupuncture and Traditional Chinese Medicine, founder of Living Tea and multiple episode podcast guest

Dr. Allen Williams

: 6th generation family farmer; holds a BS and MS in Animal Science from Clemson University and a Ph.D. in Livestock Genetics from LSU

Joel Salatin

: author, lecturer, and farmer;  known for his holistic management methods of animal husbandry on his

Polyface Farm

Stephanie Seneff

: senior research scientist at the Computer Science and Artificial Intelligence Laboratory of the Massachusetts Institute of Technology.

John Gildea PhD

: Associate Professor at the University of Virginia, and the research director at the multi-million dollar Felder Core Laboratory

Nassim Haramein: founder of  the non-profit Resonance Science Foundation; researching and discovering connections in physics, mathematics, geometry, cosmology, quantum mechanics, biology, chemistry, anthropology and ancient civilizations
Related Podcasts You Might Enjoy
Thanks to Jason Camiolo for production, audio engineering, interstitial music and show notes; Margo Lubin and Blake Curtis for video, editing and graphics. Theme music by Ana Leimma.
*Disclosure: Books and products denoted with an asterisk are hyperlinked to an affiliate program. We are a participant in the Amazon Services LLC Associates Program, an affiliate advertising program designed to provide a means for us to earn fees by linking to Amazon.com and affiliated sites.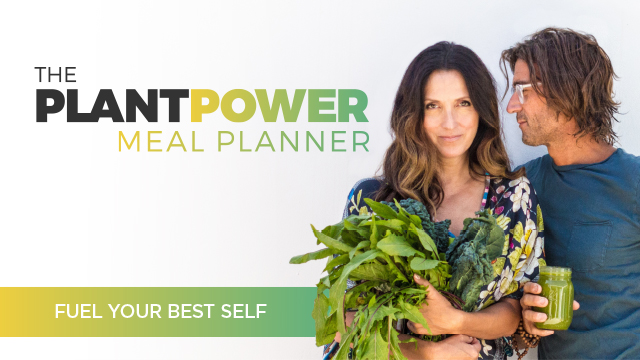 HOW CAN I SUPPORT THE PODCAST?
Tell Your Friends & Share Online!
Subscribe & Review:  iTunes | Stitcher | Soundcloud | GooglePlay
Donate: Check out our Patreon account!
Download Our Free App! Now you can access, stream, download and share the entire RRP catalog in the palm of your hand on any iOS mobile device (iPhone, iPad and iPod Touch) with our mobile app. Never miss an episode, plus special announcements, discounts, giveaways. Already downloaded? Awesome. When you have a minute, and it feels right to you, do us a solid and give the app a review in the iTunes Store.
Support The Sponsors: One of the best ways to support the podcast is to support our sponsors. For a complete list of all RRP sponsors and their respective vanity url's and discount codes, visit my Resources page and click "Sponsors".
---