What if I told you that a vast number of physical maladies are caused by inflammation, the body's immune response to a multitude of stressors.
The good news? If you lose the stress — hormonal, dietary, environmental, and psychological — you remove the root cause of illness.
This is but one of many fascinating ideas proffered by Zach Bush, MD — in my opinion one of the most compelling medical minds currently working to improve our understanding of human health.
The founder and current director of M Clinic in Virginia, Dr. Bush was President of his medical school class at the University of Colorado Health and later became Chief Resident for the department of Internal Medicine at the University of Virginia. Among the few physicians in the nation that is triple board certified, he completed training and certification in Internal Medicine, Endocrinology and Metabolism, as well as in Hospice and Palliative care. Dr. Bush has published peer-reviewed articles and book chapters in the areas of infectious disease, endocrinology, and cancer. Through his practice and unique methodology, he has seen significant clinical improvements in patients with everything from Leaky Gut Syndrome, Gluten Intolerance, Autism, Type 2 Diabetes, Autoimmune conditions such as Crohn's Disease, and Irritable Bowel Syndrome.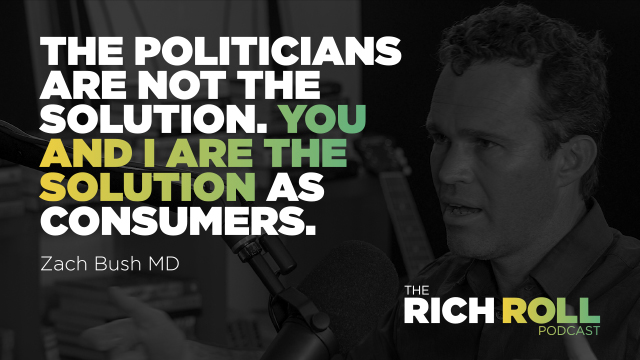 I met Dr. Bush at the Conscious Capitalism Conference in Austin about six months ago. Over the course of that weekend, we had conversations that left me captivated and desperately wanting to know more. I knew immediately he would be a phenomenal podcast guest. So here we are.
This is a wide-ranging, and at times mind-blowing conversation that explores new insights into the mechanisms behind human health and longevity. It's about the massive and misunderstood impact of industrial farming, chemical pesticides, the pharmaceutical industry and even errant Western medical practices have on both human and planetary health.
The politicians are not the solution. You and I are the solution as consumers.
– Zach Bush, MD
Audio Note: This podcast was recorded remotely. My first since the earliest days of the podcast, I admit a severe allergy to this dynamic. Being physically present with my guest is crucial to providing an optimal listening experience. However, sequestration demands I adapt. So this is my fairly reluctant attempt to do just that. Therefore, please excuse the audio quality, a somewhat eroded version of what you've come to expect. Sub-par bandwidth and latency issues impeded our ability to converse as naturally as I would have preferred — more staccato back and forth than my hallmark organic flow.
Zach has a knack for landing our podcasts with unmatched profundity. And today he delivers a master class in thinking both deeply and broadly about this unique situation we are collectively experiencing.
I love this man. I'm grateful for his wisdom. And I'm proud to share it with you today.
May you find it equal parts instructive, enlightening and moving — especially the end.
Peace + Plants,

Listen, Watch, & Subscribe
For 1000s of delicious, customized plant-based recipes & so much more, check out our Plantpower Meal Planner.
Tell Your Friends & Share Online
Donate: Patreon
Patronize Our Sponsors: For a complete list of all RRP sponsors and their respective vanity URLs and discount codes, click "Sponsors" here.
Thanks to Jason Camiolo for production, audio engineering and show notes; Shawn Patterson for graphics; and Michael Gibson for videography. Theme music by Ana Leimma.
*Disclosure: Books and products denoted with an asterisk are hyperlinked to an affiliate program. We are a participant in the Amazon Services LLC Associates Program, an affiliate advertising program designed to provide a means for us to earn fees by linking to Amazon.com and affiliated sites.