Podcast: Play in new window | Download | Embed
---
"Let us revere the one who loves others deeply, loves himself deeply, and has a dream that he is inspired to live with and by and through. He is a man."

Lewis Howes
---
The word authenticity has been so co-opted and commodified, it's now almost impossible to use it without sounding hacky.
But the sentiment behind the word remains beautiful. To me it means living honestly and with integrity. It means the courage and self-confidence to be open and vulnerable. It's what it means to live, breathe and move in alignment with your truest, highest self.
I do my best to live authentically. I strive to inject this sensibility into the content I create. And it's a consistent theme of this podcast.
Intellectually we understand the importance of living authentically. However, we all find ourselves — myself included — nonetheless projecting a version of ourselves onto the world. Not the raw truth but an edited impression of who we are and what we want others to see; a facsimile of identity, custom tailored to suit the expectations of our social environment.
In other words, we all wear masks.
We can characterize this behavior as dishonest. But it's also just human. We're all guilty to a certain degree.
We do it because we're afraid. Because we're insecure. And because honesty and vulnerability are terrifying.
If people really knew me, I would be unlovable.
The impulse to hide our fears and flaws is normal. Not only is it easier to don a facade, it's how we've been conditioned to behave for as long as we can remember. But when we inhabit the role we've been socially programmed to play at the cost our truest selves, we disconnect from both intimacy and ourselves, undercutting our ability to connect with others and inhabit the best of who we are are and what we have to offer.
As counter-intuitive as it may sound, the more we can summon the courage to shed our masks – masks we have been wearing for so long and so persistently were not even consciously aware of them – in exchange for being open, honest, and vulnerable,  the more integrated, whole, secure, confident, and ultimately authentic we ultimately become.
It's scary. But overcoming this fear is the first step to truly blazing a path to becoming a fully integrated human. It's the journey to becoming whole. At peace with yourself. Empowered. Self-actualized.
And ultimately, free.
This is the subject of today's conversation. To shepard us through it is my friend Lewis Howes, host of the very popular School of Greatness Podcast, NY Times bestselling author of The School of Greatness*, and the man behind a brand new book hitting stores this week entitled The Mask of Masculinity: How Men Can Embrace Vulnerability, Create Strong Relationships, and Live Their Fullest Lives*.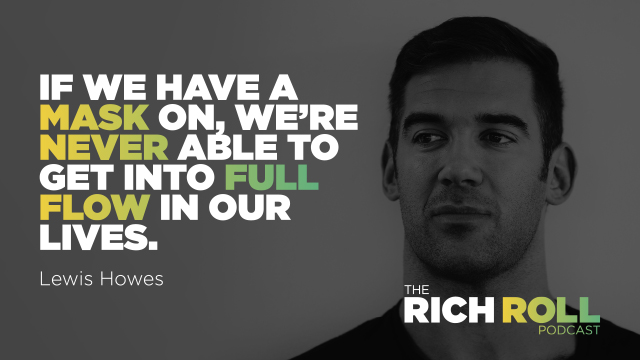 A former professional football player and USA team handball Olympic hopeful who bottomed out before blossoming into a successful online entrepreneur, Lewis defies the stereotype that typically accompanies most successful alpha males. With a glint in his eye, Lewis is warm, incredibly giving, and a stellar example of what life can be like when your heart is open — gratitude in motion.
Lewis and I met close to five years ago, during the earliest days of our respective podcast journeys. Maturing in tandem, I've shared my perspective on his show twice and and this episode marks his third appearance on my show. I can honestly say this is the best, most open, dynamic and honest of his appearances on the RRP.
This is a conversation about how our podcasting adventures have shaped our lives and careers. It's also about the importance of storytelling as a catalyst for positive change.
It's an exploration of projection. It's about why we wear the masks we do. It's about why we don't discuss that which evokes shame, and the fear that blocks our growth. And it's about the freedom that can be experienced when you let go of that fear, release the shame, and own your truth.
But at its core, this is a powerful exchange about the importance of embracing rather than repressing vulnerability — reframing it not as a weakness, but as a superpower.
Because your ability to own your story and face your fears is your ultimately your greatest strength.
NOTE: Although the focus of this conversation and Lewis' new book is on the specific masks that men wear (redefining what it means to be truly masculine), the themes and topics explored are applicable to all.
For those visually inclined, the video version of the podcast is also viewable on YouTube.
I sincerely hope you enjoy the exchange.
Peace + Plants,

Listen, Watch & Subscribe
Apple Podcasts | YouTube | Soundcloud | Stitcher | GooglePlay
Images & Video by David Zammit: Website | Instagram
Let's get clean water to those in need
WE DID IT! From the bottom of my heart, thank you to everyone who contributed to my charity: water birthday fundraising campaign. Together we have far exceeded my goal of raising $51,000. As of the date of this post, we have raised over $58,000 to bring clean water projects to those in need. To put this in proper perspective, that means that about 2,000 people will soon have access to clean water for the very first time, not counting future generations. In other words, you have literally breathed hope and life into communities, transforming their lives forever, which is about the coolest thing I can imagine. I couldn't have done it without each and every one of you, so again I thank you, Scott Harrison thanks you, charity: water thanks you and everyone who will soon benefit from your generosity thanks you. The campaign will remain open through the end of this quarter, so if you would still like to contribute, you can. And there is good reason to — because right now 663 million people still live without clean water. To learn more and donate, visit: my.charitywater.org/richroll
Thanks to this week's sponsors
22 Days Nutrition: the 100% plant-based, 100% USDA certified organic nutrition products and meal delivery platform designed to meet the needs of your healthy, active life. For 10% off all products (including the meal delivery) and free shipping, visit 22daysnutrition.com/richroll and use promo code RICHROLL at checkout.
Boll & Branch: The first honest and transparent bedding company that only uses sustainable and responsible methods of sourcing and manufacturing. Go to BollandBranch.com today for $50 off your first set of sheets by typing in promo code "RICHROLL".
*Disclosure: Books and products denoted with an asterisk are hyperlinked to an affiliate program. We are a participant in the Amazon Services LLC Associates Program, an affiliate advertising program designed to provide a means for us to earn fees by linking to Amazon.com and affiliated sites.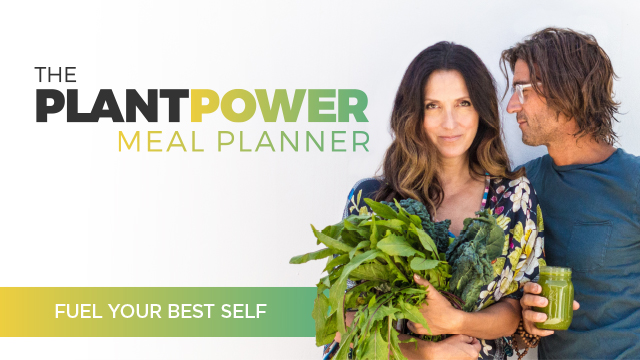 Check Out Our New Meal Planner!
Are you a company interested in sponsoring the podcast? Click here to learn more & take our sponsor survey.
HOW CAN I SUPPORT THE PODCAST?
Tell Your Friends & Share Online!
Subscribe & Review:  iTunes | Stitcher | Soundcloud | TuneIn
Donate: Check out our Patreon account!
Download Our Free App! Now you can access, stream, download and share the entire RRP catalog in the palm of your hand on any iOS mobile device (iPhone, iPad and iPod Touch) with our mobile app. Never miss an episode, plus special announcements, discounts, giveaways. Already downloaded? Awesome. When you have a minute, and it feels right to you, do us a solid and give the app a review in the iTunes Store.