Podcast: Play in new window | Download | Embed
---

"The only road to success is just sustained action over a longer window of time."

Jonathan Fields
---
Some people exude a calm, confident quietude. Others exuberantly burst with exciting ideas. But it's the rare individual that combines understated self-assurance with a spark so powerful, it incites lasting positive change in all who enter his orbit.
Jonathan Fields is one such human.
His mission? To humanize and empower the process of creation. To help people and organizations conceive and build better, more conscious businesses, art, and lives in less time, with more joy and less effort.
On a personal level, Jonathan is guy I can deeply relate to – a dad and husband who (like me) decided to leave the gilded, protective hallways of mega-law firm life and risk everything in search of a life path of greater meaning for himself and others.
Reinventing himself as a socially conscious, serial entrepreneur and mindful innovation strategist, today Jonathan is an A-list blogger, award-winning author, speaker, and founder of Good Life Project –empowering people to live more engaged and connected lives via a global education and multi-media venture that encompasses video projects, his wildly popular podcast and super cool events like Camp GLP, his annual 3 1/2- day retreat that blends friendship, adventure and deep-learning with strategies and tools for accelerated personal and business growth.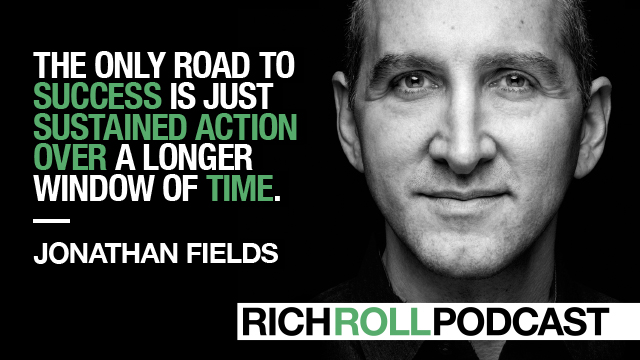 Beneath it all, Jonathan is a teacher. Brimming with empowering wisdom, I love his focus on process over results. His emphasis on the journey over the destination. His deep understanding that authenticity is everything. And that mindfulness lays forth the path. This powerful ethos is reflected in everything Jonathan does, from his writing and advocacy to most importantly, how he conducts his life down to the smallest details.
Jonathan has been featured in The New York Times, Wall Street Journal, FastCompany, Inc., Entrepreneur, Forbes, USA Today, CNBC, CNN.com, PBS Nightly Report, Elle, Self, Fitness, Vogue, O, People and thousands of other websites that sound cool, but (in Jonathan's words) don't impress his daughter all that much.
His first book, Career Renegade: How to Make a Great Living Doing What You Love*, was named a Top 10 Small Business Book by Small Business Trends and a Top 5 Summer Read by MSNBC. Fields' second book, Uncertainty: Turning Fear and Doubt Into Fuel for Brilliance*, was lauded as the #1 Personal Development book of 2011 by 800-CEO-READ.
This week marks the release of Jonathan's highly anticipated new book, How to Live a Good Life: Soulful Stories, Surprising Science, and Practical Wisdom*. I was lucky enough to get an advance copy (one of the perks of hosting a podcast) and I loved it. Packed with insightful, straightforward guidance, what I like best is Jonathan's eminently doable approach for unleashing dormant potential and the authentic self lurking within.
This week marks Jonathan's second appearance on the podcast (check out RRP 74 for our initial chat), and this time we raise the bar — a powerful conversation about the importance of community. How to let go and be present. It's an exchange about the significance of morning routines, the fallacy of balance and the virtues of consistency. It's about the role of belonging in life. The importance of embodied teachers. And it's a heartfelt deep dive into Jonathan's three buckets for living a good life.
Truth be told, I could talk with Jonathan all day. After this conversation, I think you'll feel the same. I sincerely hope you enjoy the exchange.
Peace + Plants,

Listen & Subscribe on iTunes | Soundcloud | Stitcher | GooglePlay
Check out Julie's podcast divine throughline
Notable People Discussed In Today's Podcast
Anders Ericsson: Swedish psychologist and Conradi Eminent Scholar and Professor of Psychology at Florida State University who is internationally recognized as a researcher in the psychological nature of expertise and human performance
Malcom Gladwell: English-born Canadian journalist, author, and speaker
Teresa Amabile: author and professor at Harvard Business School, primarily known for her research and writing on creativity
Martin Seligman: an American psychologist, educator, and author of self-help books
Randy Komisar: a veteran Silicon Valley venture capitalist and entrepreneur
Sherry Turkle: Professor of the Social Studies of Science and Technology in the Program in Science, Technology, and Society at MIT
Robert Cialdini: Professor Emeritus of Psychology and Marketing at Arizona State University, best known for his books on persuasion and marketing
Ira Glass: American public radio personality and the host and producer of the radio and television show This American Life
Related Podcasts You Might Enjoy
Thanks to Jason Camiolo for production, interstitial music and audio engineering; Chris Swan for production assistance & show notes; Shawn Patterson for graphics. Special thanks to Eric Michael Pearson for graciously allowing me use of his photography in today's podcast.
*Disclosure:Books and products denoted with an asterisk are hyperlinked to an affiliate program. We are a participant in the Amazon Services LLC Associates Program, an affiliate advertising program designed to provide a means for us to earn fees by linking to Amazon.com and affiliated sites.
The Plantpower Way  is available at these fine retailers!
Amazon  |  Barnes & Noble  |  IndieBound  |  Penguin
Are you a company interested in sponsoring the podcast? Click here to learn more & take our sponsor survey.
HOW CAN I SUPPORT THE PODCAST?
Tell Your Friends & Share Online!
Subscribe & Review:  iTunes | Stitcher | Soundcloud | TuneIn
Donate: Check out our brand new  Patreon account!
Download Our Free App! Now you can access, stream, download and share the entire RRP catalog in the palm of your hand on any iOS mobile device (iPhone, iPad and iPod Touch) with our mobile app. Never miss an episode, plus special announcements, discounts, giveaways. Already downloaded? Awesome. When you have a minute, and it feels right to you, do us a solid and give the app a review in the iTunes Store.