Podcast: Play in new window | Download | Embed
---
"It's always the struggles that define you in life. Look back at your life whether you're 13 years old or 80 years old and it's always the hardest times that made you who you are."

Casey Neistat
---
This week marks the return of my friend Casey Neistat to the podcast.
Where to even begin…
As a filmmaker credentialed with co-creating an HBO series and laurels from prestigious outlets like Cannes, Sundance and the Independent Spirit Awards, one would expect an artist of his pedigree to be directing feature films, documentaries and television shows for mainstream media. And yet sometime around 2010, Casey opted for the road less travelled, putting the traditional filmmaker path in his rearview to blaze a different and quite surprising path more in alignment with his DIY sensibilities:
YouTube.
The great irony is that in embracing the most democratic of platforms as his primary artistic outlet, Casey has indeed become one of the most compelling and culturally relevant voices of his generation.
From his sensational  "Make It Count"  (my fave) to his poignant  "What Would You Do with $25,000?"  to his gleeful  "Snowboard NYC",  Casey has logged over 129 million YouTube views, compelling Wired Magazine to remark,  "Casey Neistat's bite-size Internet movies have so much viral potential they make influenza jealous."  Let's not even get into his continent-sized following on Snapchat (check out his ancillary  Snap Stories YouTube Channel ), or the fact that he recently began posting a daily vlog so stellar, suddenly every other vlogger looks remedial. 
Putting out a volume of content that would rival a major network, Casey Neistat is truly a do-it-yourself triumph — famed and fêted for unceasingly documenting his life, globe-trotting adventures and myriad curiosities with boundless perspicacity and bootstrapping panache.
So what is it exactly that makes Casey's work so irresistible? Maybe it's simply because he knows how to tell insanely great personal stories. Perhaps it's his rapier-like knack for tapping the zeitgeist pulse. His fidelity to authenticity. Or his expertise when it comes to connecting emotionally with a signature style that always leaves you yearning for more.
If you ask me what sets Casey apart, it's something else entirely:
an absolute disregard for failure.
That, and a profound work ethic. He makes it look easy, but make no mistake: Casey Neistat works way harder than you do.
No, you can't have his life. But you can have your own. To echo Casey, if you are doing it like everyone else, you're doing it wrong. So stop following the heard.
Define your own path.
It was a treat to once again drop in on his singular Lower Manhattan studio —  "one of the most compulsively organized, ridiculously customized, and mind-bogglingly gear-saturated spaces on Planet Awesome"  — and I am pumped to share this conversation with one of the most interesting, creative, prolific — and in my opinion important — visual artists working today.
NOTE: this is a short one. Just as I was starting to hit my conversational stride, at 45 minutes in Casey had to pull the plug. As you will hear, it makes for a rather abrupt, albeit somewhat comedic end to the podcast. I'm back in NYC for 10 days in June, so I will do my best to pick things up where we left off. Nonetheless, plenty of gems to mine. And yes of course, he made a little Snapchat story about the whole affair:
If you didn't tune in for our first conversation, you really should — it's great.
I sincerely hope you enjoy the exchange.
Peace + Plants,

Listen & Subscribe on  iTunes  |  Soundcloud  |  Stitcher  |  TuneIn
Production, music & sound design by Tyler Piatt. Additional production by Chris Swan. Graphic art by Shawn Patterson. Thanks boys!
Connect With Casey: Facebook | YouTube | Twitter | Instagram  |  Website
*Disclosure: Books and products denoted with an asterisk are hyperlinked to an affiliate program. We are a participant in the Amazon Services LLC Associates Program, an affiliate advertising program designed to provide a means for us to earn fees by linking to Amazon.com and affiliated sites.
WIN AN OMEGA JUICER!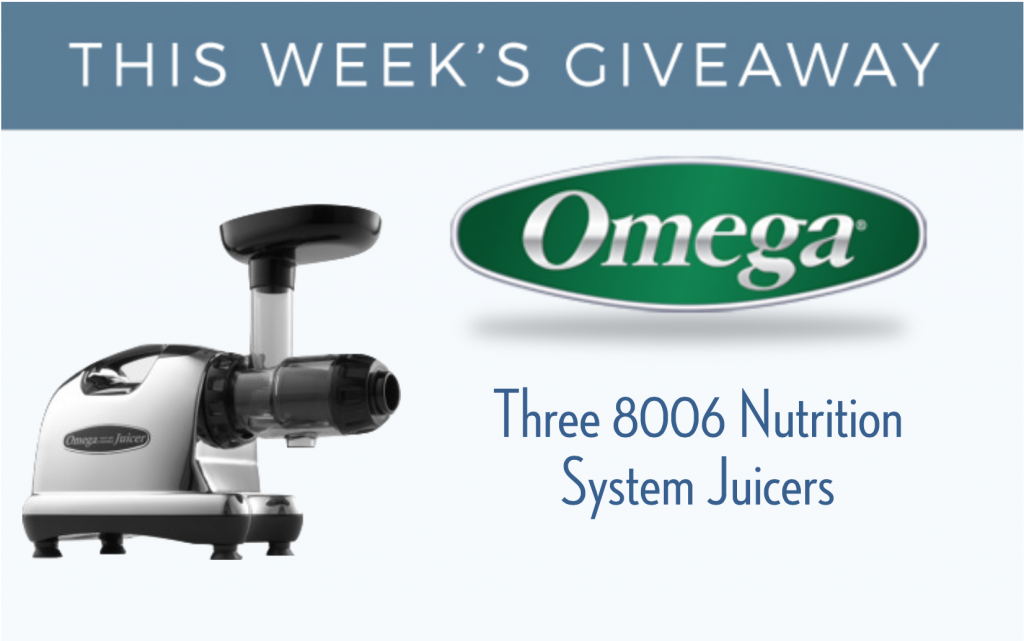 This week we are thrilled to raffle off three brand new model 8006 Nutrition System Juicers (valued at $299.99) from our good friends at  Omega Juicers  — the absolute best, most efficient and reliable commercial capacity juice machines on the market today.
HOW TO WIN*: All you have to do is join our  Thunderclap  — a totally free, simple to use crowdsourcing platform requiring only that you "pledge" a social media post in support of  The Plantpower Way  that will automatically post to your timeline on April 27. Our new goal is to achieve a social reach of 2 million (we surpassed our original goal of 1 million and we are so close), so show your support for the movement and let all our voices be heard all at once! To join, just click on the below banner and follow the simple instructions. It only takes a minute tops (did I say it's free?). Thanks so much for the support – we will announce the Omega Juicers winners on next week's podcast!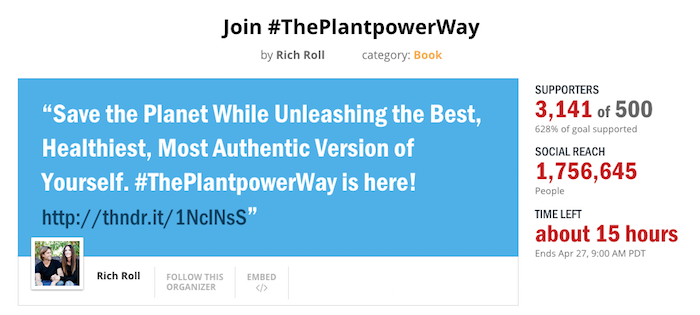 [No purchase necessary for eligibility. Shipping to Omega Juicers winners restricted to US & Canada. Even if you don't win this week's prize. All winners will be randomly drawn on Sunday, May 3, contacted through e-mail or social media (if no e-mail provided) and announced on the following week's podcast.]
Are you a company interested in sponsoring the podcast?  Click here  to learn more & take our sponsor survey.
HOW CAN I SUPPORT THE PODCAST?
Tell Your Friends & Share Online!
Subscribe & Review:  iTunes,  Stitcher,  Soundcloud  and  TuneIn.
Donate: Check out the   DONATE  button on the podcast homepage or click  HERE  to learn more.  We even accept Bitcoin!
Download Our Free App! Now you can access, stream, download and share the entire RRP catalog in the palm of your hand on any iOS mobile device (iPhone, iPad and iPod Touch) with our  new mobile app. Never miss an episode, plus special announcements, discounts, giveaways. Already downloaded? Awesome. When you have a minute, and it feels right to you, do us a solid and give the app a review in the  iTunes Store.