Podcast: Play in new window | Download | Embed
---
"Feeding plants to animals then eating the animals is like filtering water through a sewer then drinking it."

Bruce Friedrich 
---
7.5 billion people currently share this spinning blue planet we call Earth. By 2050, that number will escalate to 9.7 billion. By 2100? 11 billion.
How can we possibly feed 11 billion people sustainably?
To answer that question we must turn our gaze to the industrialization of animal agriculture. On the surface, what we commonly call factory farming appears incredibly efficient, creating massive economies of scale. But peer just below the surface and you'll discover a vast operation of mass suffering that is irreparably polluting the environment, eviscerating our dwindling natural resources and destroying human health to boot.
Beyond wasteful. Utterly unsustainable. Indefensibly cruel.
Ladies and gentlemen, our food system is in dire need of innovation.
So let's talk about it. This week I sit down with Bruce Friedrich, a man who has devoted his life to reforming animal agriculture and innovating the future of food and food systems.
Bruce is the executive director of The Good Food Institute and founding partner of New Crop Capital, organizations focused on replacing animal products with plant and culture-based alternatives. He graduated magna cum laude from Georgetown Law and Phi Beta Kappa from Grinnell College, holds additional degrees from Johns Hopkins University and the London School of Economics and was inducted into the United States Animal Rights Hall of Fame in 2004.
A popular speaker on college campuses — including Harvard, Yale, Princeton, Stanford, and MIT — Bruce has appeared on NBC's Today Show, CNN, Fox News Channel, MSNBC, and Court TV.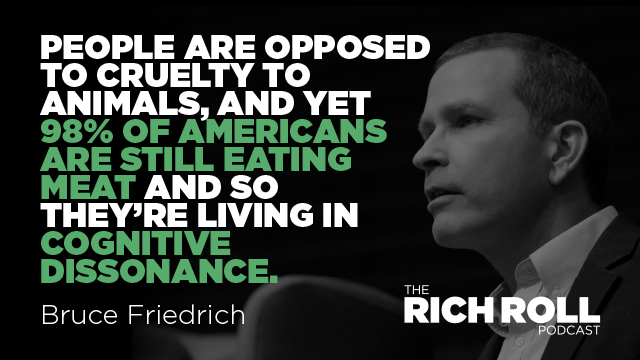 As compelling as it gets, this is an extraordinary conversation about animal agriculture, planetary health and human well being. It's about the politics of agriculture and the subsidies, corporations, representatives and lobbyists that support it.
But mostly, this is an optimistic forecast of food system innovation — how technology, urgency and popular demand are rapidly converging to create healthy, sustainable and compassionate solutions to help solve our current food, health and environmental crises.
Incredibly intelligent, considerate and measured, it was an honor to sit down with Bruce. May our exchange leave you inspired to invest more deeply in where your food comes from and how it impacts the precious world we share.
Peace + Plants,

Listen, Watch & Subscribe
Apple Podcasts | YouTube | Spotify | Stitcher | Google Podcasts
Join us for our next retreat at Ballyvolane in Ireland, July 24-31, 2017. For more information visit ourplantpowerworld.com
Thanks to this week's sponsors:
Harrys.com: A superior shave at an affordable price. Friends of the Rich Roll Podcast can visit Harrys.com/ROLL to redeem your Free Trial Set, which comes with a razor, five-blade cartridge, shaving gel, and post shave gel. All you pay is just shipping.
Health IQ: reward your healthy lifestyle with life insurance that makes sense & never overpay again! To learn more and get a free quote, go to HealthIQ.com/ROLL
SHOW NOTES
Connect With Bruce
Bruce's recent publications, presentations, and interviews: SelectedWorks™
 Background, Context & Reference
Notable People Discussed
 Related Podcasts You Might Enjoy
Thanks to Jason Camiolo for production, audio engineering, show notes and interstitial music; Shawn Patterson for graphics. Theme music by Ana Leimma.
*Disclosure:Books and products denoted with an asterisk are hyperlinked to an affiliate program. We are a participant in the Amazon Services LLC Associates Program, an affiliate advertising program designed to provide a means for us to earn fees by linking to Amazon.com and affiliated sites.
The Plantpower Way  is available at these fine retailers!
Amazon  |  Barnes & Noble  |  IndieBound  |  Penguin
Are you a company interested in sponsoring the podcast? Click here to learn more & take our sponsor survey.
HOW CAN I SUPPORT THE PODCAST?
Tell Your Friends & Share Online!
Subscribe & Review:  iTunes | Stitcher | Soundcloud | TuneIn
Donate: Check out our Patreon account!
Download Our Free App! Now you can access, stream, download and share the entire RRP catalog in the palm of your hand on any iOS mobile device (iPhone, iPad and iPod Touch) with our mobile app. Never miss an episode, plus special announcements, discounts, giveaways. Already downloaded? Awesome. When you have a minute, and it feels right to you, do us a solid and give the app a review in the iTunes Store.