Podcast: Play in new window | Download | Embed
---
"If you're not personally invested in what you're working on, you'll fail."

Biz Stone
---
Imagine co-creating a tool so powerful, it literally changes the world.
Biz Stone is one such man.
Most people know Biz as one of the co-founders of Twitter. Together @biz @jack and @ev created the social media behemoth that seismically impacted how we connect with the world, share information, exchange opinions, consume news, and participate in the daily global conversation.
Ironically, Biz never aspired to become successful in business. A most unlikely entrepreneur, he spent his early years as an artist, crafting book covers for a Boston publishing house.
Biz's initial interest in Silicon Valley was sparked not by the potential for riches but rather by idealism – technology as potential energy to greater unite the human experience. Bring people closer. And cultivate global cooperation.
An early evangelist of blogging as a vehicle to serve his romantic vision, Biz jumped when Ev Williams invited him to join Blogger, the networked blogging platform Ev had built and sold to Google.
Ultimately, Biz walked away from Google. Leaving millions on the table, he leaped into the treacherous unknown of start ups, following Ev to podcast precursor Odeo. In one of the greatest pivots in Silicon Valley lore, Odeo would morph into Twitter. Twitter would permanently change culture. And along with Ev, Biz would later advance to co-found Medium, the über-popular, user-friendly blogging platform of the moment.
Today brings us to Jelly, a new kind of multi-platform search engine Biz recently launched that allows you to ask questions and get timely, helpful answers (as opposed to an index of websites) from the people most well suited to intelligently respond. It's fun and surprisingly effective. Give it a try by downloading the iOS app, visiting askjelly.com/richroll, or just add #askjelly to your Twitter questions.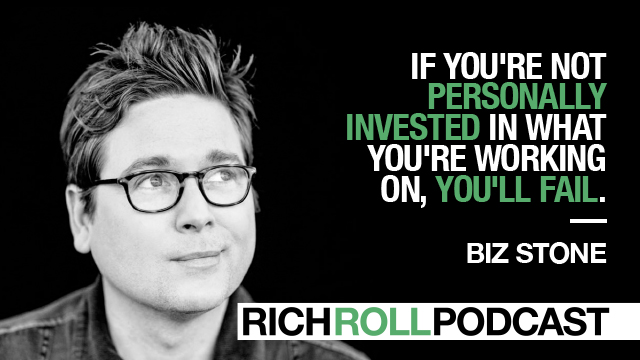 Among his accolades, INC. Magazine named Biz Entrepreneur of the Decade. TIME listed him as one of the 100 Most Influential People in the World, GQ named him Nerd of the Year, and he's one of Vanity Fair's Top Ten Most Influential People of the Information Age. Despite never graduating college, today Biz serves up Visiting and Executive Fellow duties at both Oxford and Berkeley respectively and authored the humorous memoir, Things A Little Bird Told Me.
Beyond the narrative of inhabiting rare entrepreneurial air, what's most personally interesting about Biz is that at his core, he really is an artist. A true artist. Not one for the sexy stories of Silicon Valley board room intrigue, what excites Biz most is leveraging his fertile, creative mind to serve humanity. To make the world better. More connected. More empathetic.
This is a fun, jocular conversation about conscious capitalism, the future of tech and artificial intelligence. It's about living in alignment with one's values. It's about the future of one man's dedication to cultivating greater human cooperation. And it's a conversation about what it takes to change the world. Like, indubitably.
Oh yeah – he's also super funny.
I sincerely hope you enjoy the conversation. Give Biz a shout on Twitter at @biz and let him know what you think.
Peace + Plants,

Listen & Subscribe on iTunes | Soundcloud | Stitcher | GooglePlay
Spots are now available for Plantpower Austraila, Feb. 20-27, 2017. For info visit plantpowerworld.com
Check out Julie's podcast divine throughline
Thanks to this week's sponsors:
Harrys.com: A superior shave at an affordable price. Friends of the Rich Roll Podcast can visit Harrys.com/ROLL to redeem your Free Trial Set, which comes with a razor, five-blade cartridge, shaving gel, and post shave gel. All you pay is just shipping.
Lyft is your friend with a car, whenever you need one. Download the app and get an affordable ride from a friendly driver within minutes. Right now, Lyft is offering my listeners a special deal. First time riders get three FREE rides, up to $10/EA when you enter promo code "RICHROLL".
Karma Baker: Super delicious vegan, organic, gluten free, kosher desserts! Go to karmabaker.com to learn more and get a special offer — $5 off a minimum purchase of $25 when you use my promo code RICHKARMA. Offer applies to first purchase only and expires 11/30/16.
SHOW NOTES
Jelly is a new kind of search engine that finds people with experience in the area of your question and delivers helpful answers directly to you—to learn more, or to ask a question, visit askjelly.com/richroll, download the iOS app, or just add #askjelly to your Twitter questions.
Background, Context & Reference
Books & Films Discussed
Notable People Discussed
Related Podcasts You Might Enjoy
Thanks to Jason Camiolo for production, interstitial music and audio engineering; Chris Swan for production assistance & show notes; Shawn Patterson for graphics.
*Disclosure:Books and products denoted with an asterisk are hyperlinked to an affiliate program. We are a participant in the Amazon Services LLC Associates Program, an affiliate advertising program designed to provide a means for us to earn fees by linking to Amazon.com and affiliated sites.
The Plantpower Way  is available at these fine retailers!
Amazon  |  Barnes & Noble  |  IndieBound  |  Penguin
Are you a company interested in sponsoring the podcast? Click here to learn more & take our sponsor survey.
HOW CAN I SUPPORT THE PODCAST?
Tell Your Friends & Share Online!
Subscribe & Review:  iTunes | Stitcher | Soundcloud | TuneIn
Donate: Check out our brand new Patreon account!
Download Our Free App! Now you can access, stream, download and share the entire RRP catalog in the palm of your hand on any iOS mobile device (iPhone, iPad and iPod Touch) with our mobile app. Never miss an episode, plus special announcements, discounts, giveaways. Already downloaded? Awesome. When you have a minute, and it feels right to you, do us a solid and give the app a review in the iTunes Store.