Podcast: Play in new window | Download | Embed
---
"Diversity is one of the biggest things we need to celebrate – we can learn so much from other people."

Louis Cole 
---
Ever wonder what it would be like to get paid to travel the world, jetting from one exotic port of call to the next in search of adventure?
Now imagine sharing these experiences with millions of people all over the world on the daily.
Few could pull this off. But if you feel the allure, then you're in for a treat with this week's guest — because Louis Cole is the master.
With almost 2 million subscribers on his Fun For Louis YouTube channel (plus 1.5 million on Instagram), this British-born dreadlocked globetrotter was one of the first (if not the very first) daily travel vloggers to break out — an internet personality so sensational, YouTube crown prince Casey Neistat (RRP 73, 144 & 174) dubbed Louis the godfather of daily vlogging.
Louis has crossed India on a rickshaw and skydived high above Dubai. He has skateboarded along Sydney Harbor and sailed a hot air balloon in Kenya. From kayaking in New Zealand to salsa dancing in Cuba, it's just another day of fun for Louis — a guy committed to sucking the marrow out of life.
But the true allure of Louis isn't travel. And it isn't vlogging.
No, Louis' greatest talent is his ability to inspire wonder. Imbued with a rare enthusiasm for embracing all that life delivers, he has an infectious touch when it comes to encouraging his followers to pursue big dreams while he enjoys his own.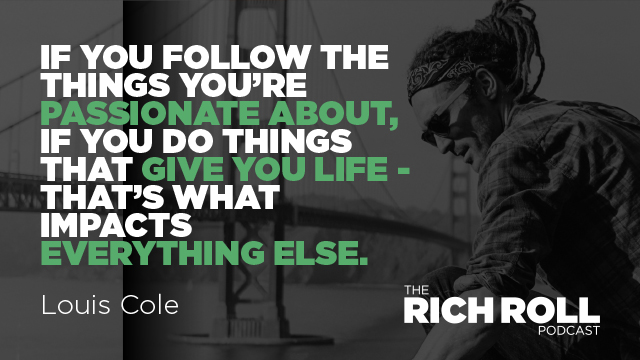 After a brief training progress report with my coach Chris Hauth, this week I sit down with Louis to find out exactly how he created such an extraordinary life.
This is a conversation about cultivating imagination, then translating that imagination into reality. It's about the mindset, tools and practices required to craft the trajectory of your wildest dreams. And to embrace the life you deserve.
An old soul with a big heart, Louis is a truly beautiful guy. I sincerely hope you enjoy this conversation as much as I enjoyed having it.
Peace + Plants,

Listen & Subscribe on Apple Podcasts | Soundcloud | Stitcher
Join us for our next retreat at Ballyvolane in Ireland, July 24-31, 2017. For more information visit ourplantpowerworld.com
Thanks to this week's sponsors:
MeUndies: The world's most comfortable underwear! Visit MeUndies.com/ROLL to get free shipping (in the U.S. & Canada) and 20% off your first pair.
Zeel.com: Choose one of their 8,000 licensed massage therapists for an on-demand massage, in your own home. To help get you started, Rich Roll listeners can get $25 off their first massage by visiting Zeel.com and adding promo code "ROLL" at checkout.
*Disclosure:Books and products denoted with an asterisk are hyperlinked to an affiliate program. We are a participant in the Amazon Services LLC Associates Program, an affiliate advertising program designed to provide a means for us to earn fees by linking to Amazon.com and affiliated sites.
The Plantpower Way  is available at these fine retailers!
Amazon  |  Barnes & Noble  |  IndieBound  |  Penguin
Are you a company interested in sponsoring the podcast? Click here to learn more & take our sponsor survey.
HOW CAN I SUPPORT THE PODCAST?
Tell Your Friends & Share Online!
Subscribe & Review:  iTunes | Stitcher | Soundcloud | TuneIn
Donate: Check out our Patreon account!
Download Our Free App! Now you can access, stream, download and share the entire RRP catalog in the palm of your hand on any iOS mobile device (iPhone, iPad and iPod Touch) with our mobile app. Never miss an episode, plus special announcements, discounts, giveaways. Already downloaded? Awesome. When you have a minute, and it feels right to you, do us a solid and give the app a review in the iTunes Store.