Podcast: Play in new window | Download | Embed
---
"Raising crops to feed animals so we can eat animals is vastly inefficient."

Bruce Friedrich 
---
7.5 billion people currently share this spinning blue planet we call Earth. By 2050, that number will escalate to 9.7 billion. By 2100? 11 billion.
How can we possibly feed 11 billion people sustainably?
To answer that question we must turn our gaze to the industrialization of animal agriculture. On the surface, what we commonly call factory farming appears incredibly efficient, creating massive economies of scale to feed the maximum number of people possible.
But in actuality, this industry is inexcusably inefficient and unsustainable long-term. It requires untold amounts of land, water and feed. It contributes more greenhouse gas emissions that the entire transportation combined. It's depleting our soil. It's polluting our water table. It's acidifying our oceans. It's making us sick. And it's driving the greatest mass species extinction in the history of mankind. In fact, 60% of all animal species have been rendered extinct in just the last 50 years.
We can't continue down this path. We desperately need a better way.
So let's talk about it. This week I sit down for a second conversation with Bruce Friedrich, a leading innovator in food systems and policy.
Bruce is the executive director of The Good Food Institute and founding partner of New Crop Capital, organizations focused on replacing animal products with plant and culture-based alternatives. He graduated magna cum laude from Georgetown Law and Phi Beta Kappa from Grinnell College, holds additional degrees from Johns Hopkins University and the London School of Economics and was inducted into the United States Animal Rights Hall of Fame in 2004.
A popular speaker on college campuses — including Harvard, Yale, Princeton, Stanford, and MIT — Bruce has appeared on NBC's Today Show, CNN, Fox News Channel, MSNBC, and Court TV.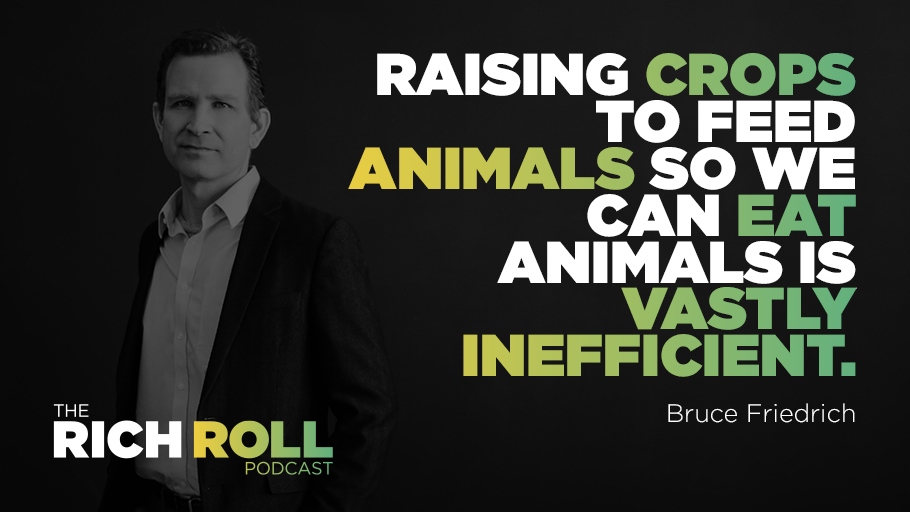 Picking up where we left off in April 2017 (RRP 286), Bruce brings us up to speed on the rapidly evolving frontier of food technology and plant-based innovation, including a fascinating deep dive into the cutting edge of clean meat and the revolutionary science that is making possible the production of animal foods by way of cultured cells harvested without slaughter.
This is a conversation about the politics of agriculture and the subsidies, corporations, representatives and lobbyists that support it.
Bust mostly, this is about current advances designed to improve food systems in the interest of human, animal and planetary well-being.
Humanity currently faces an unprecedented, seemingly insurmountable environmental crisis. But Bruce casts an optimistic forecast — how technology, urgency and popular demand are rapidly converging to create healthy, sustainable and compassionate solutions to help solve our current food, health and environmental dilemmas.
Chock-a-block with incredible information, this exchange will leave you not only better informed on the aforementioned subjects, but inspired to invest more deeply in where your food comes from, how it impacts the precious world we share and how together we can forge the future of food for ourselves and generations to come.
Incredibly intelligent, considerate and measured, it was an honor to sit down with Bruce. I sincerely hope you enjoy the conversation.
Peace + Plants,

Listen, Watch & Subscribe
Apple Podcasts | YouTube | Spotify | Stitcher | Google Podcasts
Thanks to this week's sponsors
Thrive Market: Your online market for super healthy food at 25-50% off retail shipped right to your home. Visit: thrivemarket.com/richroll and get an EXTRA 25% off on your first box of organic and non-GMO products. PLUS: free shipping! Never pay full price for healthy food again.
Peloton – Discover this cutting-edge indoor cycling bike that brings the studio experience to your home.  Get a great workout at home, anytime you want. Go to onepeloton.com, use the code RICHROLL and get $100 off accessories with your Peloton bike purchase.
DesignCrowd: Custom graphic, logo and web design from over 550,000 designers around the world. Get the perfect custom design, every time! Visit designcrowd.com/RICHROLL or enter promo code RICHROLL at checkout and receive up to $100 off your design project now!
SHOW NOTES
Check out Bruce (and Kathy Freston's) book: Clean Protein: The Revolution that Will Reshape Your Body, Boost Your Energy—and Save Our Planet*
 Background, Context & Reference
Notable People Discussed
Kathy Freston: vegan and wellness activist, co-author of Clean Protein* and (2x) podcast guest
Paul Shapiro: Author of Clean Meat*, TEDx speaker, TryVeg founder and podcast guest
Neal Barnard: American doctor, author, founding president of PCRM and (2x) podcast guest
Yuval Noah Harari: historian, lecturer, author Sapiens: A Brief History of Humankind *, Homo Deus: A Brief History of Tomorrow*, 21 Lessons for the 21st Century* and podcast guest
Ethan Brown: Founder and CEO of plant-based meat producer: Beyond Meat
Pat Brown: Former Stanford University biochemistry professor, CEO, founder of Impossible Foods
Uma Valeti, MD: Cardiologist, entrepreneur and CEO of Memphis Meats
Bill Gates: Co-founder of the world's largest PC software company – Microsoft
Professor Mark Post, MD, PhD: Professor of Physiology at Maastricht University, Netherlands
 Related Podcasts You Might Enjoy
Thanks to Jason Camiolo for production, audio engineering, interstitial music and show notes; Margo Lubin and Blake Curtis for video, editing and graphics. Portraits by Reece Robinson. Theme music by Ana Leimma.
*Disclosure: Books and products denoted with an asterisk are hyperlinked to an affiliate program. We are a participant in the Amazon Services LLC Associates Program, an affiliate advertising program designed to provide a means for us to earn fees by linking to Amazon.com and affiliated sites.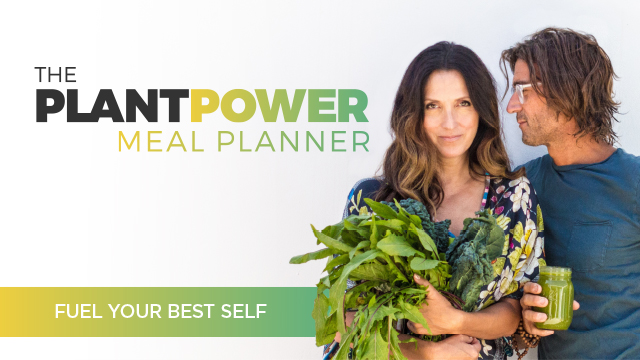 Check out The Plantpower Meal Planner — 1000's of recipes at your fingertips!
HOW CAN I SUPPORT THE PODCAST?
Tell Your Friends & Share Online!
Subscribe & Review:  iTunes | Stitcher | Soundcloud | GooglePlay
Donate: Check out our Patreon account!
Download Our Free App! Now you can access, stream, download and share the entire RRP catalog in the palm of your hand on any iOS mobile device (iPhone, iPad and iPod Touch) with our mobile app. Never miss an episode, plus special announcements, discounts, giveaways. Already downloaded? Awesome. When you have a minute, and it feels right to you, do us a solid and give the app a review in the iTunes Store.
Support The Sponsors: One of the best ways to support the podcast is to support our sponsors. For a complete list of all RRP sponsors and their respective vanity url's and discount codes, visit my Resources page and click "Sponsors".