Podcast: Play in new window | Download | Embed
---

"In a wide variety of human activity, achievement is not possible without discomfort."

Alex Hutchinson
---
Let's talk about limits.
What is your true ceiling? How do you frame the outer edge of your capabilities?
Are these checks and balances truth? or are they just beliefs you accept as fact?
How you answer these questions have profound implications not only on your perception of potential, but on virtually every significant decision you make, the challenges you agree to tackle and ultimately how you view yourself and the world you inhabit.
Today's conversation asks us to rethink such restrictions — both self-imposed and external — suggesting that we are all capable of so much more than we allow ourselves to believe. That, in a word, each and every one of us holds the power to transcend our sense of what is truly possible.
Because according to this week's guest, limits are an illusion.
Meet Alex Hutchinson.
A National Magazine Award-winning journalist, Alex began his career as a physicist, putting his University of Cambridge Ph.D to work as a researcher for the U.S. National Security Agency. A two-time finalist in the 1,500 meters at the Canadian Olympic Trials, Alex spent his free time during the NSA years training and competing as a middle- and long-distance runner for the Canadian national team. By this I mean he is a good runner. Very good.
Alex subsequently received a masters in journalism from Columbia University and today he writes about the science of endurance for Runner's World and Outside, while frequently contributing to little-known publications like the New York Times, The New Yorker and Toronto's Globe and Mail. FiveThirtyEight recently named him one of their "favorite running science geeks" and he was also one of only two reporters granted access to cover Breaking2 — Nike's top secret training project to break the two-hour marathon barrier.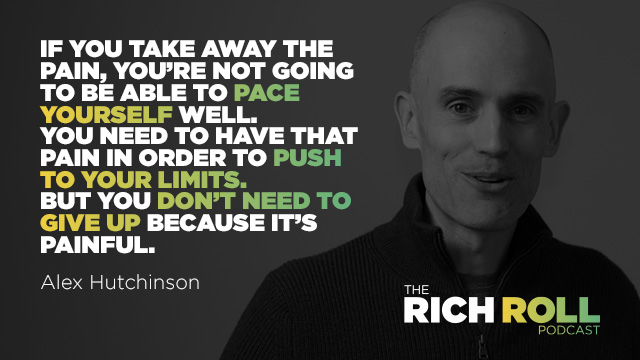 I have been a fan and avid reader of Alex's writing over the last few years. But what inspired me to invite him on the podcast is his phenomenal new book, Endure: Mind, Body, and the Curiously Elastic Limits of Human Performance*. A page-turning must read, it blends cutting edge science and incredible storytelling in the spirit of Malcolm Gladwell (who penned the foreword) to suggest the seemingly physical barriers we encounter when tackling a challenge are set as much by the brain as by the body.
In other words, the horizons of performance are much more elastic than we once thought.
Indeed, the new frontier of endurance is not the body, but the mind.
Borne from a decade of intensive research shadowing elite athletes and traveling to high-tech labs around the world, this conversation with Alex beckons us to better understand and ultimately more fully express express our innate abilities. And it's a roadmap laden with strategies, techniques and tools to manifest that untapped potential lurking within.
Alex's examination of limits is not restricted to physical performance. Defined broadly as "the struggle to continue against a mounting desire to stop," Alex suggests that endurance is best understood as surprisingly universal, applicable to essentially every challenge we face, be it athletic, academic, professional or emotional.
So even if you are not an athlete, my hope is that this conversation and the book that inspired it will leave you rethinking your limits, so that you may reach higher, push farther, and ultimately become better in whatever discipline you are devoted to mastering.
I sincerely hope you enjoy the exchange.
Peace + Plants,

Listen, Watch & Subscribe
Apple Podcasts | YouTube | Soundcloud | Stitcher | GooglePlay
Thanks to this week's sponsors
Four Sigmatic: A superfood company founded by a group of Finnish friends. They aim to popularize medicinal mushrooms by incorporating them in more mainstream products like coffee and hot cocoa. Visit www.foursigmatic.com/roll and enter the promo code ROLL at checkout to save 15% on your order!
Health IQ: A new paradigm insurance company that helps health conscious people get special rates on term life insurance.  Go to healthiq.com/ROLL to support the show and learn more.
On Running: Born in the Swiss Alps, On Running shoes feature the first patented cushioning system which is activated only when you need it – during the landing. To learn more about On go to  www.on-running.com/richroll. For tickets to hear Rich speak at the NYC On Running event at WeWork Times Square on April 18, click here.
Note: One of the best ways to support the podcast is to support the sponsors. For a complete list of all RRP sponsors and their respective vanity url's and discount codes, visit my Resources page and click "Sponsors".
Notable People Discussed In Today's Podcast
Related Podcasts You Might Enjoy
Thanks to Jason Camiolo for production, audio engineering, interstitial music and show notes and Blake Curtis for graphics. Theme music by Ana Leimma.
*Disclosure: Books and products denoted with an asterisk are hyperlinked to an affiliate program. We are a participant in the Amazon Services LLC Associates Program, an affiliate advertising program designed to provide a means for us to earn fees by linking to Amazon.com and affiliated sites.

The revised and updated version of Finding Ultra is now available!
Are you a company interested in sponsoring the podcast? Click here to learn more & take our sponsor survey.
HOW CAN I SUPPORT THE PODCAST?
Tell Your Friends & Share Online!
Subscribe & Review:  iTunes | Stitcher | Soundcloud | TuneIn
Donate: Check out our Patreon account!
Download Our Free App! Now you can access, stream, download and share the entire RRP catalog in the palm of your hand on any iOS mobile device (iPhone, iPad and iPod Touch) with our mobile app. Never miss an episode, plus special announcements, discounts, giveaways. Already downloaded? Awesome. When you have a minute, and it feels right to you, do us a solid and give the app a review in the iTunes Store.
Support The Sponsors: One of the best ways to support the podcast is to support our sponsors. For a complete list of all RRP sponsors and their respective vanity url's and discount codes, visit my Resources page and click "Sponsors".