Podcast: Play in new window | Download | Embed
---

"I believe there is a champion in all of us. No matter the circumstances, each and every human being should be encouraged to achieve excellence in life. You should live your own dreams."

Frank Shamrock
---
He grew up in poverty. His childhood was marred by savage abuse. Violence soon followed. And it wasn't long before the prison doors slammed shut.
His future, it seemed, was cemented.
But Frank Shamrock didn't just find a way out. He transformed himself wholesale.
This is his story.
As unimaginable as it is inspiring, it's a tale about the fortitude required to face a set of circumstances so dire, a state of affairs so poisonous, it would have buried the best of us. Instead, Frank prevailed. With the support of the father that adopted him, he ultimately transcended inconceivable obstacles to emerge as one of the world's greatest mixed martial arts fighters — a heroic pioneer of modern combat sports.
Dubbed The Legend during the emergent era of MMA, a time in which there were no gloves, no weight classes and basically no rules, Frank was the first true breakout champion and widely considered the sport's first complete mixed martial arts fighter. He was the world's first UFC Middleweight Champion. He was the first Mexican-American MMA Champion. And when the dust settled, he walked away from his career with four world titles, two world records (for the fastest championship victories in history) and the only athlete in sports history to win every major league title in MMA.
Post-retirement, Frank has had successful runs as a fight commentator, a fight promoter, a UFC and Strikeforce spokesperson, a public speaker, an entrepreneur, a mentor, a philanthropist, and the author of two books, Mixed Martial Arts for Dummies* and his memoir, Uncaged: My Life as a Champion MMA Fighter* (with a foreword by Mickey Rourke).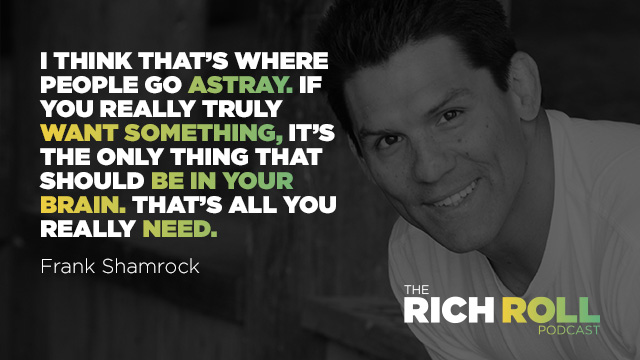 Frank's accomplishments in the cage are amazing. But what is far more compelling is the extraordinary journey he undertook to overcome his past.
This a conversation about that journey. It's about how he did it, and what can be gleaned from his experience that can inform how we perceive and approach our own limiters, both external and internal, to achieve our potential in any area of life, irrespective of circumstances.
Frank calls it the Shamrock Way. I call it unleashing your best, most authentic self.
You can call it whatever you like. I ask only that you listen with an open heart.
Podcast is also viewable on YouTube here.
I sincerely hope you enjoy the exchange.
Peace + Plants,

Listen, Watch & Subscribe
Apple Podcasts | YouTube | Soundcloud | Stitcher | GooglePlay
Filmed by Michael Gibson & edited by Blake Curtis
Thanks to this week's sponsors
Squarespace: The easiest way to create a beautiful website, blog, or online store for you and your ideas. Save 10% at checkout when visit squarespace.com and use the coupon code "RICHROLL" at checkout.
Made Of Denali: The challenge: hike, jog, climb, or crawl up a mountain. Take the gondola down. Repeat 9 times until you climb 20,322 vertical feet, the equivalent of climbing Mt. Denali — the highest mountain in North America. It goes down Aug. 23 – 26, 2018 outside Salt Lake City, Utah  Learn more at www.madeofdenali.com
On Running: Born in the Swiss Alps, On Running shoes feature the first patented cushioning system which is activated only when you need it – during the landing. To learn more about On go to  www.on-running.com/richroll
Note: One of the best ways to support the podcast is to support the sponsors. For a complete list of all RRP sponsors and their respective vanity url's and discount codes, visit my Resources page and click "Sponsors".
Notable People Discussed In Today's Podcast
Related Podcasts You Might Enjoy
Thanks to Jason Camiolo for production, audio engineering, intersticial music and show notes and Blake Curtis for videography and graphics. Theme music by Ana Leimma.
*Disclosure: Books and products denoted with an asterisk are hyperlinked to an affiliate program. We are a participant in the Amazon Services LLC Associates Program, an affiliate advertising program designed to provide a means for us to earn fees by linking to Amazon.com and affiliated sites.

The revised and updated version of Finding Ultra is now available!
Are you a company interested in sponsoring the podcast? Click here to learn more & take our sponsor survey.
HOW CAN I SUPPORT THE PODCAST?
Tell Your Friends & Share Online!
Subscribe & Review:  iTunes | Stitcher | Soundcloud | TuneIn
Donate: Check out our Patreon account!
Download Our Free App! Now you can access, stream, download and share the entire RRP catalog in the palm of your hand on any iOS mobile device (iPhone, iPad and iPod Touch) with our mobile app. Never miss an episode, plus special announcements, discounts, giveaways. Already downloaded? Awesome. When you have a minute, and it feels right to you, do us a solid and give the app a review in the iTunes Store.
Support The Sponsors: One of the best ways to support the podcast is to support our sponsors. For a complete list of all RRP sponsors and their respective vanity url's and discount codes, visit my Resources page and click "Sponsors".