Podcast: Play in new window | Download | Embed
---

"There's no such thing as a big moment, there's just another moment."

Michael Gervais
---
At the highest echelon of elite performance, all the athletes possess otherworldly talent. Their thirst for glory is equally preternatural. All of them train to the outer limits of physical possibility. And they are all extraordinarily adroit at focusing on almost inhuman, impossible goals.
So what accounts for the distance between the Olympic gold medalist standing proudly atop the podium and the athlete watching the games on television at home?
Is it luck? Talent? Support? Resources? Of course every result is significantly influenced by some combination of these important variables. But all things being equal, the difference between the champion and the also ran boils down to one distinct variable:
The mind.
Once the embarrassing last stop on a flailing athlete's career, the world's top sports psychologists now enjoys a highly influential and respected role proactively honing the mental and emotional edge of today's most successful athletes, CEOs and creatives looking to elevate peak performance beyond the imaginable.
Enter Dr. Michael Gervais — the go to high performance psychologist everyone is talking about.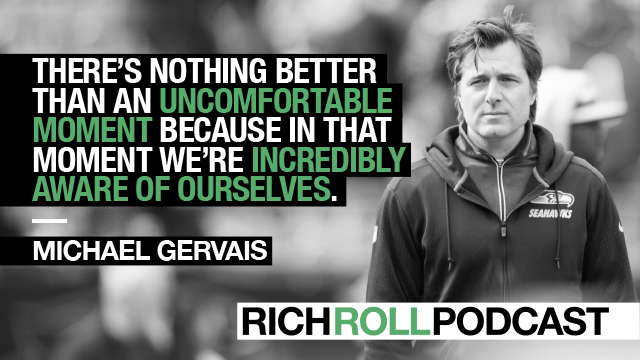 A key member of the Red Bull High Performance Program, Michael works in the trenches of high-stakes environments with some of the world's most prolific Olympic and professional athletes — rare air where there is no luxury for mistakes, hesitation, or failure to respond.
Dr. Gervais' results are beyond impressive. If you follow the NFL, then you might recall Michael as the guy Seattle Seahawks coach Pete Carroll credits as integral in their 2014 Super Bowl win for the meditation, mindfulness and other crucial team building techniques he helped foster and instill into the fabric of the Seahawks organization and team culture that paved the team's path towards incredible success.
You might also remember that Felix Baumgartner's now-infamous Red Bull Stratos jump from an altitude of 128,000 feet almost never was simply because Felix simply could not overcome the high level of anxiety and claustrophobia he experienced every time he donned the jump suit. It was none other than Gervais who helped Baumagartner resolve the issue and get Stratos back on track. No Gervais, no history making jump.
And more recently, Michael is the man behind Luke Aikins, who astonished the world this past July by becoming the first skydiver to jump from a plane at 25,000 feet without a parachute or wingsuit and live to tell the story.
Dr. Gervais has also worked intimately with US Olympic Team members like beach volleyball superstar Kerry Walsh Jennings, as well as swimmers, snowboarders, golfers, basketball players, track and field athletes, an impressive array of top collegiate programs, and professional sports organizations including the NBA, NFL, NHL, MLB and UFC. In addition, his work has played an integral role in the US Military, as well as several collegiate and high school programs.
While Dr. Gervais' roster includes some of the sports world's most elite, this isn't just about high performance athletes.
Whether you are an athlete or a weekend warrior, an executive or a stay-at-home parent, it's about transcending our self-imposed limitations to unlock dormant potential to unleash your unique, most authentic life.
Because everyday, every one of us — irrespective of circumstance — has the opportunity to create a living masterpiece.
Today marks my second conversation with Michael. Picking up where we left off in December 2014 (RRP 120), this conversation delves deeper into Michael's life, experience and message, further canvassing the psychological topography of performance and even probing some surprisingly mystical terrain.
We cover a lot of ground in this conversation, including:
shared podcasting experiences
the psychology of "the interview"
the freedom of courage
explaining an "off-axis" nature
the principles of effective coaching
hardship and hurdles—the 2016 Olympics
improving performance and relationships
in pursuit of pain
Michael's mystical flower reading
the razor's edge
the power of positive thinking
placebo and nocebo effects on health
mastery of self
At it's core, this is a conversation about self mastery. A state of being that isn't about motivation. And has nothing to do with winning. It's about courage. It's about pursuing the razor's edge of what's possible. It's about belief.
And it's about love.
A very special human, Michael is truly one of my favorite people and this conversation reveals why. I hope you enjoy listening to it as much as I enjoyed having it. And while you're at it, make a point of subscribing to his podcast. A unique mining of the mindsets behind high performers across a diversity of disciplines, Finding Mastery stands alone.
Peace + Plants,

Listen & Subscribe on iTunes | Soundcloud | Stitcher | GooglePlay
Spots are now available for our Australian retreat— for info visit plantpowerworld.com
Check out Julie's podcast divine throughline
Thanks to this week's sponsors:
Lyft is your friend with a car, whenever you need one. Download the app and get an affordable ride from a friendly driver within minutes. Right now, Lyft is offering my listeners a special deal. First time riders get three FREE rides, up to $10/EA when you enter promo code "RICHROLL".
Headspace.com: Train your mind for a healthier, less-stressed life. Download the FREE app and begin their Take10 program, for 10 days of guided meditation at headspace.com/ROLL
SHOW NOTES
In addition to curating conversations with those who have dedicated their life toward Finding Mastery, Michael has vowed (with the help of co-founder Pete Carroll) to help 1.5 billion people be the best they can be. To learn more check out winforever.com.
Background, Context & Reference
Books Discussed
Notable People Discussed In Today's Podcast
Related Podcasts You Might Enjoy
Thanks to Jason Camiolo for production, interstitial music and audio engineering; Chris Swan for production assistance & show notes; Shawn Patterson for graphics.
*Disclosure:Books and products denoted with an asterisk are hyperlinked to an affiliate program. We are a participant in the Amazon Services LLC Associates Program, an affiliate advertising program designed to provide a means for us to earn fees by linking to Amazon.com and affiliated sites.
The Plantpower Way  is available at these fine retailers!
Amazon  |  Barnes & Noble  |  IndieBound  |  Penguin
Are you a company interested in sponsoring the podcast? Click here to learn more & take our sponsor survey.
HOW CAN I SUPPORT THE PODCAST?
Tell Your Friends & Share Online!
Subscribe & Review:  iTunes | Stitcher | Soundcloud | TuneIn
Donate: Check out our brand new  Patreon account!
Download Our Free App! Now you can access, stream, download and share the entire RRP catalog in the palm of your hand on any iOS mobile device (iPhone, iPad and iPod Touch) with our mobile app. Never miss an episode, plus special announcements, discounts, giveaways. Already downloaded? Awesome. When you have a minute, and it feels right to you, do us a solid and give the app a review in the iTunes Store.