This week's guest is incontrovertibly the most inspirational person I have ever met —
a man that will catapult you into 2017 with the inspiration and tools to chase huge dreams, shatter limits, and actualize your best, most authentic self.
Often referred to as the toughest athlete on the planet, David Goggins (@davidgoggins) is the only member of the US Armed Forces to complete SEAL training (including THREE Hell Weeks), the U.S. Army Ranger School (where he graduated as Enlisted Honor Man) and Air Force tactical air controller training.
But David is perhaps best known for his superhuman feats of strength and ultra-endurance.
After several of his friends died in a 2005 helicopter crash while deployed in Afghanistan, David honored their memory by tackling the 10 most difficult endurance challenges on Earth to raise funds and awareness for the Special Operations Warrior Foundation, which provides college scholarships and grants to the children of fallen special ops soldiers.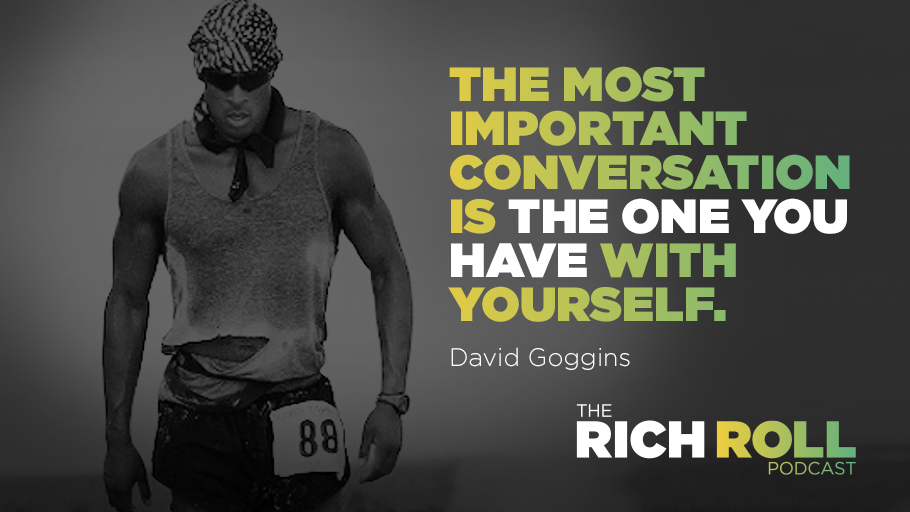 Hence began a most unexpected yet remarkably storied athletic career as one of the world's most accomplished endurance athletes. Highlights include:
2013: world record for most pullups in a 24 hour period (4,030);
2007: 3rd place — Badwater 135 – a 135 mile ultramarathon across Death Valley widely considered to be the world's most difficult foot race;
2006: 2nd place — Ultraman World Championships, a double-ironman distance race widely considered to be the world's most difficult triathlon;
2007: 1st place — 48-Hour National Championship endurance foot race, where he ran 203.5 miles, beating the previous record by 20 miles; and
2007 – 2016 — additional top finishes at dozens of the world's most grueling endurance races, including The HURT 100, Leadville 100, Western States & more.
But perhaps David's greatest accomplishment is that throughout his life, he has faced and overcome a concatenation of seemingly insurmountable obstacles to become the man he is today – obstacles like asthma, sickle cell anemia, psychological and physical abuse, obesity, academic struggles, and even a congenital heart defect that often left him competing — and winning — on a mere fraction of his actual physical capabilities.
When you think you're done, you're only at 40% of your total potential.
– DAVID GOGGINS
In addition to being one of the most remarkable people I have ever met, David has had a profound impact on me personally. It was his singular example that ignited my passion for ultra-endurance and fueled the self-belief required to pursue a new life. In truth, I'm not sure I would have achieved my athletic and life goals had he not blazed the path before me. I simply cannot ever repay the debt of gratitude I have for this man.
One of the most powerful podcasts I have ever produced, this a conversation about the primacy of purpose to cultivate your inner voice. It's about passion and self-accountability. It's about the limiting beliefs that hold us back and the importance of mindset to overcome them. And it's about the embrace of suffering as a crucible for growth and self-knowledge.
But ultimately, this is a conversation about what it means to be truly alive.
Welcome to 2017 people. It's time to check your excuses at the door. It's time to stop talking yourselves out of being great. It's time to get comfortable being uncomfortable. It's time to wake up. Because your life is not some future event. Your life is now.
Peace + Plants,

Listen, Watch, & Subscribe
For 1000s of delicious, customized plant-based recipes & so much more, check out our Plantpower Meal Planner.

Harrys.com: A superior shave at an affordable price. Friends of the Rich Roll Podcast can visit Harrys.com/ROLL to redeem your Free Trial Set, which comes with a razor, five-blade cartridge, shaving gel, and post shave gel. All you pay is just shipping.

MeUndies: The world's most comfortable underwear! Visit MeUndies.com/ROLL to get free shipping (in the U.S. & Canada) and 20% off your first pair.
Tell Your Friends & Share Online
Donate: Patreon
Patronize Our Sponsors: For a complete list of all RRP sponsors and their respective vanity URLs and discount codes, click "Sponsors" here.
Thanks to Jason Camiolo for production, interstitial music and audio engineering; Chris Swan for production assistance & show notes; Shawn Patterson for graphics. Theme music by Ana Leimma.
*Disclosure: Books and products denoted with an asterisk are hyperlinked to an affiliate program. We are a participant in the Amazon Services LLC Associates Program, an affiliate advertising program designed to provide a means for us to earn fees by linking to Amazon.com and affiliated sites.