Podcast: Play in new window | Download | Embed
---

"Let's combine hacking with our history — and where we come from — to make sure we stay in tune with evolution."

Valter Longo PhD
---
When it comes to longevity, the goal isn't just to live as long as possible.
The true objective is to live as vibrantly and energetically as possible for as long as possible.
So how exactly do we do this?
Valter Longo, Ph.D. has devoted his life to answering this question. Along the way, his groundbreaking discoveries hold the potential to change your life in truly dramatic fashion.
One of the world's leading scientific authorities on the subject of longevity, Dr. Longo is an expert in gerontology and biological science as well as the Director of the USC Longevity Institute and the Program on Longevity and Cancer at IFOM in Milan, both of which focus on developing a better scientific understanding of the fundamental mechanisms of aging, disease and, of course, longevity.
In addition, Dr. Longo is the author of an extraordinary new book entitled, The Longevity Diet*. The culmination of 25 years of research on aging, nutrition and disease across the globe, it provides an easy-to-understand, accessible and implementable road map to living to living well longer through improved nutrition.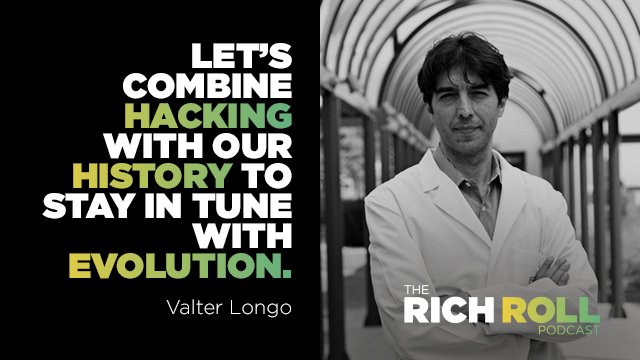 What differentiates Dr. Longo from many of his peers is that his focus is not purely academic, but practical. From his exhaustive research on aging in both mice and humans, he has created specific diet and lifestyle protocols scientifically proven to active stem cells; promote organ regeneration and rejuvenation; reduce the risk for diabetes, cancer, Alzheimer's and heart disease; and ultimately extend that which we all seek: lifespan.
As discussed at length over the course of our almost 2-hour exchange, Dr. Longo's specific longevity prescription entails a daily diet regimen based on a studied group of centenarians (think Blue Zones). He then combines this with a periodic 5-day fasting protocol called the Fasting Mimicking Diet (undertaken 3-4 times per year), designed to reap the benefits of a true calorie free fast while still nourishing the body daily.
This is a powerful conversation the explores all of the foregoing. It's about what promotes longevity and what undermines it. Separating truth from misconception, it's exploration of the benefits of fasting and the science that supports it. And it's a primer on the optimal lifestyle protocols you can employ in your every day life to live well and long.
Break out pen and paper because you're going to want to take notes on this one.
It's an honor and a privilege to share Dr. Longo's experience with you — one of my most important podcasts to date.
I sincerely hope you not only enjoy the exchange, but employ his wisdom for your long-term well-being.
Because we all deserve to live our best life.
For the visually inclined, you can watch our conversation on YouTube at: http://bit.ly/richandvalter
If you are enjoying the video versions of the show, do me a favor and subscribe!
I sincerely hope you enjoy the exchange.
Peace + Plants,

Listen, Watch & Subscribe
Apple Podcasts | YouTube | Soundcloud | Stitcher | GooglePlay
Thanks to this week's sponsors
Harrys.com: A superior shave at an affordable price. Friends of the Rich Roll Podcast can visit Harrys.com/ROLL to redeem your Free Trial Set,which comes with a razor, five-blade cartridge, shaving gel, and post shave gel. All you pay is shipping.
Peloton – Discover this cutting-edge indoor cycling bike that brings the studio experience to your home.  Get a great workout at home, anytime you want. Go to onepeloton.com, use the code RICHROLL and get $100 off accessories with your Peloton bike purchase.
DesignCrowd: Custom graphic, logo and web design from over 550,000 designers around the world! Get the perfect custom design, every time! Visit designcrowd.com/RICHROLL or enter promo code RICHROLL at checkout and receive up to $100 off your design project now!
Note: One of the best ways to support the podcast is to support the sponsors. For a complete list of all RRP sponsors and their respective vanity url's and discount codes, visit my Resources page and click "Sponsors".
SHOW NOTES
Pick up Dr. Longo's book The Longevity Diet*
Background, Context & Reference
Notable People Discussed
Related Podcasts You Might Enjoy
Thanks to Jason Camiolo for production, audio engineering, interstitial music and show notes, Blake Curtis for videography, and Margo Lubin for editing and graphics. Theme music by Ana Leimma.
*Disclosure: Books and products denoted with an asterisk are hyperlinked to an affiliate program. We are a participant in the Amazon Services LLC Associates Program, an affiliate advertising program designed to provide a means for us to earn fees by linking to Amazon.com and affiliated sites.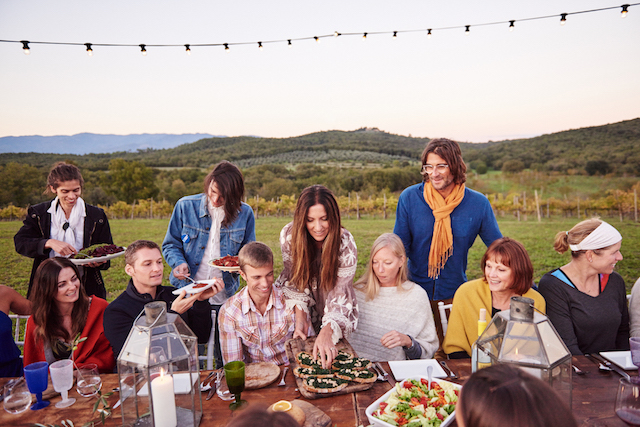 The Plantpower Way: Italia is now available — pick up your copy today!
HOW CAN I SUPPORT THE PODCAST?
Tell Your Friends & Share Online!
Subscribe & Review:  iTunes | Stitcher | Soundcloud | GooglePlay
Donate: Check out our Patreon account!
Download Our Free App! Now you can access, stream, download and share the entire RRP catalog in the palm of your hand on any iOS mobile device (iPhone, iPad and iPod Touch) with our mobile app. Never miss an episode, plus special announcements, discounts, giveaways. Already downloaded? Awesome. When you have a minute, and it feels right to you, do us a solid and give the app a review in the iTunes Store.
Support The Sponsors: One of the best ways to support the podcast is to support our sponsors. For a complete list of all RRP sponsors and their respective vanity url's and discount codes, visit my Resources page and click "Sponsors".