Podcast: Play in new window | Download | Embed
---
"God, please help me not be an asshole, is about as common a prayer as I pray in my life."

Nadia Bolz-Weber
---
Today we continue my exploration of faith with one of the most fascinating spiritual leaders in America today — a Lutheran pastor and public theologian dedicated to redefining how we think about church, practice religion, ritualize divinity, and cultivate community.
But her latest concentration, and the focus of today's conversation, is reforming religion's antiquated, sexist ideas about sex, gender and our bodies – and all the pain, guilt and shame they provoke — to reclaim our sexuality and boldly begin anew.
You see, Nadia Bolz-Weber is no ordinary pastor.
Standing six-foot-one, this heavily tattooed former drug addict rocks the collar with bright red lipstick, fancies serious custom-made jewelry (her rings and belt buckles are off the hook) and swears like a sailor. Confusing matters more, she's also very much a traditionalist – a fearless and deeply reverent pastor for America's outsiders with intrepid beliefs about what "church" can and should be for the seekers among us.
For eleven years, Nadia served as the founding pastor of House for All Sinners and Saints, a colorful and eclectic, all-comers welcome congregation she started in 2007 with just eight members in her living room in Denver.
She is also a three-time New York Times bestselling author. Pastrix: The Cranky, Beautiful Faith of a Sinner & Saint*, is her prayer-and-profanity laden narrative about an unconventional life of faith. Accidental Saints: Finding God in All the Wrong People* recounts her religious but not-so-spiritual path and perspective. Her newest book, Shameless A Sexual Reformation*, unleashes her critical eye, her sharp pen, and her vulnerable but hopeful soul on the caustic, fear-riddled, and religiously inspired messages about sex that have fed our shame.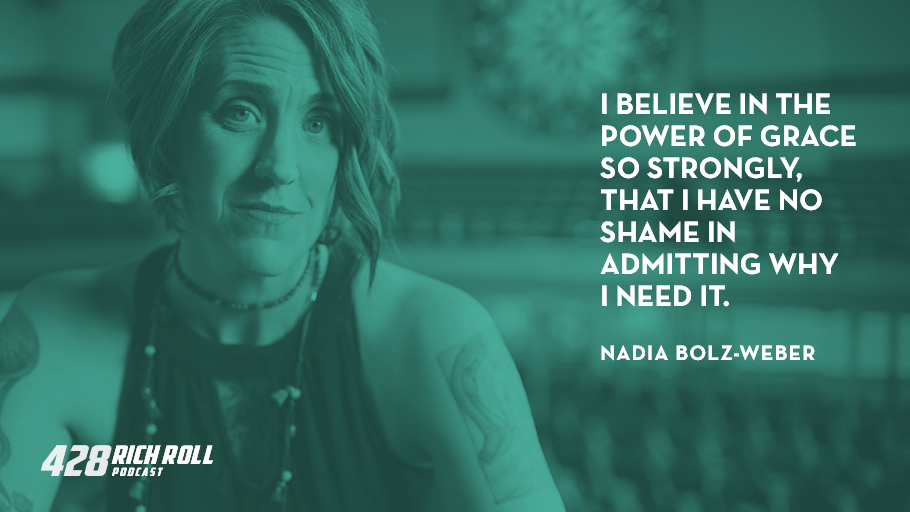 I first laid eyes on Nadia when she took the stage at The Nantucket Project to interview Lance Armstrong. Her opening line? "So, I see from my notes that you took some drugs you weren't supposed to and then you lied about it? OMG. I did that shit SO MANY TIMES!"
The crowd erupted. Instantly, I was hooked.
Later that same weekend I witnessed Nadia deliver a sermon unlike anything I had ever experienced in church or otherwise. Wrapt by her charisma and compelled by her unapologetically honest message, I knew immediately I had to get her on the podcast.
Growing up fundamentalist, at 12 she was diagnosed with Graves' disease, a thyroid-related autoimmune disorder that caused her eyes to literally bug out of their sockets. Socially ostracized, rage and cynicism led a descent into drugs and alcohol. In 1991, a 12-step program ultimately lit her path back to faith — and the church she ultimately founded to create a home for those who have never felt home.
Today we explore Nadia's amazing story, set against the backdrop of her current focus: reforming Christianity's historically toxic, fear-riddled obsession with sex that has fed our collective shame. Calling for a new reformation, her antidote in this holy resistance is grace, freedom, courage, love and hope. And her aim is to heal not only those who have been hurt but also those who have done the hurting.
Courageous, vulnerable and acerbically funny, I adore Nadia and the message she shares today. Whether you are religious or atheist; spiritual or agnostic, we are all both sinners and saints. And this conversation — a far cry from your typical sermon — overflows with beauty and wisdom for everyone.
However, if you are someone who has been mistreated, wounded or victimized by the shaming sexual messages so prevalent in religion — which obviously spills over into culture at large — then this podcast is appointment listening.
Click here to watch our conversation on YouTube or listen on Apple Podcasts or Spotify.
May grace and peace be with you.
Peace + Plants,

Listen, Watch & Subscribe
Apple Podcasts | YouTube | Spotify | Stitcher | Google Podcasts
Thanks to this week's sponsors
DesignCrowd: Custom graphic, logo and web design from over 550,000 designers around the world. Get the perfect custom design, every time! Visit designcrowd.com/RICHROLL or enter promo code RICHROLL at checkout and receive up to $100 off your design project now!
Four Sigmatic: A superfood company popularizing medicinal mushrooms by incorporating them in delicious mainstream products like coffee and hot cocoa. Visit foursigmatic.com/roll and enter the promo code ROLL at the checkout and save 15% on EVERY order!
Outerknown: For the people and the planet, Outerknown was founded by pro surfer Kelly Slater to provide high quality, environmentally sustainable clothes that fit great and are made to endure. Visit: Outerknown.com today and enter promo code RICHROLL at checkout to receive 25% OFF your full price order.
Note: One of the best ways to support the podcast is to support our sponsors. For a complete list of all RRP sponsors and their respective vanity url's and discount codes, visit my Resources page and click "Sponsors".
SHOW NOTES
Check Out Nadia's latest New York Times best-selling book: Shameless A Sexual Reformation* 
Background, Context & Reference:
Books by Nadia Bolz-Weber:
Notable People Discussed:
Related Podcasts You Might Enjoy:
Thanks to Jason Camiolo for audio engineering, production, interstitial music and show notes. Video, editing by Blake Curtis and Margo Lubin. Graphics by Jessica Miranda.Theme music by Ana Leimma.
*Disclosure: Books and products denoted with an asterisk are hyperlinked to an affiliate program. We are a participant in the Amazon Services LLC Associates Program, an affiliate advertising program designed to provide a means for us to earn fees by linking to Amazon.com and affiliated sites.