Podcast: Play in new window | Download | Embed
---
"Nobody has to give you permission to do the work that you want to do."

Brian Koppelman
---
Today's guest was always creative, but never thought of himself of an artist.
Then Brian Koppelman shifted his mindset. He adopted consistent daily practices to nurture his voice. He finally gave that voice the respect it deserved. And his life was forever changed.
As direct result, this former music industry executive turned screenwriter, director, producer and showrunner has spent the last two decades churning out an avalanche of consistently great creative output as the co-writer (alongside lifelong friend David Levien) of iconic films like Rounders and Ocean's 13 and co-creator a little hit show you might have heard of called Billions on Showtime.
Today we convene for a fun and highly instructive conversation about the interior life of a master storyteller and modern day artist — and the lessons that can be gleaned from investing our own creative instincts.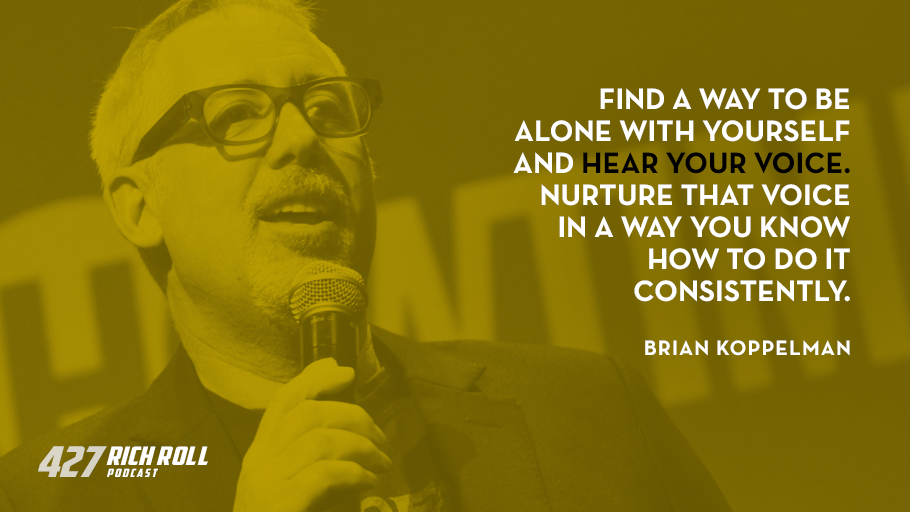 We discuss how he discovered Tracy Chapman while still in college, facilitated her first record deal, and the hows and whys behind walking away from the music business to pursue his dream of being a writer.
We mine why devotion to process over results, mastery over success, and love of craft is the path to a meaningful life. We examine how to overcome negative self-talk and how Tony Robbins and Julia Cameron changed his life. And we dive deep into how his daily habits — journaling and meditation paramount among them — have paved his road to long-sustained success.
But, as a long time admirer of Brian, what strikes me most is his generosity. A source of personal inspiration for my own creative endeavors, Brian shares his copious experience freely (what works, what doesn't and why) on his twitter feed (@BrianKoppelman) and as host of The Moment — his stellar podcast in which he shares conversations with all manner of successful creative people about the pivotal moments that fueled their fascinating careers.
I think of him as a benevolent mentor at large to anyone and everyone seeking to live more fully, creatively expressed lives of purpose and meaning.
So how does he do it? What can we glean from his example, habits and practices that can inform how we think about ourselves as creative beings? And why is this important?
Even if you don't consider yourself creative, Brian will leave you questioning this assumption. Because deep down, we are all artists yearning to be fully expressed in that which makes us uniquely who we are. When we engage this inclination, the world is a better place.
And we all deserve permission to do the work we want to do.
Final Note: This conversation took place a few months ago while visiting NYC. Alas, my film crew did not join me, so this episode is audio only.
Final Final Note: Season 4 of Billions returns to Showtime on March 17. If you're new to the show, it's truly appointment viewing. So take the next week to get caught up. Season 3 was unreal and I can't wait to see what Brian, David and their amazing cast and crew have lingering up their sleeves. The only thing I know for sure is that we won't see it coming.
It's both a delight and honor to share today's exchange with a master storyteller. I sincerely hope you not only enjoy it, but that you put his sagacious wisdom to work.
Peace + Plants,

Listen, Watch & Subscribe
Apple Podcasts | YouTube | Spotify | Stitcher | Google Podcasts
Thanks to this week's sponsors
On Running: Born in the Swiss Alps, On Running shoes feature the first patented cushioning system which is activated only when you need it – during the landing. To learn more about On go to on-running.com/richroll, pick your favorite shoe or apparel piece, and run in it for 30 days after which you can keep 'em or return 'em for a full refund no questions asked.
Quip: Your one stop solution for oral health! Buy a quip toothbrush from $25 and get up to $5 off your first refill pack by visiting getquip.com/RICHROLL and using promo code "RICHROLL" during checkout.
Squarespace: The easiest way to create a beautiful website, blog, or online store for you and your ideas. Save 10% at checkout when visit squarespace.com/richroll and use the coupon code "RICHROLL" at checkout.
Note: One of the best ways to support the podcast is to support our sponsors. For a complete list of all RRP sponsors and their respective vanity url's and discount codes, visit my Resources page and click "Sponsors".
SHOW NOTES
Background, Context & Reference:
Notable Films & Books Discussed:
Notable People Discussed:
Related Podcasts You Might Enjoy:
Thanks to Moby for this week's interstitial track: "A Freak", Jason Camiolo for audio engineering, production and show notes. Video, editing by Blake Curtis and Margo Lubin. Graphics by Jessica Miranda.Theme music by Ana Leimma.
*Disclosure: Books and products denoted with an asterisk are hyperlinked to an affiliate program. We are a participant in the Amazon Services LLC Associates Program, an affiliate advertising program designed to provide a means for us to earn fees by linking to Amazon.com and affiliated sites.