Podcast: Play in new window | Download | Embed
---

"It's not that you have a spiritual life. You are a spiritual life."

Rob Bell
---
Religion was never for me. Despite many a youthful hour spent kneeling on hardwood church pews, it just never connected.
What do all those stained glass windows, depressing organ dirges, and uptight people have to do with art and beauty and meaning and love and purpose and mystery and ultimately what it means to be human?
Nothing as far as I could tell. So I searched for answers elsewhere. In the bottom of a bottle. Prowling underground after parties in lower Manhattan. In a mental institution called rehab. In midnight conversations with skid row junkies. In the sound of my breath, lost on a mountain trail run at dawn. During afternoons spent undulating with dolphins in Hawaii. In the overwhelming love I feel simply watching my children sleep.
My search didn't lead back to religion. But it did lead to faith. A deep faith of my own design. Faith in an undefined, unlimited power greater than myself. A faith that quite literally saved my life when I was utterly lost, completely broken and unconditionally beyond repair. A faith that has since infused my journey with meaning, purpose and satisfaction beyond my wildest imagination.
Some call my version of faith God. Call it whatever you like. I don't care.
What I do care about is what it really means to be a spiritual being having a human experience.
This week's guest has a few thoughts on the subject — an anti-establishment pastor provocateur making an indelible cultural impact on how we think and practice divinity, faith, and religion in the modern world.
Named one of 2011's 100 Most Influential People in the World by Time Magazine, Rob Bell has presided over mega congregations, toured with Oprah and been profiled in The New Yorker. iTunes named his podcast, The RobCast, one of the Best of 2015 and he has penned more than a handful of New York Times bestsellers, including Love Wins, the Oprah book of the month What We Talk About When We Talk about God*, and his most recent book, How To Be Here: A Guide to Creating a Life Worth Living*.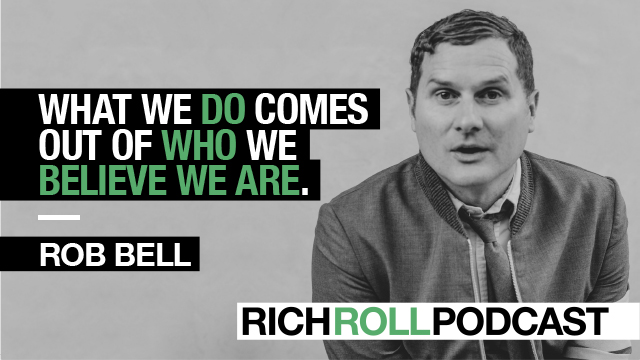 To me, what makes Rob so undeniably captivating is his independent-minded, radically inclusive — almost punk rock — perspective on faith. Breaking ranks with entrenched, pedantic notions of antiquated Christian church doctrine, his message upends the divisive aspects of religious ideology, recontextualizing the canon as a highly relatable, welcome pallium for all — a comprehensive fiat that boils down to one central premise:
Love wins. Always.
These days, Rob's oratory of choice isn't of the gothic variety. Instead, he prefers to deliver his populist homilies in voguey venues like comedy and improv clubs, including a standing appointment at Largo, Hollywood's buzzworthy alternative event space known more for indie rock acts like Fiona Apple, Elliot Smith and Rufus Wainwright than some ecclesiastic waxing on about God and man's place in the universe.
I've never met anyone quite like Rob — seriously, what kind of pastor loves surfing and Sigur Rós? Blasphemy!
Incredibly warm and irresistibly inviting, Rob prompted one of the most interesting and engaging exchanges I have ever had on the subject of faith. It's a conversation about humility, spirituality and God. It's about why religion has failed so many. And it's about love.
Because everything is spiritual.
It was an absolute delight spending a few hours with Rob. I love everything about this exchange. I hope you do too.
Peace + Plants,

Listen & Subscribe on iTunes | Soundcloud | Stitcher | GooglePlay
Spots are now available for our Australian retreat— for info visit plantpowerworld.com
Check out Julie's podcast divine throughline
Thanks to this week's sponsor:
Harrys.com: A superior shave at an affordable price. Friends of the Rich Roll Podcast can visit Harrys.com/ROLL to redeem your Free Trial Set, which comes with a razor, five-blade cartridge, shaving gel, and post shave gel. All you pay is just shipping.
Rob's Books
Notable People Discussed In Today's Podcast
Related Podcasts You Might Enjoy
Thanks to Jason Camiolo for production, interstitial music and audio engineering; Chris Swan for production assistance & show notes; Shawn Patterson for graphics.
*Disclosure:Books and products denoted with an asterisk are hyperlinked to an affiliate program. We are a participant in the Amazon Services LLC Associates Program, an affiliate advertising program designed to provide a means for us to earn fees by linking to Amazon.com and affiliated sites.
The Plantpower Way  is available at these fine retailers!
Amazon  |  Barnes & Noble  |  IndieBound  |  Penguin
Are you a company interested in sponsoring the podcast? Click here to learn more & take our sponsor survey.
HOW CAN I SUPPORT THE PODCAST?
Tell Your Friends & Share Online!
Subscribe & Review:  iTunes | Stitcher | Soundcloud | TuneIn
Donate: Check out our brand new  Patreon account!
Download Our Free App! Now you can access, stream, download and share the entire RRP catalog in the palm of your hand on any iOS mobile device (iPhone, iPad and iPod Touch) with our mobile app. Never miss an episode, plus special announcements, discounts, giveaways. Already downloaded? Awesome. When you have a minute, and it feels right to you, do us a solid and give the app a review in the iTunes Store.