Podcast: Play in new window | Download | Embed
---

"We want a sense of wonder and awe in our lives."

Rob Bell
---
You know that warm, fuzzy feeling you get when two people you love, respect, and admire combine their considerable talents to create a work that exceeds the sum of it's parts?
That's the feeling I have right now.
This week I'm proud to share a conversation with two friends, each of whom have graced the show in the past — filmmaker Andrew Morgan and faith provocateur Rob Bell.
Several years ago, Andrew approached Rob with an idea to make a film about the former mega-church pastor's life and work. Rob agreed, ultimately granting Andrew unprecedented access to his world on one condition — Rob would have zero editorial input or approval over any aspect of the creative collusion.
The result is the recently released documentary, The Heretic* – a behind-the-curtain deep dive into one of the most compelling and polarizing figures in modern day Christianity. With appearances by comedian Pete Holmes and author Elizabeth Gilbert, the film follows Rob over several years as he challenges deeply held conservative ideals while grappling with some of the most important questions of our time: Can faith and science coexist, or do belief and progress stand in opposition? Is religion insufficient for explaining the complexity of our modern world, or does it give language to something even greater? And do spiritual traditions simply serve to further divide our world, or can they offer real help and hope for a better tomorrow?
Today we tackle all of it.
An internationally recognized filmmaker devoted to telling socially conscious stories for a better tomorrow, Andrew Morgan first graced the podcast back in July 2016 (RRP #236) to discuss his beautiful and heartbreaking documentary The True Cost*. Premiering at the 2015 Cannes Film Festival, it's a movie about the untold story of fashion. It's about the clothes we wear, the people who make them, and the impact the garment industry is having on human rights and the world we share.
His experience includes a broad range of work that spans narrative and documentary storytelling for multiple film and new media projects that have been filmed and released all over the world. The New York Times described his unique style as "gentle, humane investigations" and Vogue Magazine wrote that it is "evidence that each of us can act as a catalyst for change within our own lives and work together towards a greater good."
An anti-establishment pastor making an indelible cultural impact on how we think and practice religion in the modern world, Rob Bell first appeared on the podcast in October 2016 (RRP #251). A former mega-church pastor who broke ranks with the formal church institutions and ideologies, he is an independent-minded, creative force of nature with what I would describe as a radically inclusive — almost punk rock —perspective on faith, divinity, and what it means to be human. Breaking ranks with entrenched, pedantic notions of antiquated Christian church doctrine, his message upends the divisive aspects of religious ideology, re-contextualizing the canon as a highly relatable, welcome pallium for all — a comprehensive fiat that boils down to one central premise: Love wins.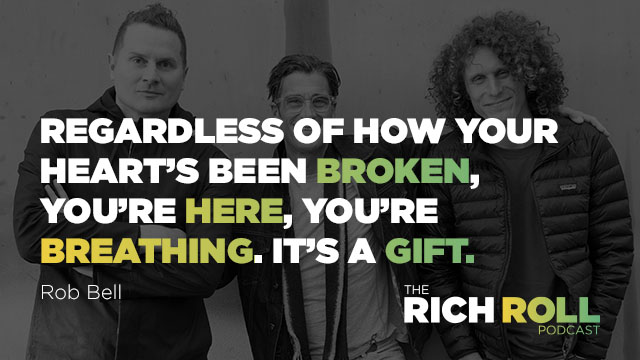 Currently touring his latest show entitled Holy Shift, Rob is the author of a dozen books, including the New York Times bestsellers Love Wins*, What We Talk About When We Talk about God*, The Zimzum of Love* and How To Be Here*. His most recent book is entitled What Is The Bible?* and iTunes named his podcast, The RobCast, to it's list of the Best Podcasts of 2015. He's been profiled in The New Yorker. He's toured with Oprah. And in 2011, Time Magazine named him one of the 100 Most Influential People In The World. These days, Rob's oratory of choice isn't of the gothic variety. Instead, he prefers to deliver his populist homilies in comedy and improv clubs, including a standing appointment at Largo, Hollywood's buzzworthy alternative event space known more for indie rock acts like Fiona Apple, Elliot Smith and Rufus Wainwright than homilies about God and man's place in the universe.
A few weeks ago, I attended the premiere of The Heretic*. I loved it. Elegantly crafted, it's about so much more than Rob (who, amazingly, hadn't seen a single frame of the film until that screening). It's a film about beauty and bravery. It's about courage and grace. It's about awe and wonder. And it's about the quest for unity amidst our current, deeply polarized culture of divisiveness, discontent and religion gone awry.
Rob's unique and engaging perspective mixed with Andrew's thoughtful commitment to positively impacting the world is a potent combination that delivers.
My hope is that this documentary and conversation will provoke you to challenge entrenched beliefs that divide rather than unite us.
That it will inspire you to think more deeply about faith and our collective responsibility to each other.
And that it will provoke you to seek your life with both awe and wonder.
Watch & Subscribe on YouTube: http://bit.ly/hereticrrp
I sincerely hope you enjoy the exchange.

Listen, Watch & Subscribe
Apple Podcasts | YouTube | Soundcloud | Stitcher | GooglePlay
Win A Spot For Our Italy Retreat! In celebration of female empowerment, Julie and I decided to kick off our Plantpower Way: Italia pre-order campaign with an opportunity for one woman (sorry guys) to win a spot to our upcoming, sold-out retreat in Tuscany, May 19-26, 2018. Enter to win by following the instructions and filling out the form below.
Thanks to this week's sponsors
Squarespace: The easiest way to create a beautiful website, blog, or online store for you and your ideas. Save 10% at checkout when visit squarespace.com and use the coupon code "RICHROLL" at checkout.
Thrive Market: Your online market for super healthy food at 25-50% off retail shipped right to your home. Visit: thrivemarket.com/richroll and get an EXTRA 25% off on your first box of organic and non-GMO products. PLUS: free shipping! Never pay full price for healthy food again.
Note: One of the best ways to support the podcast is to support the sponsors. For a complete list of all RRP sponsors and their respective vanity url's and discount codes, visit my Resources page and click "Sponsors".
SHOW NOTES
Watch Andrew Morgan's latest Rob Bell Documentary The Heretic:
Background, Context & Reference
Books by Rob Bell
Connect With Andrew
Notable People Discussed In Today's Podcast
Related Podcasts You Might Enjoy
Thanks to Jason Camiolo for production, audio engineering and show notes; Michael Gibson for videography and graphics. Theme music by Ana Leimma.
*Disclosure: Books and products denoted with an asterisk are hyperlinked to an affiliate program. We are a participant in the Amazon Services LLC Associates Program, an affiliate advertising program designed to provide a means for us to earn fees by linking to Amazon.com and affiliated sites.
Are you a company interested in sponsoring the podcast? Click here to learn more & take our sponsor survey.
HOW CAN I SUPPORT THE PODCAST?
Tell Your Friends & Share Online!
Subscribe & Review:  iTunes | Stitcher | Soundcloud | TuneIn
Donate: Check out our Patreon account!
Download Our Free App! Now you can access, stream, download and share the entire RRP catalog in the palm of your hand on any iOS mobile device (iPhone, iPad and iPod Touch) with our mobile app. Never miss an episode, plus special announcements, discounts, giveaways. Already downloaded? Awesome. When you have a minute, and it feels right to you, do us a solid and give the app a review in the iTunes Store.
Support The Sponsors: One of the best ways to support the podcast is to support our sponsors. For a complete list of all RRP sponsors and their respective vanity url's and discount codes, visit my Resources page and click "Sponsors".