Podcast: Play in new window | Download | Embed
---
"The only bad race is one you don't learn something from."

Mark Allen
---
Between 1982 and 1988, Mark Allen launched six attempts to claim the title of Ironman World Champion.
Each year he was squarely defeated by his arch rival, the legendary Dave Scott.
In 1989, the two titans of triathlon once again descended upon the white hot lava fields of Hawaii to reprise their annual duel in a spectacular showdown that would make history as the greatest race Ironman had ever seen. Dubbed The Iron War, Allen & Scott raced neck and neck at blistering speeds for 8 hours and would cross the finish line less than one minute apart — decimating the previous world record and redefining the limits of human endurance in the process.
When the dust settled, Mark Allen finally emerged victorious. And over the next several years the man they call The Grip would become arguably the most successful triathlete in the sport's history with six Hawaii Ironman World Championship titles, 10 Nice International Triathlon titles and countless other victories across distances, terrains and fields of every variety.
So how did Mark Allen go from perennial also-ran to an athlete ESPN dubbed "The Greatest Endurance Athlete of All Time"?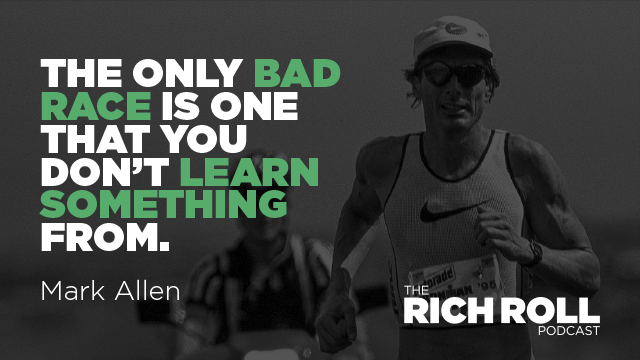 The answer might surprise you. Because it has nothing to do with fitness, nutrition or gear.
Instead, it has everything to do with spirituality.
Without a doubt, Mark's embrace of shamanism unlocked hidden reservoirs of human potential. It's a devotion that broke the glass ceiling on his mindset and plateaued career and ultimately propelled him to staggering heights of athletic success.
But how? And what does it all means to him now?
I needed to know. So I jumped in my truck, drove to his house Santa Cruz and put a microphone in front of him.
This conversation is the result. It's a conversation about Mark's remarkable life and his ongoing quest for expansion. It's about the importance of aligning yourself with nature's rhythms. It's about investing in yourself, cultivating self-understanding and honing a positive mindset. And it's about the crucial role humility — detaching from ego — plays in manifesting personal potential.
Bottom line? If you really want to soar, look within. Deep within.
It was an absolute honor to speak with Mark. I sincerely hope you enjoy the exchange.
Peace + Plants,

Listen & Subscribe on iTunes | Soundcloud | Stitcher | GooglePlay
Check out Julie's updated website srimati.com
Thanks to this week's sponsors:
AwayTravel.com: Luggage for the modern traveler—lightweight, premium features, and a lifetime warranty. For $20 off a suitcase, visit awaytravel.com/ROLL & use code "ROLL" during checkout.
Headspace.com: Train your mind for a healthier, less-stressed life. Download the FREE app and begin their Take10 program, for 10 days of guided meditation at headspace.com/ROLL
SHOW NOTES
Notable People Discussed in today's podcast
Related Podcasts You Might Enjoy
Thanks to Jason Camiolo for production, interstitial music and audio engineering; Chris Swan for production assistance & show notes; Shawn Patterson for graphics. Theme music by Ana Leimma.
*Disclosure:Books and products denoted with an asterisk are hyperlinked to an affiliate program. We are a participant in the Amazon Services LLC Associates Program, an affiliate advertising program designed to provide a means for us to earn fees by linking to Amazon.com and affiliated sites.
The Plantpower Way  is available at these fine retailers!
Amazon  |  Barnes & Noble  |  IndieBound  |  Penguin
Are you a company interested in sponsoring the podcast? Click here to learn more & take our sponsor survey.
HOW CAN I SUPPORT THE PODCAST?
Tell Your Friends & Share Online!
Subscribe & Review:  iTunes | Stitcher | Soundcloud | TuneIn
Donate: Check out our Patreon account!
Download Our Free App! Now you can access, stream, download and share the entire RRP catalog in the palm of your hand on any iOS mobile device (iPhone, iPad and iPod Touch) with our mobile app. Never miss an episode, plus special announcements, discounts, giveaways. Already downloaded? Awesome. When you have a minute, and it feels right to you, do us a solid and give the app a review in the iTunes Store.