Podcast: Play in new window | Download | Embed
---
"No dark fate determines the future – we do. Each day and each moment, we are able to create and recreate our lives and the very quality of human life on our planet."

His Holiness the Dalai Lama and Archbishop Desmond Tutu
---
Nobel Peace Prize Laureates His Holiness the Dalai Lama and Archbishop Desmond Tutu have both survived more than fifty years of exile. Both have endured the soul-crushing violence of oppression. And yet despite their hardships—or, as they would say, because of them—they are two of the most joyful people on the planet.
How is this possible? And what can we learn from their example to cultivate more joy in the face of life's inevitable suffering?

To answer this question, in 2015 Douglas Abrams united the two spiritual giants in Dharamsala, India on the occasion of the Dalai Lama's 80th birthday. During the course of what became a rare, five-day conversation on the nature of human happiness and suffering, the two Nobel Peace Prize recipients traded intimate stories, teased each other continually, and shared their spiritual practices. By the end of a week filled with laughter and punctuated with tears, these two global heroes had stared into the abyss and despair of our time and revealed how to live a life brimming with joy.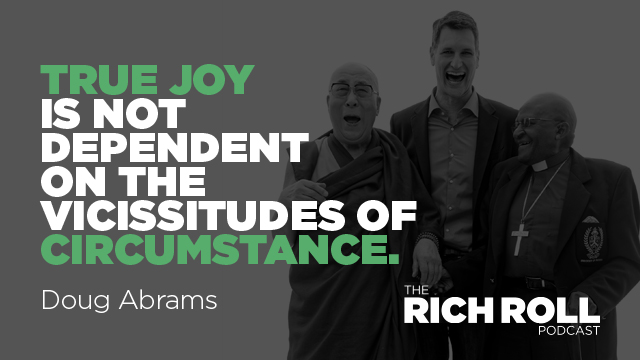 A beautiful synthesis of this transcendent union, it's no surprise that Abrams' The Book of Joy* became an instant New York Times bestseller. It's a book that deeply humanizes an Archbishop who has never claimed sainthood and a Dalai Lama who considers himself a simple monk. It's a book that transports you deep within the intimate friendship that binds these two incredible souls. And it's a book that vividly probes the very nature of joy itself — the illusions that eclipse it, the obstacles that obscure it, the practices that cultivate it, and the pillars that sustain it.
In addition to being a celebrated author, editor and literary agent, Doug is the founder and president of the creative book and media agency Idea Architects, where he works with true visionaries to create a wiser, healthier, and more just world. He is also the co-founder with Pam Omidyar and Bishop Desmond Tutu of HumanJourney.com, a public benefit company working to share life-changing and world-changing ideas. Doug has worked with Desmond Tutu as his co-writer and editor for over a decade, and before founding his own literary agency, he was a senior editor at HarperCollins and also served for nine years as the religion editor at the University of California Press.
I wanted to know more about what my Stanford classmate learned spending so much intimate time with two of the planet's most conscious and revered spiritual leaders. What was his biggest takeaway? How did he synthesize their wisdom into such an extraordinary book? And what impact has the experience had on how he lives his life today?
This conversation is the result. It's everything I was hoping for, and then some.
I sincerely hope you enjoy the exchange.
Peace + Plants,

Listen & Subscribe on iTunes | Soundcloud | Stitcher | GooglePlay
Spots are available for our next retreat in Italy — May 20-27, 2017. For info visit plantpowerworld.com
Check out Julie's brand new, updated website srimati.com
Thanks to this week's sponsors:
Harrys.com: A superior shave at an affordable price. Friends of the Rich Roll Podcast can visit Harrys.com/ROLL to redeem your Free Trial Set, which comes with a razor, five-blade cartridge, shaving gel, and post shave gel. All you pay is just shipping.
Boll & Branch: The first honest and transparent bedding company that only uses sustainable and responsible methods of sourcing and manufacturing. Go to BollandBranch.com today for $50 off your first set of sheets by typing in promo code "RICHROLL".
SHOW NOTES
Co-written by Nobel Peace Prize Laureates His Holiness the Dalai Lama and Archbishop Desmond Tutu, Doug's bestselling book is available now: The Book of Joy: Lasting Happiness in a Changing World*
For more information, visit Bookofjoy.org
Background, Context & Reference
Notable People Discussed in today's podcast
Related Podcasts You Might Enjoy
Thanks to Jason Camiolo for production, interstitial music and audio engineering; Chris Swan for production assistance & show notes; Shawn Patterson for graphics. Theme music by Ana Leimma.
*Disclosure:Books and products denoted with an asterisk are hyperlinked to an affiliate program. We are a participant in the Amazon Services LLC Associates Program, an affiliate advertising program designed to provide a means for us to earn fees by linking to Amazon.com and affiliated sites.
The Plantpower Way  is available at these fine retailers!
Amazon  |  Barnes & Noble  |  IndieBound  |  Penguin
Are you a company interested in sponsoring the podcast? Click here to learn more & take our sponsor survey.
HOW CAN I SUPPORT THE PODCAST?
Tell Your Friends & Share Online!
Subscribe & Review:  iTunes | Stitcher | Soundcloud | TuneIn
Donate: Check out our Patreon account!
Download Our Free App! Now you can access, stream, download and share the entire RRP catalog in the palm of your hand on any iOS mobile device (iPhone, iPad and iPod Touch) with our mobile app. Never miss an episode, plus special announcements, discounts, giveaways. Already downloaded? Awesome. When you have a minute, and it feels right to you, do us a solid and give the app a review in the iTunes Store.