Podcast: Play in new window | Download | Embed
I'm so excited to share with you today's guest — my favorite female pro triathlete Hillary Biscay.  Why is she my favorite? Oh, let me count the ways….First we have similar backgrounds as collegiate swimmers (although I promised not to hold her USC affiliation against her). And not only is she on the PlantPower bandwagon (all the cool kids are doing it these days…), she is also the first guest I've had on the show who has also competed at Ultraman – it was great to hear her perspective on this race as a veteran pro.  So much to talk about, fresh off her 60th Ironman – yes you heard me right, 60 Ironmans! — which was also one of her fastest.  Finally, anyone who lists "running ultras" as her "hobby" away from triathlon is definitely on my wavelength.
We get into all of it – what keeps her motivated; how her training has evolved from her days with legendary coach Brett Sutton to her current relationship with coach Siri Lindley; how she fuels her training and racing on plants (including missteps along the way); and of course her personal experience racing Ultraman, and what that was like as an ironman professional.
Finally, we get to hear all about her new line of triathlon & active apparel – Smash.  You know I love good design, and this stuff is excellent.  I just wish she would hurry up and start making stuff for guys.
Hillary is a delight, and she brings her vivaciousness to this interview in spades.  Enjoy.
UPDATE! We are now up and running on  Soundcloud.  What's Soundcloud? Another platform to listen and share the podcast.  What's awesome is that it allows you to share the audio file across your social networks like Facebook and Pinterest and you can even embed this groovy player onto your website or blog.  You can even add comments along the timeline that specifically relate to a certain portion of the show, which is really fun.  Great way to share the content with your friends and colleagues and help spread the word.  So if you enjoyed the show, tell a friend, share away and let's build this PlantPower Mission together!
THE CONTEST CONTINUES!
We are working hard on putting together a line of super groovy PlantPower-themed attire.  First up will be a t-shirt design, which we should have ready to print in the next two weeks – here's a peek at the logo design – what do you think?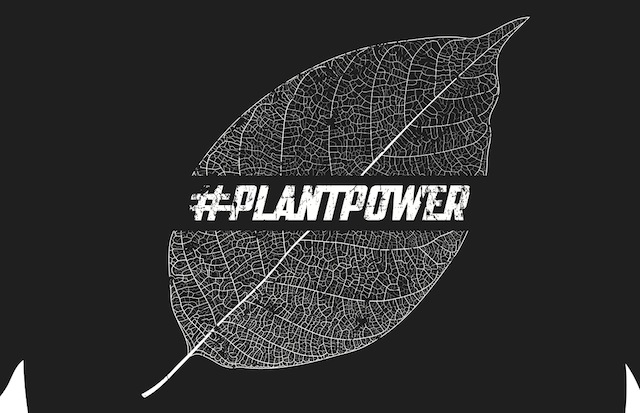 This t-shirt can be yours for FREE.  Here's how to win:
1. Take an interesting photo of yourself either: a) reading  Finding Ultra* ; or b) listening to the podcast;
2. Upload the photo to Instagram, Twitter or Facebook;
3. Tag the photo with my name (@richroll) AND the hashtag #plantpower
4.  Leave a comment on the iTunes page for the show  HERE  (unless you have already done so). I'm not saying what you should write – that's entirely up to you.
I'll sort through the postings and pick the best — and this is important — MOST CREATIVE PHOTO and pick a winner.
UPDATE 6.25.13: Thanks for all the groovy posts.  I have decided to pick 2 winners – BE CREATIVE!
Good luck!
SHOW NOTES
FINDING ULTRA NOW IN PAPERBACK
Finding Ultra* just hit bookstores and online retailers in paperback.  And it's cheap –  just $12.45 on Amazon* last time I checked.  What the heck, right?  That's like a one cold pressed juice at Whole Foods; and will hopefully be even a bit more nourishing.  Check it out.  Already read it? Then tell a friend.
*Disclosure: Books and products denoted with an asterisk are hyperlinked to an affiliate program. We are a participant in the Amazon Services LLC Associates Program, an affiliate advertising program designed to provide a means for us to earn fees by linking to Amazon.com and affiliated sites.
HOW CAN I SUPPORT THE PODCAST?
1. TELL A FRIEND! (Self-explanatory)
2. SHARE ONLINE! (Also self-explanatory)
3. SUBSCRIBE & REVIEW the show on iTunes, Stitcher and Soundcloud and TuneIn.
4. DONATE: Check out the DONATE button on the right hand margin or click HERE to learn more. We even accept Bitcoin!
5. DOWNLOAD THE NEW MOBILE APP! Now you can access, stream, download and share the entire RRP catalog in the palm of your hand on any iOS mobile device (iPhone, iPad and iPod Touch) with our new mobile app. Never miss an episode, plus special announcements, discounts, giveaways. Already downloaded? Awesome. When you have a minute, and it feels right to you, do us a solid and give the app a review in the iTunes Store.
Thanks for listening!
[leadplayer_vid id="51684964A0AFE"]
As always, thank you for all the ongoing support.  You guys are everything.