Podcast: Play in new window | Download | Embed
---
"We, ourselves, are an ecosystem and we're intimately connected to the earth that we live on and everything that we do to it."

Rachel Carlton Abrams
---
We are all innately gifted with something called body intelligence — an intuitive sense of what best serves our mental, physical and emotional well-being.
However, most of us disconnect from our bodies' persistent efforts to communicate, muting it out to favor the breakneck pace of our modern lives. Left unchecked, this leaves us at serious risk of what this week's guest calls chronic body depletion – a crisis of mind, body and spirit that can lead to everything from weight gain and chronic pain to high blood pressure, heart disease, depression, autoimmune disease and more.
This week Rachel Carlton Abrams, MD, MHS, ABIHM joins the podcast to help us better cultivate our body intelligence, so that we can begin to properly treat the cause of what ails us and set a better trajectory for optimum healing and lifelong health.
Dr. Abrams is a board-certified primary care, family practice physician, integrative health expert and author with over two decades of experience in preventive and comprehensive care medicine. She graduated Phi Beta Kappa from Stanford University, received her medical degree from UC San Francisco, earned her master's degree in Holistic Health and Medical Sciences from UC Berkeley, and has been voted the "Best Doctor" in Santa Cruz County every year from 2010 to 2016.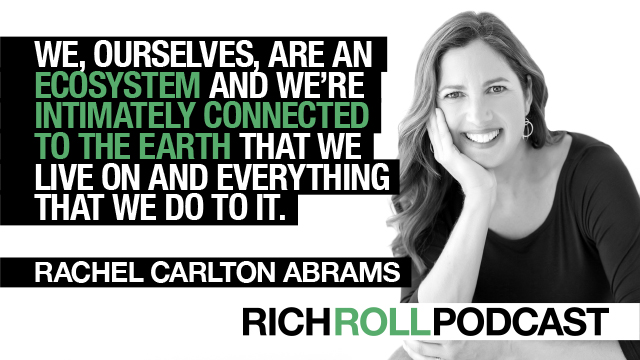 In the scope of her dynamic practice, she works with many of the world's most influential people, from CEOs to billionaire entrepreneurs to Nobel Peace laureates, and has spent countless hours addressing everyday patients with chronic health conditions.
The author of several books on holistic health, relationships and sexuality, her latest offering, BodyWise: Discovering Your Body's Intelligence for Lifelong Health and Healing*, skillfully and accessibly guides the reader on a journey of discovery towards creating the vibrant, balanced, healthy life you have always deserved.
This is a fun and super informative conversation packed with knowledge nuggets and practical wisdom takeaways all designed to cultivate your own body intelligence. An intelligence that will help you take better responsibility for yourself, your environment, your behaviors, your relationships, and your health so that you can fuel your body's natural predisposition to heal and thrive.
Specific topics covered include:
the concept of chronic body depletion
reconnecting with our bodies/nature
mind, body & spirit connection
taking responsibility for yourself
the business of healthcare
sense, feel & discernment
the body's natural predisposition to heal
the benefits of integrative medicine
link inflammation and disease
the importance of positive feedback loops
adaptogenic herbs & essential oils
It was an absolute joy talking to Dr. Abrams and I'm delighted to bring you our conversation. I sincerely hope you enjoy it.
Peace + Plants,

Listen & Subscribe on iTunes | Soundcloud | Stitcher | GooglePlay
Check out Julie's updated website srimati.com
Thanks to this week's sponsor:
Harrys.com: A superior shave at an affordable price. Friends of the Rich Roll Podcast can visit Harrys.com/ROLL to redeem your Free Trial Set, which comes with a razor, five-blade cartridge, shaving gel, and post shave gel. All you pay is just shipping.
Thanks to Jason Camiolo for production, interstitial music and audio engineering; Chris Swan for production assistance & show notes; Shawn Patterson for graphics. Theme music by Ana Leimma.
*Disclosure:Books and products denoted with an asterisk are hyperlinked to an affiliate program. We are a participant in the Amazon Services LLC Associates Program, an affiliate advertising program designed to provide a means for us to earn fees by linking to Amazon.com and affiliated sites.
The Plantpower Way  is available at these fine retailers!
Amazon  |  Barnes & Noble  |  IndieBound  |  Penguin
Are you a company interested in sponsoring the podcast? Click here to learn more & take our sponsor survey.
HOW CAN I SUPPORT THE PODCAST?
Tell Your Friends & Share Online!
Subscribe & Review:  iTunes | Stitcher | Soundcloud | TuneIn
Donate: Check out our Patreon account!
Download Our Free App! Now you can access, stream, download and share the entire RRP catalog in the palm of your hand on any iOS mobile device (iPhone, iPad and iPod Touch) with our mobile app. Never miss an episode, plus special announcements, discounts, giveaways. Already downloaded? Awesome. When you have a minute, and it feels right to you, do us a solid and give the app a review in the iTunes Store.