Podcast: Play in new window | Download | Embed
---
"Simplicity boils down to two steps: Identify the essential. Eliminate the rest."

Leo Babauta 
---
As longtime listeners know well, minimalism, mindfulness & sustainable living are favorite recurring themes of this show. Guests like Andrew Morgan and Joshua Katcher have elucidated our our cultural addiction to fast fashion. Andy Puddicombe, Jason Garner, Light Watkins, Dan Harris, Charlie Knoles, Guru Singh, WuDe and others have espoused the benefits of meditation. And people like Joshua Fields Milburn have shared the strategies and value of learning to live better with less.
Perhaps you even watched Joshua and Ryan Nicodemus' documentary, Minimalism*. If you did, you may recall seeing Leo Babauta featured. A husband and father of six, Leo is the creator of Zen Habits, one of the largest single-author blogs in the world with a fanatic global fanbase in the millions. Named one of TIME magazine's Top 10 blogs, Leo was indisputably one of the first prominent voices on the internet advocating the power and beauty of embracing simplicity and mindfulness to transcend the chaos of our daily existence. Through his writing, he has taught millions how to clear mental, emotional, financial and physical clutter so we can focus on what's most important, create something amazing, and find contentment, purpose and meaning in our lives. Count me a fan.
Today finds Leo with a new goal: to end human struggle.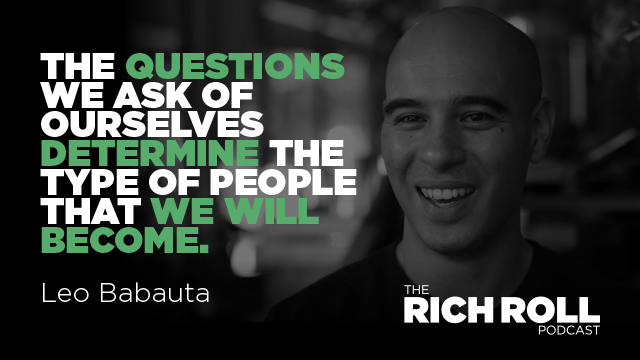 Audacious? Sure. Naively optimistic? Maybe. But Leo is no ordinary human. Uniquely extraordinary, he might just have what it tales to help birth a new age of consciousness.
Despite the fact that we had never met in person prior to this podcast, I can't overstate the extent to which Leo's work positively influenced my personal transformation and continues to this day to inspire my path. An authentic example of the powerful ideals he espouses, it was a personal thrill to finally meet him.
More importantly, our exchange exceeded all expectations.
This is a conversation about how to create healthy, personal boundaries. It's about the distinction between greed and ambition. It's about combating our consumerist programming through meditation, yoga, and mindfulness practices. And it's a conversation about his vegan lifestyle and why he unschools his children.
But overall, this is a potent conversation about the path to self-mastery. It's about how to let go of negative habits and adopt positive practices with staying power in service to your highest, most authentic self.
Because if you ask Leo, life is for living, not for productivity.
Present, gracious and wise beyond measure, Leo is a rare voice worth heeding. And this is a podcast you're going to want to listen to more than once.
I sincerely hope you enjoy this conversation as much as I enjoyed having it.
Peace + Plants,

Listen & Subscribe on Apple Podcasts | Soundcloud | Stitcher
Join us for our next retreat at Ballyvolane in Ireland, July 24-31, 2017. For more information visit ourplantpowerworld.com
Thanks to this week's sponsors:
Boll & Branch: The first honest and transparent bedding company that only uses sustainable and responsible methods of sourcing and manufacturing. Go to BollandBranch.com today for $50 off your first set of sheets by typing in promo code "RICHROLL".
Harrys.com: A superior shave at an affordable price. Friends of the Rich Roll Podcast can visit Harrys.com/ROLL to redeem your Free Trial Set, which comes with a razor, five-blade cartridge, shaving gel, and post shave gel. All you pay is just shipping.
*Disclosure:Books and products denoted with an asterisk are hyperlinked to an affiliate program. We are a participant in the Amazon Services LLC Associates Program, an affiliate advertising program designed to provide a means for us to earn fees by linking to Amazon.com and affiliated sites.
The Plantpower Way  is available at these fine retailers!
Amazon  |  Barnes & Noble  |  IndieBound  |  Penguin
Are you a company interested in sponsoring the podcast? Click here to learn more & take our sponsor survey.
HOW CAN I SUPPORT THE PODCAST?
Tell Your Friends & Share Online!
Subscribe & Review:  iTunes | Stitcher | Soundcloud | TuneIn
Donate: Check out our Patreon account!
Download Our Free App! Now you can access, stream, download and share the entire RRP catalog in the palm of your hand on any iOS mobile device (iPhone, iPad and iPod Touch) with our mobile app. Never miss an episode, plus special announcements, discounts, giveaways. Already downloaded? Awesome. When you have a minute, and it feels right to you, do us a solid and give the app a review in the iTunes Store.