Podcast: Play in new window | Download | Embed
---

"We often feel paralyzed by choice and make no choice. But the thing is, no choice is a choice."

Chris Guillebeau
---
In the mid-1800's, this radical dude living alone in the woods famously wrote, the mass of men lead lives of quite desperation. What is called resignation is confirmed desperation.
As set forth in the enduring Walden, the words of Henry David Thoreau were revelatory for the time. But it's an idea that more than holds up. Not only do I consider it daily, I would contend it perfectly encapsulates what has become the unfortunate, yet defining affliction of modern man.
This week's guest has devoted his life to helping others avoid Thoreau's foreboding lament – a self-experiment in purposeful living he calls The Art of Non-Conformity.
Ripe with wanderlust after a 4-year stint as a NGO volunteer executive in West Africa, Chris Guillebeau embarked on a multi-year quest to travel to every country in the world, all 193, before his 35th birthday. Along the way, he decided to share his adventures on a newly hatched blog. But what began as a rather ignored and somewhat turgid travelogue soon morphed into a globally revered portal chronicling the personal experience, lessons and wisdom earned and learned not just by Chris, but by a dynamic multitude of unconventional people overcoming conventional social mores around work, life and travel to achieve personal goals and greater life satisfaction.
The blog exploded, capturing the intrigue, trust and fascination of people all across the world thirsty for the brass tacks steps and inspiration required to pursue more adventurous and personally fulfilling means of working and living outside traditional paradigms.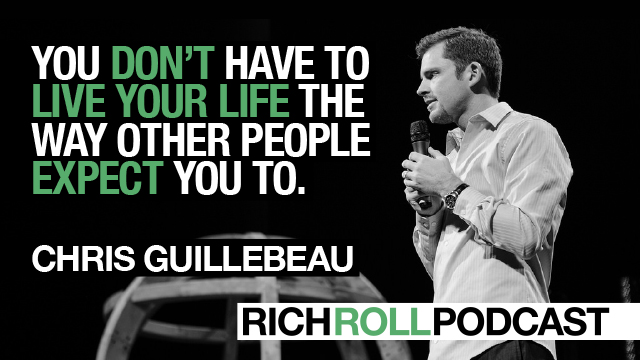 With the success of the blog, it's not surprising that books soon followed. The Art of Non-Conformity* was translated into more than twenty languages. His second book, The $100 Startup*, was a New York Times and Wall Street Journal bestseller, selling more than 500,000 copies worldwide. His third book, The Happiness of Pursuit*, was also a New York Times bestseller. His most recent book, Born for This*, will help you find the work you were meant to do.
When he's not writing bestselling books or traveling to parts unknown, you're likely to find Chris diligently working on his World Domination Summit —  an annual gathering he founded six years ago that brings thousands of creative, remarkable people together.
Everybody loves a good travel hack. The basic steps to launch a new business. Or the path to overnight success. If you're looking for Chris' answers to those questions, you're in the wrong place.
I'm more interested in the man behind the work. What makes Chris tick. How he sees himself in the world. And how that perspective infuses his life with purpose, community, service and the strength required to continually grow and evolve.
Specific topics explored include:
inspiring people to live unconventional lives
aspiration vs. inspiration
following through with the journey
the blogosphere, ideas, and community
geocentricism
Chris' unconventional quest
selfish generosity
what is your guiding principle?
following your passion through exploration
coping with grief & loss
self-help, authenticity, and transparency
perceiving alignment/balance
passion vs. obsession
serving, strengthening, and cultivating community
Beyond the bullet points, this one's special — honest, raw and real. My favorite kind of exchange. When the dust settled, I felt like I found a new friend.
I sincerely hope you enjoy the conversation.
Peace + Plants,

Listen & Subscribe on iTunes | Soundcloud | Stitcher | GooglePlay
Limited spaces are still available for our next retreat — for info visit plantpowerworld.com
Check out Julie's new podcast divine throughline
Thanks to this week's sponsors:
Harrys.com: A superior shave at an affordable price. Friends of the Rich Roll Podcast can visit Harrys.com/ROLL to redeem your Free Trial Set, which comes with a razor, five-blade cartridge, shaving gel, and post shave gel. All you pay is just shipping.
Headspace.com: Train your mind for a healthier, less-stressed life. Download the FREE app and begin their Take10 program, for 10 days of guided meditation at Headspace.com/ROLL.
SHOW NOTES
Background, Context & Reference
Notable Works/Books Discussed in today's podcast
Notable People Discussed In Today's Podcast
Related Podcasts You Might Enjoy
Thanks to Jason Camiolo for production, interstitial music and audio engineering; Chris Swan for production assistance & show notes; Shawn Patterson for graphics.
*Disclosure:Books and products denoted with an asterisk are hyperlinked to an affiliate program. We are a participant in the Amazon Services LLC Associates Program, an affiliate advertising program designed to provide a means for us to earn fees by linking to Amazon.com and affiliated sites.
The Plantpower Way  is available at these fine retailers!
Amazon  |  Barnes & Noble  |  IndieBound  |  Penguin
Are you a company interested in sponsoring the podcast? Click here to learn more & take our sponsor survey.
HOW CAN I SUPPORT THE PODCAST?
Tell Your Friends & Share Online!
Subscribe & Review:  iTunes | Stitcher | Soundcloud | TuneIn
Donate: Check out our brand new  Patreon account!
Download Our Free App! Now you can access, stream, download and share the entire RRP catalog in the palm of your hand on any iOS mobile device (iPhone, iPad and iPod Touch) with our mobile app. Never miss an episode, plus special announcements, discounts, giveaways. Already downloaded? Awesome. When you have a minute, and it feels right to you, do us a solid and give the app a review in the iTunes Store.