Podcast: Play in new window | Download | Embed
---
"I've always been a fighter. For some reason, I've always wanted to fight and prove that I was strong."

Laila Ali
---
How do you find your path in the vast shadow cast by one of history's most accomplished and beloved humans?
For Laila Ali, the daughter of late global icon and humanitarian Muhammad Ali (the 8th of his 9 children), it wasn't easy. It wasn't always pretty. But over time, she found her voice. Staked her claim in very the ring that propelled her father to god-like status. And transcended that shadow as a multi-faceted talent that honors her father and yet is hers alone.
Although she was never an athlete growing up — and didn't take to the pugilistic arts until she was 18 — Laila would become the most successful female in the history of women's boxing. A 4-time undefeated world champion, she racked up 24 wins, 21 knockouts and zero losses over the course of her storied career.
Retirement was just the beginning. Today the mother of two is a fitness & wellness advocate, TV host, home chef, cookbook author, and founder of the Laila Ali Lifestyle Brand.
A cultural icon in her own right, Laila currently hosts the Emmy Award Winning show Home Made Simple (which airs every Saturday on the Oprah Winfrey Network) and has appeared on everything from Celebrity Apprentice to Dancing With The Stars as well as Rachael Ray, Dr. Oz, Good Morning America and many other national media outlets.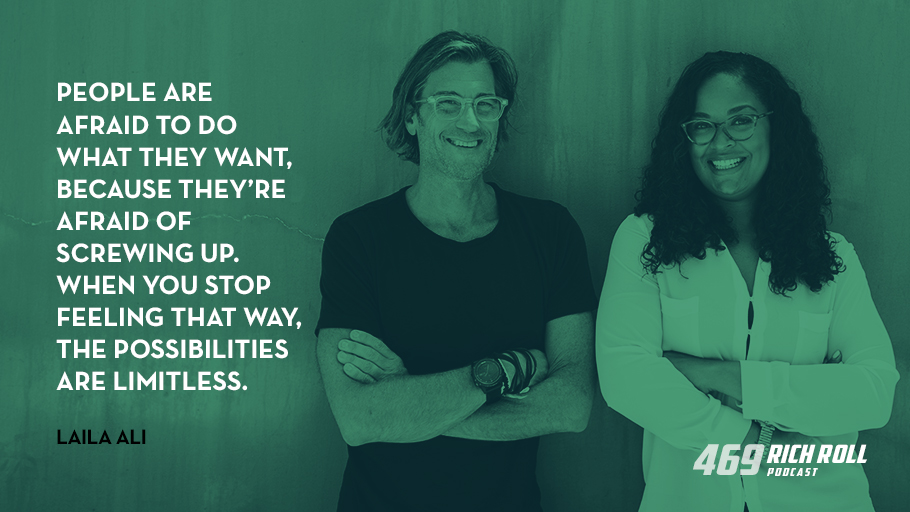 This is a conversation about the interior experience of growing up as a daughter of 'The Greatest' — and the pressures and expectations that held.
It's about growing up in a broken household. The troubled youth that followed. Getting arrested. Meeting her bottom in a juvenile detention home. And the journey that followed to recreate herself.
It's about her often misunderstood career as a professional boxer. The entrepreneurism that propels her success. And the legacy she is dedicated to emulating.
But more than anything, this is a conversation about mindset. The cultivation of self-belief required to become a champion. Letting go of other's expectations. Developing the courage to fail. And the tools required to make your unique impact on the world.
You can watch it all go down on YouTube. And as always, the conversation streams wild and free on Apple Podcasts and Spotify.
I had a ton of fun with Laila. I sincerely hope you enjoy the exchange!
Peace + Plants,

Images by  Ali Rogers
Listen, Watch & Subscribe
Apple Podcasts | YouTube | Spotify | Stitcher | Google Podcasts
Thanks to this week's sponsors
Athletic Greens: 75 Wholefood Sourced Ingredients, 5 Key Areas of Health, 10 years in development. The Delicious Daily Habit That Sets You Up For A Healthy Future. Healthy Daily Supplement. Invest In Your Health. No Compromises. Go to: athleticgreens.com/richroll and claim your special offer today: 20 FREE travel packs valued at $79 with your first purchase.
Grove Collaborative: The online marketplace that delivers all-natural & non-toxic home, beauty, and personal care products directly to you! For a limited time, listeners of The Rich Roll Podcast can get a free five piece Cleaning Set from Mrs. Meyer and Grove, valued at $30. Go to: www.grove.co/richroll
Fully: From the popular Jarvis adjustable standing desks to their every-which-way active office chairs, to their many movement supporting accessories — anti-fatigue mats, treadmill desks and more — Fully is all about helping you bring more movement, energy and joy to your work and life. To get your body moving in your workspace, visit: fully.com/RICHROLL.
Note: One of the best ways to support the podcast is to support the sponsors. For a complete list of all RRP sponsors and their respective vanity url's and discount codes, visit my Resources page and click "Sponsors".
SHOW NOTES
Rich Roll x Paul Hawken LIVE @ The Wilshire Ebell Theatre, Los Angeles September 27, 2019 — tickets now available to the general public
Background, Context & Reference
Notable People Discussed
Muhammad Ali: was an American professional boxer, activist, and philanthropist. Nicknamed "The Greatest," he is widely regarded as one of the most significant and celebrated sports figures of the 20th century and as one of the greatest boxers of all time
Lyndsey Vonn: former World Cup alpine ski racer on the US Ski Team, four World Cup overall champion — one of only two female skiers to do so and podcast guest
John Salley: retired professional basketball player, and talk show host and podcast guest. He was the first player in NBA history to win championships with three franchises, as well as the first player in the NBA to win a championship in three decades

Joe Frazier

: nicknamed "Smokin' Joe", was an American professional boxer who competed from 1965 to 1981. He reigned as the undisputed heavyweight champion from 1970 to 1973, and as an amateur won a gold medal at the 1964 Summer Olympics

Jacqueline "Jacqui" Frazier-Lyde: lawyer and former professional boxer, who is the daughter of former world Heavyweight boxing champion Joe Frazier. In the year 2000, she shocked the boxing world by announcing that at the age of 38, she would begin participating in the sport of women's boxing

Roger Mayweather

: former professional boxer who competed from 1981 to 1999, and has since worked as a boxing trainer

Buddy McGirt

: ormer professional boxer who competed from 1982 to 1997, and has since worked as a boxing trainer

Bill Gerber: film and television producer. He was President of Production at Warner Bros. Pictures, before establishing an existing and long-standing producing deal with the studio, known for producing A Star is Born, Gran Torino, A Very Long Engagement, and Grudge Match
Related Podcasts You Might Enjoy
Thanks to Jason Camiolo for audio production, interstitial music and show notes; Margo Lubin and Blake Curtis for video, editing and graphics. Ali Rogers for portraits. Theme music by Ana Leimma.
*Disclosure: Books and products denoted with an asterisk are hyperlinked to an affiliate program. We are a participant in the Amazon Services LLC Associates Program, an affiliate advertising program designed to provide a means for us to earn fees by linking to Amazon.com and affiliated sites.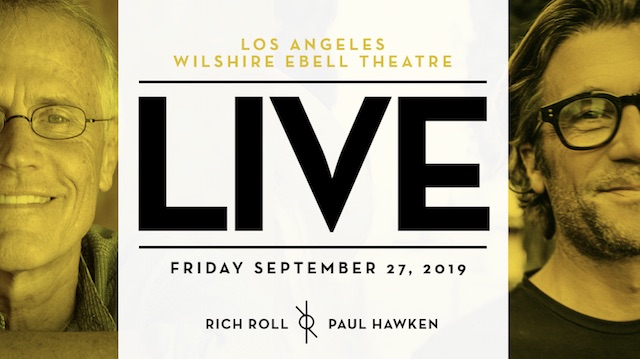 Rich Roll x Paul Hawken Live In Conversation – Click here for tickets
 HOW CAN I SUPPORT THE PODCAST?
Tell Your Friends & Share Online!
Subscribe & Review:  iTunes | Spotify | Stitcher | Soundcloud | Google Podcasts
Donate: Check out our Patreon account
Download Our Free App: Now you can access, stream, download and share the entire RRP catalog in the palm of your hand on any iOS mobile device (iPhone, iPad and iPod Touch) with our mobile app. Never miss an episode, plus special announcements.
Support The Sponsors: One of the best ways to support the podcast is to support our sponsors. For a complete list of all RRP sponsors and their respective vanity url's and discount codes, visit my Resources page and click "Sponsors".