Podcast: Play in new window | Download | Embed
---
"Appreciation is the purest, strongest form of love. It is the outward-bound kind of love that asks for nothing and gives everything."

Kelly Corrigan
---
Love. Connection. Pain.
Finding the universal in the specific. And beauty in the mundane.
This is but a few of the themes explored today with the woman dubbed 'the voice of her generation' by Oprah magazine and 'the poet laureate of the ordinary' by HuffPost.
Meet Kelly Corrigan.
Best known for her insightful, candid takes on the too-often overlooked moments that define our lives, Kelly's writing spills over with warmth, courage, vulnerability and humor — rendering her many books beloved by millions.
A Today Show regular, Kelly has authored a stack of New York Times bestsellers including, The Middle Place, Lift, and Glitter and Glue. Tell Me More, her most recent offering, is a deeply personal and very funny story-driven collection of essays on the twelve powerful phrases we use to sustain our relationships and make love and connection possible.
Named one of the best books of 2019 by Real Simple and Bustle, Tell Me More is both a high-recommend and the backdrop for today's dive into how we can cultivate more meaningful connection and deeper understanding with the people in our lives.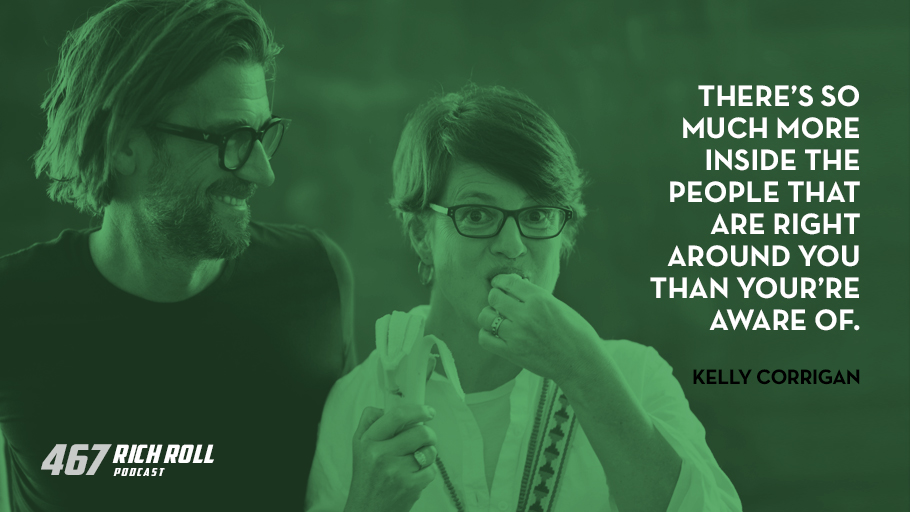 I met Kelly exactly a year ago at The Nantucket Project. In addition to being an extraordinary writer, she serves as the creative director of TNP — the right hand to organization founder Tom Scott, who shared his story on the podcast in April, 2018 (episode #360).
The latest in my series of guests sourced from this extraordinary event, I was immediately taken by her fun and fearless stage presence. Her curiosity. Her unique insights. And her unmistakeable charm. I knew she would make an amazing guest for the show. Today she delivers.
We begin by traversing Kelly's arc as a writer — how she developed her voice — and her role in shaping TNP.
Then we broaden the aperture, exploring her observations and insights into how we relate to the people in our lives — from our loved ones and children, to co-workers and strangers.
This is about finding beauty and poetry in the simple things. And why saying things like, 'I don't know' or 'I was wrong' or 'tell me more' can provide a bedrock for the emotional experiences we seek most, yet too often elude us.
Better understanding. Greater empathy. Deeper intimacy. True connection.
You can watch it all go down on YouTube. And as always, the conversation streams wild and free on Apple Podcasts and Spotify.
Prepare to fall in love with Kelly!
Peace + Plants,

Images by  Ali Rogers
Listen, Watch & Subscribe
Apple Podcasts | YouTube | Spotify | Stitcher | Google Podcasts
Thanks to this week's sponsors
Four Sigmatic: A superfood company popularizing medicinal mushrooms by incorporating them in delicious mainstream products like coffee and hot cocoa. Visit foursigmatic.com/roll and enter the promo code ROLL at the checkout and save 15% on EVERY order.
Quip: Your one stop solution for oral health! Quip starts at just $25 and if you go to: getquip.com/richroll right now, you can get your first refill pack for FREE!
Note: One of the best ways to support the podcast is to support the sponsors. For a complete list of all RRP sponsors and their respective vanity url's and discount codes, visit my Resources page and click "Sponsors".
*Disclosure: Books and products denoted with an asterisk are hyperlinked to an affiliate program. We are a participant in the Amazon Services LLC Associates Program, an affiliate advertising program designed to provide a means for us to earn fees by linking to Amazon.com and affiliated sites.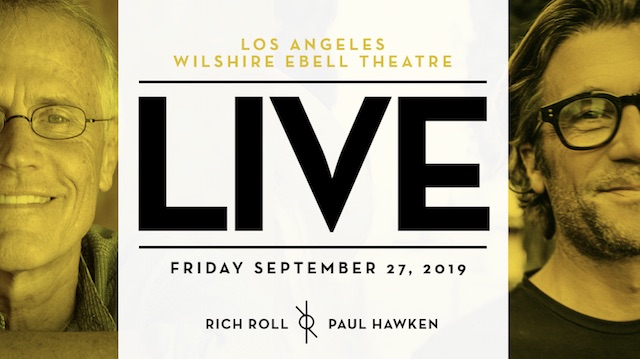 Rich Roll x Paul Hawken Live In Conversation – Click here for tickets
 HOW CAN I SUPPORT THE PODCAST?
Tell Your Friends & Share Online!
Subscribe & Review:  iTunes | Spotify | Stitcher | Soundcloud | Google Podcasts
Donate: Check out our Patreon account
Download Our Free App: Now you can access, stream, download and share the entire RRP catalog in the palm of your hand on any iOS mobile device (iPhone, iPad and iPod Touch) with our mobile app. Never miss an episode, plus special announcements.
Support The Sponsors: One of the best ways to support the podcast is to support our sponsors. For a complete list of all RRP sponsors and their respective vanity url's and discount codes, visit my Resources page and click "Sponsors".