Podcast: Play in new window | Download | Embed
---
"We can't have change without loss, which is why so often people say they want change but nonetheless stay exactly the same."

Lori Gottlieb
---
Let's talk about talking to someone.
Personally, I've been in and out of therapy for more than two decades. Over the last couple years, I've been deeply immersed in a weekly therapist-led men's group — intimate game-changing sessions that have helped me work through deep-seated stuff that lives and breathes beyond 12-step.
We're only as sick as our secrets. The path to healing and personal growth requires openly sharing our hidden struggles. Bearing our vulnerabilities. And allowing others to identify the blind spots that elude us.
My point is that we all need help. And as today's guest will openly admit, even therapists benefit from therapy.
A Los Angeles-based psychotherapist, journalist and author, Lori Gottlieb writes the weekly 'Dear Therapist' column for The Atlantic. She contributes to several prominent publications including The New York Times. And she recurs as a mental health expert on a variety of national television and radio outlets including, The Today Show, Good Morning America, The CBS Early Show, Dr. Phil, CNN, and NPR's 'Fresh Air.'
In addition, Lori is the author of three books: Marry Him, Stick Figure and her latest, Maybe You Should Talk to Someone, a fun and highly relatable romp behind the scenes of a therapist's world. What it's like to be a therapist. And what it's like to be a therapist in therapy.
A hit that spent many weeks on The New York Times bestseller list, the book was listed as People magazine's 'Book of the Week.' O magazine named it one of the 'Best Nonfiction Books of 2019.' And it's currently being developed into a TV series with Eva Longoria.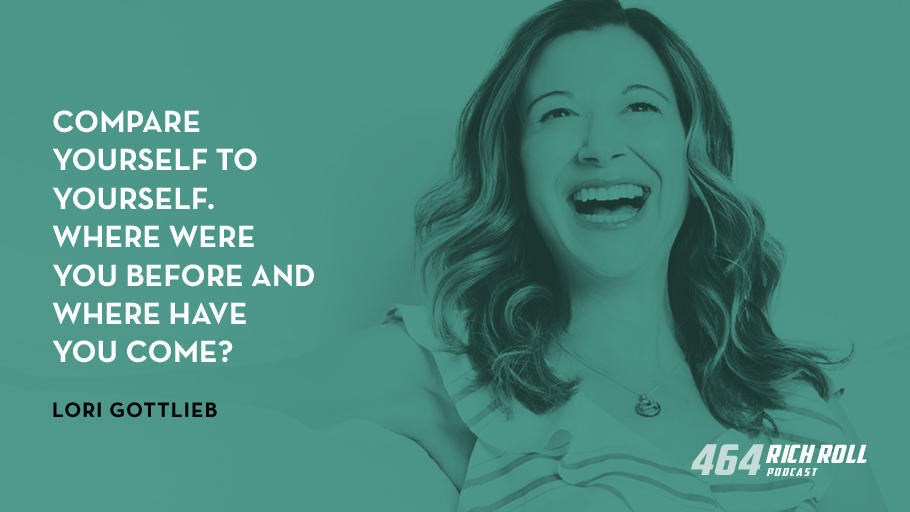 This is a conversation about what happens when a therapist — someone specifically trained to understand what makes people do what they do — experiences her own personal crisis.
But it's also a broader conversation about mental well-being in general. About the benefits of therapy. And why we can all better ourselves by talking to a professional.
In addition, we discuss the psychological impact of comparing ourselves to others. Healthy and unhealthy parenting practices. Repairing ruptured relationships. And many other topics.
I should note that I did my very best to resist making this a personal therapy session (not easy!).
As a final thought: if you are struggling in the darkness, don't wait to talk to someone. If you're afraid to shed light on that thing — whether it be anger, shame, addiction, resentment, depression, anxiety, or suicidal thoughts — don't wait to talk to someone. Don't wait until it's a crisis. Find the courage. Reach out. raise your hand. Help awaits you.
You can watch our entire conversation on YouTube. And the episode is of course available on Apple Podcasts and Spotify.
I really enjoyed Lori's company. My hope is that you find the exchange as entertaining and illuminating as I did.
Peace + Plants,

Listen, Watch & Subscribe
Apple Podcasts | YouTube | Spotify | Stitcher | Google Podcasts
Thanks to this week's sponsors
Skillshare: Fuel Your Curiosity, Creativity and Career with Classes in Design, Business, and More. Join More Than 7 Million Creators Learning with Skillshare. Start Your 2 Free Months Now! Offline viewing. Taught by Experts. No commitments. Free classes. Visit: Skillshare.com/RICHROLL to get two months of unlimited access to thousands of classes for free.
Athletic Greens: 75 Wholefood Sourced Ingredients, 5 Key Areas of Health, 10 years in development. The Delicious Daily Habit That Sets You Up For A Healthy Future. Healthy Daily Supplement. Invest In Your Health. No Compromises. Go to: athleticgreens.com/richroll and claim your special offer today: 20 FREE travel packs valued at $79 with your first purchase.
Audible: With more than 180,000 audiobooks and spoken-word audio products, you'll find what you're looking for. Rich Roll listeners are entitled to a FREE audiobook and 30-day trial today by signing up at audible.com/richroll or text RICHROLL to 500-500
Note: One of the best ways to support the podcast is to support the sponsors. For a complete list of all RRP sponsors and their respective vanity url's and discount codes, visit my Resources page and click "Sponsors".
*Disclosure: Books and products denoted with an asterisk are hyperlinked to an affiliate program. We are a participant in the Amazon Services LLC Associates Program, an affiliate advertising program designed to provide a means for us to earn fees by linking to Amazon.com and affiliated sites.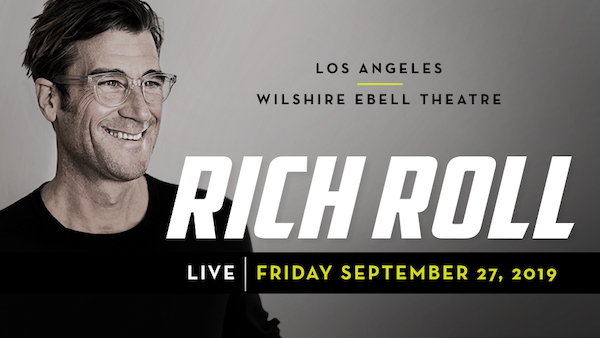 Thrilled to announce my first live show + podcast! Click here for tickets
 HOW CAN I SUPPORT THE PODCAST?
Tell Your Friends & Share Online!
Subscribe & Review:  iTunes | Spotify | Stitcher | Soundcloud | Google Podcasts
Donate: Check out our Patreon account
Download Our Free App: Now you can access, stream, download and share the entire RRP catalog in the palm of your hand on any iOS mobile device (iPhone, iPad and iPod Touch) with our mobile app. Never miss an episode, plus special announcements.
Support The Sponsors: One of the best ways to support the podcast is to support our sponsors. For a complete list of all RRP sponsors and their respective vanity url's and discount codes, visit my Resources page and click "Sponsors".