Podcast: Play in new window | Download | Embed
---
"You don't change your identity overnight. You have to start with these little keyhole experiments until something that you think that was just an interest becomes a real passion or a vocation."

David Epstein
---
Conventional wisdom dictates that mastery demands an early start. Relentless focus at the exclusion of other pursuits. And as many hours of deliberate practice as humanly possible.
Be it violin, painting, basketball or boat building, there's simply no substitute for a life wholly devoted to developing that narrowly defined skill.
Hence the "10,000 hour rule" zeitgeist embrace — an edict divined by psychologist Anders Ericcson and made famous by Malcolm Gladwell.
But is this actually true?
Today's guest put this theory to the test, researching the world's top performers across a wide variety of disciplines to discover a most counter-intuitive truth — that early specialization is actually the exception to the rule. It turns out that the most successful among us are those who developed broad interests and skills while everyone else was rushing to specialize.
Today we explore why breadth is the ally of depth – not the opposite. And why generalists are the ones most primed to excel.
Enter journalist and multiple New York Times bestselling author, David Epstein.
In addition to being an exceptional runner (he set the Columbia University record for 800 meters), David is a former investigative reporter for both ProPublica and Sports Illustrated with master's degrees in environmental science and journalism. Three of his stories have been optioned for films. And his TED Talk, Are Athletes Really Getting Better, Faster, Stronger? has been viewed over 8 million times (and even shared by Bill Gates).
David is currently best known for his two smash-hit bestsellers, The Sports Gene: Inside The Science of Extraordinary Athletic Performance and Range: Why Generalists Triumph in a Specialized World. A #1 New York Times bestseller, Range is arguably the must-read breakout hit of 2019 — a book as much about parenting as it is about performance.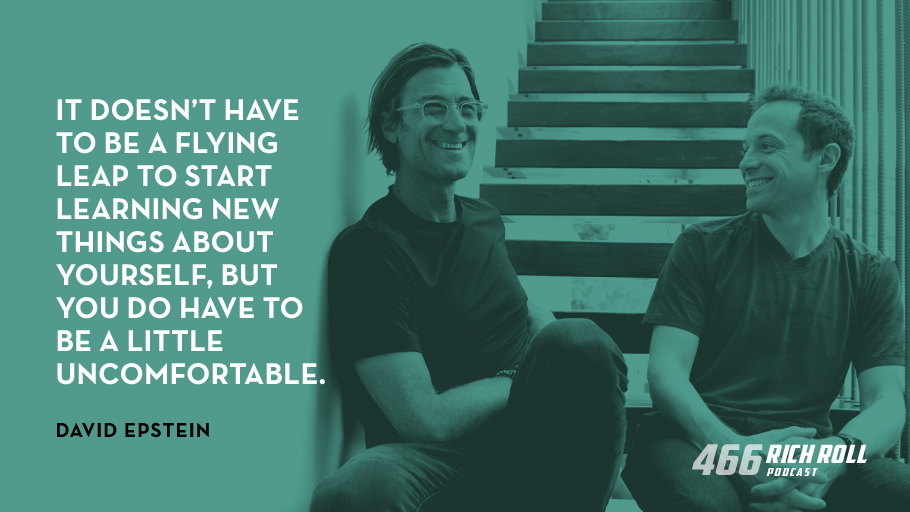 This is an insanely informative and engrossing conversation about the benefits of being a generalist — in career, sports, science, art, and life.
In a world that heavily favors early specialization, we discuss why it's often the late bloomers who prevail. Why it's the jacks-of-all-traders rather than the nose-to-the-grindstoners who ultimately blaze a path to greater success, happiness and fulfillment in both career and life.
We discuss David's infamous debate with Malcolm Gladwell that changed the famous thinker's mind — and spawned David's groundbreaking books.
We talk about the benefits of inefficiency. Why frequent quitters end up with the most fulfilling careers. And why failing isn't just good, but the best way to learn.
Our greatest masters — professional athletes, Nobel laureates, musicians, inventors, and scientists — all resist siloing themselves in a single field. Instead they think broadly. Embrace diverse experiences. And constantly cultivate new interests.
My hope is that David's message will inspire you to do the same.
And if you're a late bloomer like myself, this exchange is certain to reassure and delight.
Peace + Plants,

Images by  Ali Rogers
Listen, Watch & Subscribe
Apple Podcasts | YouTube | Spotify | Stitcher | Google Podcasts
Thanks to this week's sponsors
Tommy John: We fixed men's underwear. Smart design and fabrics mean no more pulling at your pant line. Get comfortable with yourself. No Adjustment Needed. Hurry to tommyjohn.com/RICHROLL now for 20% off your first order!
Native: Safe, Effective Protection Against Odor & Wetness. For Men & Women. Deodorant that isn't a chemistry experiment – No Aluminum, Parabens, Phthalates Or Talc. Nontoxic Ingredients. Paraben Free. Aluminum Free. Lasts All Day. For 20% off your first purchase, visit nativedeodorant.com and use promo code Roll during checkout!
Outerknown: For the people and the planet, Outerknown was founded by pro surfer Kelly Slater to provide high quality, environmentally sustainable clothes that fit great and are made to endure. Visit: Outerknown.com today and enter promo code RICHROLL at checkout to receive 25% OFF your full price order.
Note: One of the best ways to support the podcast is to support the sponsors. For a complete list of all RRP sponsors and their respective vanity url's and discount codes, visit my Resources page and click "Sponsors".
SHOW NOTES
Rich Roll x Paul Hawken LIVE @ The Wilshire Ebell Theatre, Los Angeles September 27, 2019 — tickets now available to the general public
Background, Context & Reference
Notable People Discussed
Brad Stuhlberg: co-author of  Peak Performance: Elevate Your Game, Avoid Burnout and Thrive with the New Science of Success* and podcast guest
Malcom Gladwell: author, staff writer for New Yorker Magazine and host of Revisionist History
Roger Federer: professional tennis player; currently ranked world No. 3 in men's singles tennis
Michael Phelps: Most decorated Olympian of all time, with a total of 28 medals

Russ Roberts

: economist and a research fellow at Stanford University's Hoover Institution

Freeman Dyson

: heoretical physicist and mathematician known for his work in quantum electrodynamics, solid-state physics, astronomy and nuclear engineering

Lance Mackey: merican dog musher and dog sled racer from Fairbanks, Alaska, who is a four-time winner of the 1,000-mile Yukon Quest and four-time winner of the Iditarod Trail Sled Dog Race
Sam Harris: philosopher, neuroscientist, host of the Making Sense Podcast and author of Waking Up: A Guide to Spirituality Without Religion*
Carol Dweck: Professor of Psychology at Stanford University, Author of Mindset: The New Psychology of Success*
Bill Simmons:  former sports columnist, analyst, author, and host of The Bill Simmons Podcast
Related Podcasts You Might Enjoy
Thanks to Jason Camiolo for audio production, interstitial music and show notes; Margo Lubin and Blake Curtis for video, editing and graphics. Ali Rogers for portraits. Theme music by Ana Leimma.
*Disclosure: Books and products denoted with an asterisk are hyperlinked to an affiliate program. We are a participant in the Amazon Services LLC Associates Program, an affiliate advertising program designed to provide a means for us to earn fees by linking to Amazon.com and affiliated sites.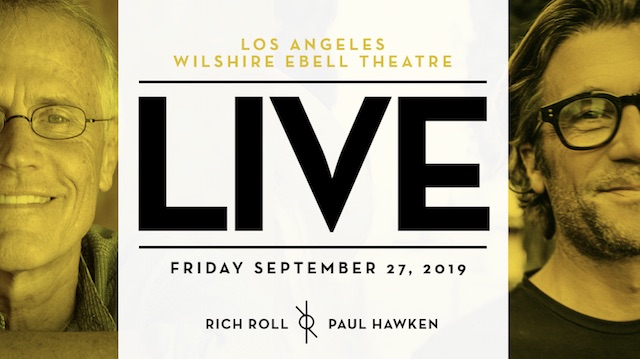 Rich Roll x Paul Hawken Live In Conversation – Click here for tickets
 HOW CAN I SUPPORT THE PODCAST?
Tell Your Friends & Share Online!
Subscribe & Review:  iTunes | Spotify | Stitcher | Soundcloud | Google Podcasts
Donate: Check out our Patreon account
Download Our Free App: Now you can access, stream, download and share the entire RRP catalog in the palm of your hand on any iOS mobile device (iPhone, iPad and iPod Touch) with our mobile app. Never miss an episode, plus special announcements.
Support The Sponsors: One of the best ways to support the podcast is to support our sponsors. For a complete list of all RRP sponsors and their respective vanity url's and discount codes, visit my Resources page and click "Sponsors".