Podcast: Play in new window | Download | Embed
---
"You are here now. Make the most of it and change what's not working. It's crucial."

Jeff Gordinier
---
Why is great food important? How and why did restaurants become culturally significant? And what life lessons can be gleaned from the world's greatest chef?
There is no more enthusiastic ringmaster for this exploration than the merry man of food himself, Jeff Gordinier.
A writer, journalist and author who sits at the converging junction of food and culture, Jeff is a frequent contributor to the New York Times and currently serves as the Food and Drinks editor at Esquire Magazine.
A graduate of Princeton University where he studied writing and poetry, Jeff is a former writer and editor for Entertainment Weekly, editor at large for Details magazine and over the years has written about music and culture for a multitude of national publications, including Travel + Leisure, GQ, Elle, Creative Nonfiction, Spin, Poetry Foundation, Fortune, and many others.
The occasion for today's conversation is Jeff's new book, Hungry: Eating, Road-Tripping, and Risking It All with the Greatest Chef in the World*. Equal parts mid-life crisis autobiography, adventure travelogue and biography, it chronicles the four years Jeff spent traveling with René Redzepi, the renowned chef of Copenhagen's Noma — recently fêted as the #2 best restaurant in the world — in search of the most tantalizing flavors the world has to offer. And yet, the book really isn't about food. A meditation on risk, re-invention, creative breakthroughs, and human connection, it sits atop my recommended summer reads.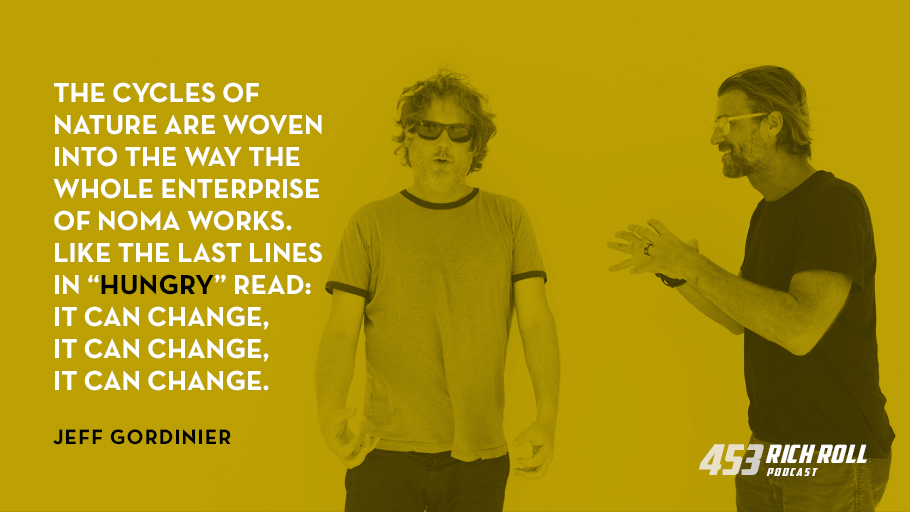 I first met Jeff in 2015 when he visited our home for a New York Times feature he was penning on the rise of veganism. Dubbed Vegans Go Glam, the piece caught fire, including a day spent as the #1 most e-mailed story on the entire New York Times website. Suffice it say, this was an insanely big moment for us, and the plant-based movement at large.
In the aftermath of that experience, Jeff and I struck up a friendship  He sent me an early copy of Hungry, which I devoured. It left me wanting to know more about Jeff. About food culture. About the mysterious René Redzepi. And what can be learned about life from this charismatic, cult-like genius redefining cutting-edge cuisine.
So here we are. This is a conversation about total commitment to mastery. It's about creative expression. It's about the cruciality of constant, fearless re-invention. It's about investing in experience. And it's about the importance of deep human connection — to others, oneself, and the environment we share.
As an anecdotal aside, it is this conversation that inspired my recent and uncharacteristically spontaneous decision to join Jeff and fellow food writer Adam Platt in Copenhagen a few weeks back. A once-in-a-lifetime, seat of our pants adventure I won't soon forget, we toured the city with René and his head fermentation wizard David Zilber (a seriously fascinating dude in his own right). We experienced the Noma phenomenon behind the scenes. And we enjoyed the premier of the restaurant's new forage-forward Plant Kingdom menu — a truly psychedelic experience incomparable to anything I have previously encountered. For more, view my Instagram Highlights and check out Dinner With the Disciples, Adam's piece on the adventure in New York Magazine.
In the wake of my visit to Copenhagen, I now fully grok Jeff's loyal discipleship of René and all things Noma. As counter-intuitive as it may sound, it's actually not about snobby elitist cuisine. Noma is not just a restaurant. It's a performance art installation. It's a community. And it's a movement — a philosophy of food and life that values connection, nature's cycles and the unimagined extraordinary.
Jeff is a great dude. He's lived a very interesting life. And he is an exceptional conversationalist.
The visually inclined can watch our entire conversation on YouTube here: bit.ly/jeffgordinier453 (please subscribe!) and the podcast is of course available on Apple Podcasts and Spotify.
This conversation — from R.E.M. to Redzepi and everything in between — is just pure, unadulterated joy.
I hope you enjoy it as much as I enjoyed having it.
Peace + Plants,

Listen, Watch & Subscribe
Apple Podcasts | YouTube | Spotify | Stitcher | Google Podcasts
Thanks to this week's sponsors
Audible: With more than 180,000 audiobooks and spoken-word audio products, you'll find what you're looking for. Rich Roll listeners are entitled to a FREE audiobook and 30-day trial today by signing up at audible.com/richroll or text RICHROLL to 500-500
DesignCrowd: Custom graphic, logo and web design from over 550,000 designers around the world. Get the perfect custom design, every time! Visit designcrowd.com/RICHROLL or enter promo code RICHROLL at checkout and receive up to $100 off your design project now!
Squarespace: The easiest way to create a beautiful website, blog, or online store for you and your ideas. Save 10% at checkout when visit squarespace.com/richroll and use the coupon code "RICHROLL" at checkout.
Note: One of the best ways to support the podcast is to support the sponsors. For a complete list of all RRP sponsors and their respective vanity url's and discount codes, visit my Resources page and click "Sponsors".
Notable People Discussed:
Scott Harrison: founder and current CEO of the non-profit charity: water / The Spring and podcast guest
Kathy Freston: vegan and wellness activist, co-author of Clean Protein* and (2x) podcast guest
Stephen & David Flynn (a.k.a. The Happy Pear): authors, entrepreneurs, wellness activists and multiple episode podcast guests
Moby: DJ, record producer, singer, songwriter, musician, photographer, animal rights activist and podcast guest

René Redzepi

: Danish chef and co-owner of the two-Michelin star restaurant

Noma

in Copenhagen, Denmark; voted the best restaurant in the world by Restaurant magazine's World's Best Restaurants in 2010, 2011, 2012 and 2014

Francis Mallmann: Argentine celebrity chef, author, and restaurateur who specializes in Argentine cuisine, and especially in Patagonian cuisine
Anthony Bourdain: was an American celebrity chef, author, travel documentarian, and television personality who starred in programs focusing on the exploration of international culture, cuisine, and the human condition

Jeong Kwan

: Buddhist monk and chef of Korean cuisine born in 1957. She lives in the Chunjinam Hermitage at the Baegyangsa temple in South Korea, where she cooks for fellow nuns and monks, as well as occasional visitors. Jeong Kwan does not own a restaurant and has no formal culinary training

Eric Ripert

: French chef, author and television personality specializing in modern French cuisine

Jamie Oliver: celebrity chef and restaurateur

Gore Vidal

: was an American writer and public intellectual known for his patrician manner, epigrammatic wit, and polished style of writing

Jonathan Gould: was an American food and music critic. He wrote for the Los Angeles Times and had previously written for LA Weekly and Gourmet, as well as being a regular on KCRW's Good Food radio program
Joshua Ozersky: was an American food writer and historian. He first came to prominence as a founding editor of New York magazine's food blog, Grub Street, for which he received a James Beard Foundation Award in 2008
Nora Ephron: was an American journalist, writer, and filmmaker. She is best known for her romantic comedy films and was nominated three times for the Academy Award for Best Writing: for Silkwood, When Harry Met Sally…, and Sleepless in Seattle
Related Podcasts You Might Enjoy:
*Disclosure: Books and products denoted with an asterisk are hyperlinked to an affiliate program. We are a participant in the Amazon Services LLC Associates Program, an affiliate advertising program designed to provide a means for us to earn fees by linking to Amazon.com and affiliated sites.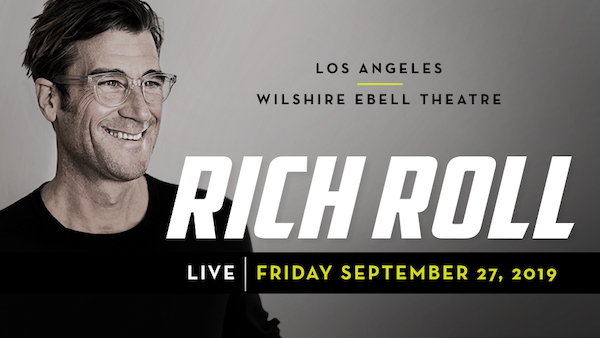 Thrilled to announce my first live show + podcast! Click here for tickets
 HOW CAN I SUPPORT THE PODCAST?
Tell Your Friends & Share Online!
Subscribe & Review:  iTunes | Spotify | Stitcher | Soundcloud | Google Podcasts
Donate: Check out our Patreon account
Download Our Free App: Now you can access, stream, download and share the entire RRP catalog in the palm of your hand on any iOS mobile device (iPhone, iPad and iPod Touch) with our mobile app. Never miss an episode, plus special announcements.
Support The Sponsors: One of the best ways to support the podcast is to support our sponsors. For a complete list of all RRP sponsors and their respective vanity url's and discount codes, visit my Resources page and click "Sponsors".