Podcast: Play in new window | Download | Embed
---
"What I really care about is connecting people."

Miguel McKelvey
---
The tectonic plates of the workplace landscape are rapidly shifting. Gone are the days of multi-decade corporate allegiance, replaced with project-based careers. The rapid rise of the freelance economy. And a labor core increasingly distributed across the globe.
What are the economic and social implications of this trend? How can the traditional office be re-imagined to fit this escalating movement? And what role can architecture and design play to deepen community and foster personal happiness?
There is no better steward to explore these important questions than this week's guest, Miguel McKelvey.
A talented, multi-disciplinary designer and entrepreneur, Miguel is the Co-Founder of WeWork — the ubiquitous, communal co-working space company — where he currently serves as the Chief Culture Officer, directing construction, architecture and web design for the business.
Raised on a commune in Oregon, Miguel earned a Bachelor of Architecture degree from the University of Oregon, where he played on the Oregon Ducks basketball team for two years. Prior to WeWork, Miguel created the design framework and led the national retail roll-out for 170 American Apparel stores. Subsequently, he was involved in the early-stage development of several companies, including Green Desk, Barre3, Versation, and English, Baby!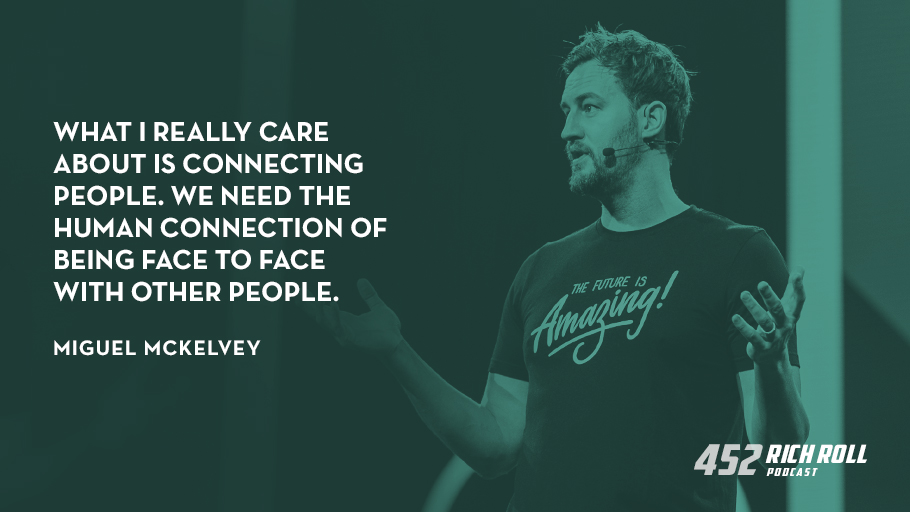 Because Miguel shares responsibility for creating and leading one of the world's most successful companies, one might predictably suspect this is a conversation about business. It is not. To be sure, we track his entrepreneurial journey. But this man's success has less to do with commerce and more to do with purpose. A deep commitment to community. And an intentional life devoted to fostering meaningful human connection.
Over the course of two and a half hours, we explore how Miguel's unusual upbringing in a five-mother commune and his experience playing NCAA Division I basketball created the 'Communitarian' philosophy that would later inform the cultural foundation for WeWork.
We discuss Miguel's love of architecture and the important role design plays in modeling our professional and personal lives. How growing up in the town that produced Nike inspired an entrepreneurial drive to create an aspirational brand. And what his career at American Apparel taught him about engaging consumer culture at scale.
But more than anything, this is a conversation with a remarkably humble man driven by gratitude and purpose to create new and original habitats that fuel a more connected world — and ultimately more fulfilling lives.
The visually inclined can watch our entire conversation on YouTube here: bit.ly/miguelmckelvey452 (please subscribe!) and the podcast is of course available on Apple Podcasts and Spotify.
Final Thing (and it's a big one): I'm excited to announce my first LIVE SHOW will take place on the evening of Friday, September 27, 2019 at the gorgeous and historic 1,100 seat Wilshire Ebell Theatre in Los Angeles. The event will entail a live podcast with special guests (to be announced), and promises to be an immersive, entertaining experience tailored to a live audience. As a gesture of thanks, Patreon subscribers will have exclusive access (by way of a code sent to you and available in my latest Patreon post) for two days to grab the best seats before tickets are made available to the public by clicking here. If you're not a Patreon subscriber but want to take advantage of this opportunity, join by visiting richroll.com/donate. Tickets will subsequently be made available to the general public starting on Wednesday, June 10 at 10:00am PST. For information and to purchase tickets visit: bit.ly/richrolllivela. It's going to be a night to remember. I can't wait to see you there!
My hope is that you enjoy this conversation as much as I enjoyed having it. And that you put your own unique thought and intention into the spaces you inhabit and the people with whom you surround yourself.
Peace + Plants,

Listen, Watch & Subscribe
Apple Podcasts | YouTube | Spotify | Stitcher | Google Podcasts
Thanks to this week's sponsors
Calm: The #1 App for Meditation and Sleep with 100+ guided meditations covering anxiety, focus, stress, sleep, relationships and more. Plus 7-day and 21-day programs for both beginner and advanced users. For a limited time, my listeners can get 25% off a Calm Premium subscription at Calm.com/richroll. It includes unlimited access to ALL of Calm's amazing content. Get started today.
Ten Thousand: The World's Most Durable Training Shorts. Built for Your Needs. Designed for Performance. Every order gets FREE shipping, FREE exchanges and FREE returns. Save 20% OFF your first purchase at tenthousand.cc with promo code "RICHROLL".
Zip Recruiter: Search for jobs hiring in your area using ZipRecruiter's job search engine – the best way to find a job. To find jobs hiring near you and apply with just 1 click, visit: ziprecruiter.com/richroll
Note: One of the best ways to support the podcast is to support the sponsors. For a complete list of all RRP sponsors and their respective vanity url's and discount codes, visit my Resources page and click "Sponsors".
Notable People Discussed:
Scott Harrison: founder and current CEO of the non-profit charity: water / The Spring and podcast guest
Ryan Holiday: Author of: The Obstacle Is The Way* and Ego Is The Enemy* and podcast guest

Adam Neumann

: Israeli–American billionaire businessman. In 2010, he co-founded WeWork, along with Miguel McKelvey

Carl Reed: Professor of Art, Emeritus – Colorado College

Frank Gehry

: Canadian-born American architect, residing in Los Angeles. A number of his buildings, including his private residence, have become world-renowned attraction

Le Corbusier

: was a Swiss-French architect, designer, painter, urban planner, writer, and one of the pioneers of what is now called modern architecture

Louis Kahn

: was an American architect, based in Philadelphia. After working in various capacities for several firms in Philadelphia, he founded his own atelier in 1935

Chip Kelly

: Before coaching in the NFL, he was the head coach of the Oregon Ducksfrom 2009 to 2012, leading the program to four consecutive BCS bowl game appearances including the 2011 BCS National Championship Game

Julie Hanna

: echnologist, entrepreneur, investor and board director, serves as Executive Chair of the Board of Kiva., peer-peer lending pioneer and the world's largest crowdlending marketplace for global entrepreneurs
Related Podcasts You Might Enjoy:
*Disclosure: Books and products denoted with an asterisk are hyperlinked to an affiliate program. We are a participant in the Amazon Services LLC Associates Program, an affiliate advertising program designed to provide a means for us to earn fees by linking to Amazon.com and affiliated sites.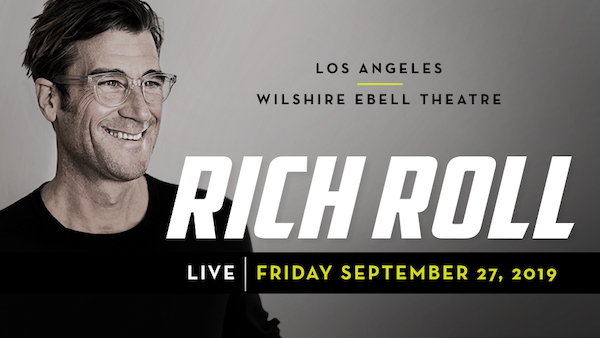 Thrilled to announce my first live show + podcast! Click here for tickets
(available exclusively to Patreon subscribers between July 8 @ 10:00am & July 10 @ 9:59am PST, open to the public thereafter)
 HOW CAN I SUPPORT THE PODCAST?
Tell Your Friends & Share Online!
Subscribe & Review:  iTunes | Spotify | Stitcher | Soundcloud | Google Podcasts
Donate: Check out our Patreon account
Download Our Free App: Now you can access, stream, download and share the entire RRP catalog in the palm of your hand on any iOS mobile device (iPhone, iPad and iPod Touch) with our mobile app. Never miss an episode, plus special announcements.
Support The Sponsors: One of the best ways to support the podcast is to support our sponsors. For a complete list of all RRP sponsors and their respective vanity url's and discount codes, visit my Resources page and click "Sponsors".