Podcast: Play in new window | Download | Embed
---

"Wake up every morning empowered by where you've been and encouraged by the curiosity, possibility and wonderlust of where you're about to go."

Eduardo Garcia
---
Imagine yourself alone in the Montana backcountry. You're doing what you love — camping, hiking and simply enjoying the wilderness — when you stumble upon a rusted old relic. An old oil drum perhaps. Curious, you approach and peer inside to discover the remnants of a long-dead black bear cub. You set down your backpack and reach inside to further investigate.
What happened next would forever alter the life of this week's guest – a flash of electricity so intense it should have instantly killed this young man of 30. 2400 volts that seared his insides, utterly destroyed his left arm, left his body with 9 severe exit wounds and delivered him to the ICU little more than a dead man with a heartbeat.
Eduardo Garcia would spend 48 days in intensive care. He would undergo 21 surgeries that would claim four ribs, a ton of muscle mass, and even his left arm. On top of everything else, he would be diagnosed with testicular cancer.
But against all odds, Eduardo survived.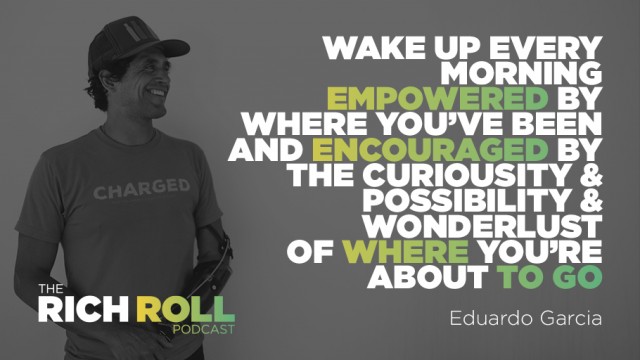 A chef by trade, Eduardo began his career at 15 before attending culinary school. He spent the next decade traveling the world cooking for various high-end people on various high-end yachts. In 2011, he decided to return home to Montana to start Montana Mex, a food company that today produces a line of fine organic & non-GMO sauces and seasonings.
But the tragic accident that would soon befall Eduardo would ultimately set his life on a new and unforeseen trajectory beyond his wildest imagination.
Dubbed the Bionic Chef, I first came across Eduardo's story by way of Charged*, a feature-length documentary that elegantly chronicles the spirit of what this man lost but more importantly, what he found. It's a survival story built on the foundations of love and forgiveness. It's about building stronger relationships and a better life after tragedy. And it's about finding your best self so you can live life fully charged.
Today I have the great privilege of sharing Eduardo's incredible story. It's an inspirational tale of facing and overcoming extraordinary adversity. And it's about the power of attitude to persevere.
But more than anything, it's about one man's journey to wholeness — and ultimately, redemption.
For the visually inclined, you can watch our entire conversation on YouTube here: bit.ly/richandeduardo
I sincerely hope you enjoy the conversation as much as I enjoyed having it.

Listen, Watch & Subscribe
Apple Podcasts | YouTube | Soundcloud | Stitcher | GooglePodcasts
Thanks to this week's sponsors
22 Days Nutrition: the 100% plant-based, 100% USDA certified organic nutrition products and meal delivery platform designed to meet the needs of your healthy, active life. For 10% off all products (including the meal delivery) and free shipping, visit 22daysnutrition.com/richroll and use promo code RICHROLL at checkout.
Squarespace: The easiest way to create a beautiful website, blog, or online store for you and your ideas. Save 10% at checkout when visit squarespace.com/richroll and use the coupon code "RICHROLL" at checkout.
Zip Recruiter: Search for jobs hiring in your area using ZipRecruiter's job search engine – the best way to find a job. Find jobs hiring near you and apply with just 1 click. Visit: ziprecruiter.com/richroll
Note: One of the best ways to support the podcast is to support the sponsors. For a complete list of all RRP sponsors and their respective vanity url's and discount codes, visit my Resources page and click "Sponsors".
*Disclosure: Books and products denoted with an asterisk are hyperlinked to an affiliate program. We are a participant in the Amazon Services LLC Associates Program, an affiliate advertising program designed to provide a means for us to earn fees by linking to Amazon.com and affiliated sites.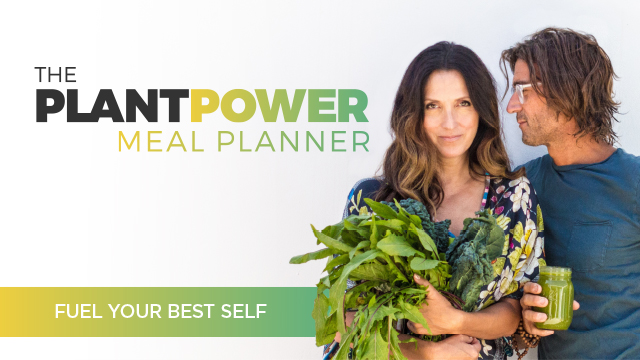 Check out The Plantpower Meal Planner — 1000's of recipes at your fingertips!
HOW CAN I SUPPORT THE PODCAST?
Tell Your Friends & Share Online!
Subscribe & Review:  iTunes | Stitcher | Soundcloud | TuneIn
Donate: Check out our Patreon account!
Download Our Free App! Now you can access, stream, download and share the entire RRP catalog in the palm of your hand on any iOS mobile device (iPhone, iPad and iPod Touch) with our mobile app. Never miss an episode, plus special announcements, discounts, giveaways. Already downloaded? Awesome. When you have a minute, and it feels right to you, do us a solid and give the app a review in the iTunes Store.
Support The Sponsors: One of the best ways to support the podcast is to support our sponsors. For a complete list of all RRP sponsors and their respective vanity url's and discount codes, visit my Resources page and click "Sponsors".