Podcast: Play in new window | Download | Embed
"No matter what you can climb out of any hole. No matter how far in the depths of hell you are. I've been down there, but I was willing to climb out of that that and surround myself with positive people. That's the thing — the association we keep."

John Joseph    
---
Back by popular demand, my good friend, podcast favorite and provacateur-at-large John Joseph returns for an unprecedented 5th appearance on the show to share more of his extraordinary story. A story that lays bare the indelible power of the human spirit to face and transcend unimaginable, seemingly insurmountable obstacles and ultimately transform one's life wholesale.
If you're a longtime listener, Johnny Bloodclot needs no introduction. For the uninitiated, John is a sui generis American original. The very definition of hardcore. A survivor. A spiritual warrior spouting straight talk directly from the streets of the Lower East Side with one singular, driving purpose:
getting people to wake the f&*k up.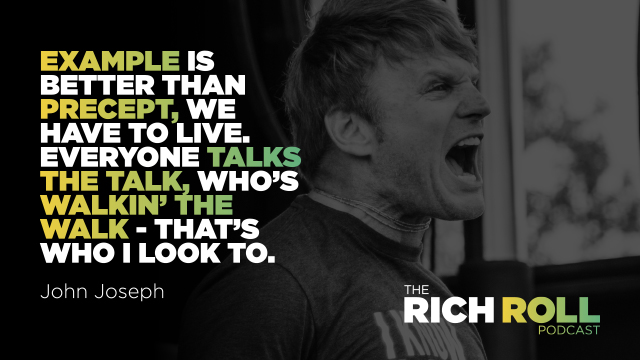 Conceived and raised in abuse, deprived of opportunity and left to his own devices, John turned to violence and drugs on the rough and tumble streets of New York's Lower East Side in the 1970's. It's a path that predictably led to violence, crime, addiction and incarceration. Spending his teens as a drug mule led to a series of unsavory foster care homes, culminating in unimaginably horrific stints in juvenile detention.
Then things went downhill.
To avoid long-term incarceration, he enlisted in the Navy, only to go AWOL after a fight. Fleeing the law and rudderless, John found redemption in the hardcore punk rock scene flourishing on Manhattan's Lower East Side in the early 1980's. Taken in by the Bad Brains' frontman H.R., John began to explore not just his musicianship, but his spirituality.  It's a journey that birthed the Cro-Mags — one of the era's most iconic and influential hardcore punk bands. Later, he found his spiritual salvation living in a Hare Krishna monastery, birthing a life-long love of meditation, yoga, the vegan lifestyle, racing Ironman triathlons, and most importantly, his profound devotion to service.
Renown for his straight talk, no BS approach to living and the power of PMA — positive mental attitude — John continues to tour as frontman for both Cro-Mags and his new band Bloodclot. He also just released a 2nd edition of his memoir Evolution of a Cro-Magnon* and is the author of nutrition primer Meat Is For Pussies*, with a foreword by yours truly.
A man who truly walks his talk, every conversation with John leaves me better than before. Today's conversation proves that just when I think we've covered it all, new layers emerge. So even if you've enjoyed all of John's previous appearances on the podcast, this episode will find you riveted by a stream of mind-blowing, never previously told stories that are certain to incite, provoke, educate and inspire.
LANGUAGE ADVISORY: John drops more f-bombs in this conversation than I could count. John is John, and editing was out of the question. So if you're queasy about foul language, consider yourself warned and make sure the kiddos are out of earshot.
I love this conversation. But I love John even more. Here's to my brother from another mother.
Peace + Plants,

P.S. – If you are new to the show and intrigued by John, do yourself a favor and check out his previous appearances on the show, starting with RRP 41. One of the most powerful podcasts I have ever published, it's a beautiful documentation of an incredible life. When you're done with that, dial up RRP 66, RRP 95 and RRP 223. Thank me later.
Listen & Subscribe on Apple Podcasts | Soundcloud | Stitcher
Thanks to this week's sponsors:
22 Days Nutrition: the 100% plant-based, 100% USDA certified organic nutrition products and meal delivery platform designed to meet the needs of your healthy, active life. For 10% off all products (including the meal delivery) and free shipping, visit 22daysnutrition.com/richroll and use promo code RICHROLL at checkout.
Quip: Your one stop solution for oral health! Buy a quip toothbrush from $25 and get up to $5 off your first refill pack by visiting getquip.com/ROLL and using promo code "ROLL" during checkout.
Notable People Discussed:
Related Podcasts You Might Enjoy:
Thanks to Jason Camiolo for production, audio engineering, show notes and interstitial music; Shawn Patterson for graphics. Theme music by Ana Leimma.
*Disclosure: Books and products denoted with an asterisk are hyperlinked to an affiliate program. We are a participant in the Amazon Services LLC Associates Program, an affiliate advertising program designed to provide a means for us to earn fees by linking to Amazon.com and affiliated sites.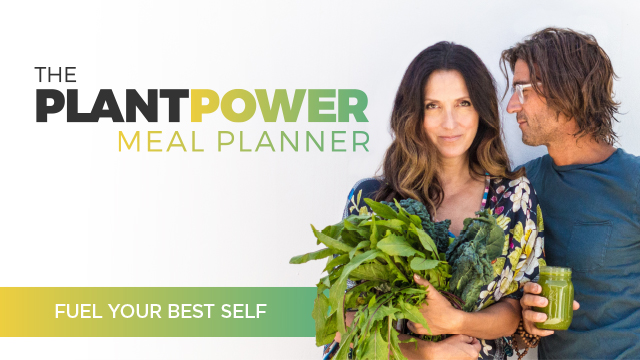 Check Out Our New Meal Planner!
Please consider joining our  Thunderclap  — a totally free, simple to use crowdsourcing platform requiring only that you "pledge" a social media post in support of Julie's new book  This Cheese is Nuts!* that will automatically post to your timeline on June 13, the date the book is released. Our goal is to achieve a social reach of 2 million, so show your support for the movement and let all our voices be heard all at once! To join, just click on the "Join this Thunderclap" button below and follow the simple instructions. It only takes a minute tops (did I say it's free?). Thanks so much for the support.
Are you a company interested in sponsoring the podcast? Click here to learn more & take our sponsor survey.
Join us for our next retreat at Ballyvolane in Ireland, July 24-31, 2017. For more information visit ourplantpowerworld.com
HOW CAN I SUPPORT THE PODCAST?
Tell Your Friends & Share Online!
Subscribe & Review:  iTunes | Stitcher | Soundcloud | TuneIn
Donate: Check out our Patreon account!
Download Our Free App! Now you can access, stream, download and share the entire RRP catalog in the palm of your hand on any iOS mobile device (iPhone, iPad and iPod Touch) with our mobile app. Never miss an episode, plus special announcements, discounts, giveaways. Already downloaded? Awesome. When you have a minute, and it feels right to you, do us a solid and give the app a review in the iTunes Store.