Podcast: Play in new window | Download | Embed
---

"Getting people better doesn't come from scientific papers. It's about creating actionable information."

Rangan Chatterjee MD
---
The developed world is mired in a cataclysmic epidemic of chronic lifestyle illness. Heart disease, type 2 diabetes, high blood pressure, depression and dementia — the current leading causes of death and disability — are modern day plagues, killing untold millions annually.
Quite shockingly, a full one-half of all American adults currently suffer from one of these diseases, with one in four suffering from two or more.
Nonetheless, confusion persists when it comes to what can be done to protect ourselves and ultimately lead the long healthy lives we deserve.
Most commonly overlooked in this discussion is the incredible power of our daily diet and lifestyle choices. Choices that when made right can prevent, treat and often even reverse these and many other debilitating chronic ailments.
Today I explore this terrain — a common, recurring theme of this podcast — with Dr. Rangan Chatterjee, a pioneer in the field of progressive medicine.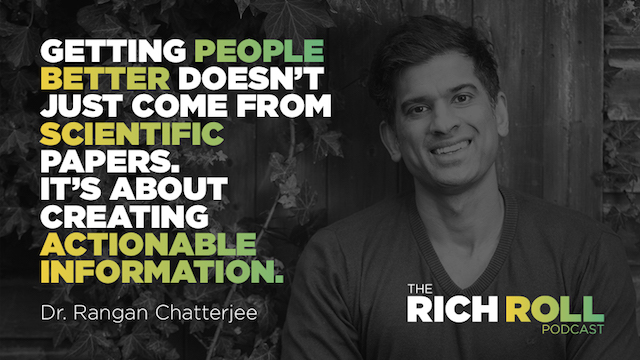 Regarded as one of the most influential doctors in the UK, Dr. Chatterjee is double board certified in internal medicine and family medicine and holds an honors degree in immunology. An in-demand lecturer, he created the very first "Prescribing Lifestyle Medicine" course accredited by the Royal College of General Practitioners in London, and is the star of the BBC One television show, Doctor In The House where he uses a functional and lifestyle medicine approach to reverse chronic disease.
Dr. Chatterjee is also the author of The Four Pillar Plan*, an instant UK Sunday Times best-seller recently released in the United States under the title How To Make Disease Disappear*. He has been extensively profiled in a litany of major media outlets. He hosts the popular Feel Better, Live More podcast (which I will be appearing on soon). And he is a regular contributor to BBC Radio and the HuffPost.
Similar to my recent conversation with Dr. Frank Lipman, this is a conversation about the current state of health and lifestyle disease in the modern, developed world.
It's about Dr. Chatterjee's personal course correct — the motivational why behind his decision to segue from a traditional medical practice to the emerging world of functional medicine.
And it's a primer on the crucial role of diet, nutrition, movement, sleep and stress reduction when it comes to health, longevity and disease prevention.
As an interesting aside, Rangan is also quite the musician. He even once took a career sabbatical to tour with his band. I was able to talk him into an impromptu performance at the end of the show. So be sure to stick around to the end for his acoustic rendition of The Eagles' Take It Easy – it's pretty great.
For the visually inclined, you can watch our entire conversation on YouTube here: http://bit.ly/richandrangan
I sincerely hope you enjoy the exchange.

Listen, Watch & Subscribe
Apple Podcasts | YouTube | Soundcloud | Stitcher | GooglePlay
Thanks to this week's sponsors
Audible: With more than 180,000 audiobooks and spoken-word audio products, you'll find what you're looking for. Rich Roll listeners are entitled to a FREE audiobook and 30-day trial today by signing up at audible.com/richroll
Four Sigmatic: A superfood company popularizing medicinal mushrooms by incorporating them in delicious mainstream products like coffee and hot cocoa. Visit www.foursigmatic.com/roll and enter the promo code ROLL at the checkout and save 15% on your order!
Mountain Rose Herbs: is a grower, processor, distributor, and retailer of organic herbs, spices, teas, and other sustainably grown and harvested ingredients. We focus on the environmental and social impact of every business decision we make. Go to Mountainroseherbs.com and enter coupon code 'RICHROLL' in the cart during checkout and receive 10% off through July 31, 2018.
Note: One of the best ways to support the podcast is to support the sponsors. For a complete list of all RRP sponsors and their respective vanity url's and discount codes, visit my Resources page and click "Sponsors".
*Disclosure: Books and products denoted with an asterisk are hyperlinked to an affiliate program. We are a participant in the Amazon Services LLC Associates Program, an affiliate advertising program designed to provide a means for us to earn fees by linking to Amazon.com and affiliated sites.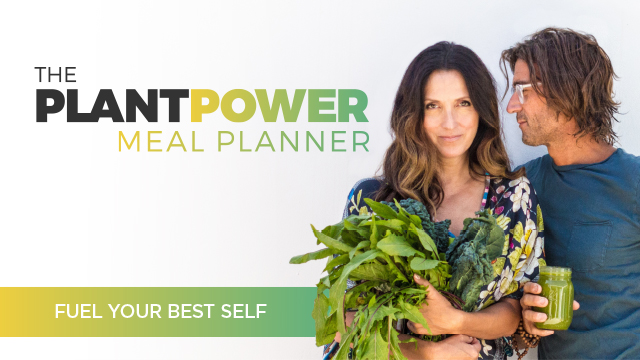 Check out The Plantpower Meal Planner — 1000's of recipes at your fingertips!
HOW CAN I SUPPORT THE PODCAST?
Tell Your Friends & Share Online!
Subscribe & Review:  iTunes | Stitcher | Soundcloud | TuneIn
Donate: Check out our Patreon account!
Download Our Free App! Now you can access, stream, download and share the entire RRP catalog in the palm of your hand on any iOS mobile device (iPhone, iPad and iPod Touch) with our mobile app. Never miss an episode, plus special announcements, discounts, giveaways. Already downloaded? Awesome. When you have a minute, and it feels right to you, do us a solid and give the app a review in the iTunes Store.
Support The Sponsors: One of the best ways to support the podcast is to support our sponsors. For a complete list of all RRP sponsors and their respective vanity url's and discount codes, visit my Resources page and click "Sponsors".