Podcast: Play in new window | Download | Embed
---
"Character matters."

Dave Roll
---
For reasons both obvious and perhaps less so, this week's episode holds a very special place in my heart.
There is something unique about sitting before a microphone that permits a species of conversation difficult to otherwise have. Done right, the inherent formality of putting it all on the record can countenance an experience of rare intimacy that scarcely transpires in the course of conventional human interaction.
From the very beginning of this podcast journey, I've longed to host my father on the show. To provide a ceremonial opportunity to probe his life, uninterrupted. To learn things about him I've always wanted to know — but for whatever reason just never found the right occasion to ask.
For years, I harbored the fear that if I didn't make such an experience a priority, it might never happen. And that would be something I would deeply regret for the rest of my days.
My drive was never to share such an experience with an audience. I wasn't convinced the conversation I yearned for would be appropriate for public consumption. It's always been about creating a moment just for us. A document I could privately keep for posterity. And for my children.
However, a compelling reason recently arose to transform this rumination into reality.
A gentleman and a scholar, Dave Roll has spent the better part of his life studying history. The apex of this passion is an incredible new book entitled, George Marshall: Defender of the Republic*. An enthralling and deeply thoughtful chronicle of America's most distinguished soldier since George Washington, it's also a deeply prescient and timely meditation on selflessness, leadership, and the momentous importance of moral character in political and social structures. The embodiment of these ideals, Marshall influenced the course of two world wars, and helped define the American century.
By way of background, my dad has enjoyed a very successful 35 year career as an accomplished attorney in the field of antitrust. Over the years, he successfully defended clients in investigations and enforcement actions brought by the Antitrust Division of the Department of Justice and the Federal Trade Commission. After government service at the FTC he matriculated to partner and ultimately managing partner of the prestigious Washington, D.C.- based international law firm Steptoe & Johnson. Later in his career, he founded the Lex Mundi Pro Bono Foundation, a non-profit, public interest organization that provides pro bono legal services to social entrepreneurs around the world.
Now in his third act, Dave is enjoying a successful career as an author. Also historical biographies, his previous titles include The Hopkins Touch: Harry Hopkins and the Forging of the Alliance to Defeat Hitler* and Louis Johnson and the Arming of America*, a biography of Harry Truman's defense secretary.
Hitting bookstores July 9 (and available for pre-order now), the Marshall book presents an opportunity for my dad to join the ranks of the great historical biographers of our age. Enjoying unbelievable early praise, its received glowing blurbs from notable figures like General Stanley McCrystal, General David Petraeus, William Hitchcock and Walter Isaacson.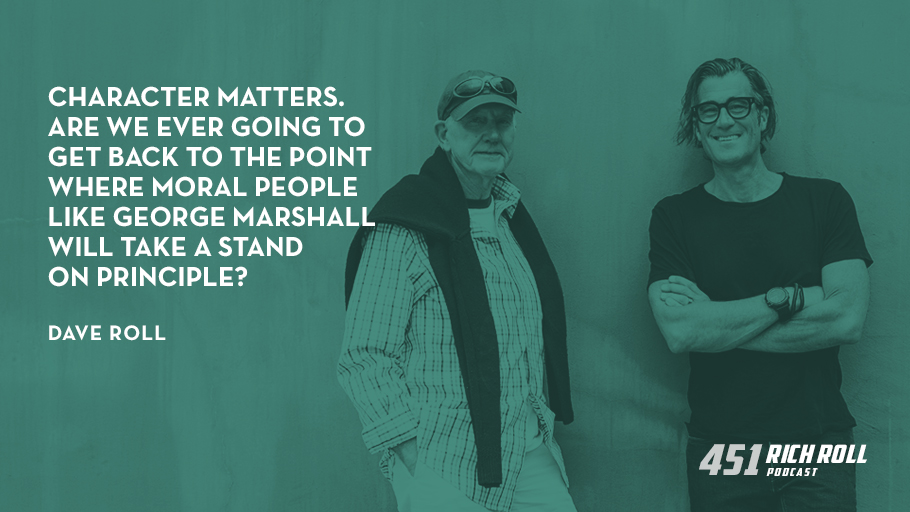 Fathers and sons. We've gone through it over the years. I've put him through more than I care to recall. And he didn't always make it easy for me. But after weathering extended periods of, let's just call it strain, we've arrived at a very good place. Perspective and age have brought us close. And thus the timing for this conversation could not be more perfect.
Equal parts personal and instructive, this conversation traverses Dave's experience growing up as a Baby Boomer in the post WWII era. It tracks the emotional history of our relationship. And it then pivots to what can be gleaned from the life of George Marshall. How the example set by America's greatest statesman informs how we think about current politics. The importance of moral leadership as we march towards another election cycle. And ultimately, why character matters.
The visually inclined can watch our entire conversation on YouTube here: bit.ly/daveroll451 (please subscribe!) and the podcast is of course available on Apple Podcasts and Spotify.
Dad, you truly are a gentleman and a scholar.
I am so incredibly proud of you.
I'm thrilled to share our exchange.
And I love you more than you know.
Peace + Plants,

Photos courtesy of Ali Rogers
Listen, Watch & Subscribe
Apple Podcasts | YouTube | Spotify | Stitcher | Google Podcasts
Thanks to this week's sponsors
Athletic Greens: 75 Wholefood Sourced Ingredients, 5 Key Areas of Health, 10 years in development. The Delicious Daily Habit That Sets You Up For A Healthy Future. Healthy Daily Supplement. Invest In Your Health. No Compromises. Go to: athleticgreens.com/richroll and claim your special offer today: 20 FREE travel packs valued at $79 with your first purchase.
Fully: From the popular Jarvis adjustable standing desks to their every-which-way active office chairs, to their many movement supporting accessories — anti-fatigue mats, treadmill desks and more — Fully is all about helping you bring more movement, energy and joy to your work and life. To get your body moving in your workspace, visit: fully.com/RICHROLL.
Note: One of the best ways to support the podcast is to support the sponsors. For a complete list of all RRP sponsors and their respective vanity url's and discount codes, visit my Resources page and click "Sponsors".
Notable People Discussed:
Ryan Holiday: Author of: The Obstacle Is The Way* and Ego Is The Enemy* and podcast guest

John Lewis

: American politician and civil rights leader. He is the U.S. Representative for Georgia's 5th congressional district, serving in his 17th term in the House, having served since 1987, and is the dean of the Georgia congressional delegation

Walter Isaacson

: Former CEO of Aspen Institute, editor of TIME, CEO of CNN. Author of

The Innovators, Leonardo da Vinci, Franklin, Einstein, Steve Jobs

Stanley A. McChrystal: partner and founder at the McChrystal Group. He is a retired United States Army four-star general best known for his command of Joint Special Operations Command in the mid-2000s
David Petraeus: retired United States Army general and public official. He served as Director of the Central Intelligence Agency from September 6, 2011, until his resignation on November 9, 2012. Prior to his assuming the directorship of the CIA, Petraeus served 37 years in the United States Army

Kurt Luedtke

: screenwriter. He is best known for writing Out of Africa, for which he won the Academy Award for Best Adapted Screenplay, as well as Absence of Malice and Random

Ralph Nader

: political activist, author, lecturer, and attorney, noted for his involvement in consumer protection, environmentalism and government reform causes

Miles Kirkpatrick

: oversaw a study that was sharply critical of the Federal Trade Commission and was then given the job of rejuvenating the agency as its chairman

Steptoe & Johnson LLP

: international law firm headquartered in Washington, D.C. with offices in New York City, Los Angeles, Chicago, San Francisco, Phoenix, London, Brussels and Beijing

Sidley Austin LLP

:  formerly known as Sidley Austin Brown & Wood LLP, is a general practice law firm based in the United States, with a focus on expertise in transactional and litigation matters

Cory Booker: U.S. Senator from New Jersey, Vegan
Bhagavan Das: American yogi, singer and teacher who lived for six years in India, Nepal, and Sri Lanka

Jon Urbanchek

: swimming coach, best known for his 22-year tenure as the head coach of the Michigan Wolverines swimming and diving team of the University of Michigan from 1982 to 2004

Tom Dolan

: former competition swimmer, two-time Olympic champion, and former world record-holder

Michael Phelps: Most decorated Olympian of all time, with a total of 28 medals
Mike Barrowman: former competition swimmer, Olympic champion, and former world record-holder. Barrowman was one of the pioneers of the "wave-style" breaststroke technique

Bruce Kimball

: American diver and coach. He won a silver medal for the 10 meter platform at the 1984 Summer Olympics. Kimball was born in Ann Arbor, Michigan. His father is Dick Kimball, who coached nine divers to Olympic medals

Greg Louganis: Olympic diver, LGBT activist, and author who won gold medals at the 1984 and 1988 Summer Olympics, on both the springboard and platform. He is the only male and the second diver in Olympic history to sweep the diving events in consecutive Olympic Games
Forrest Pogue: was an official United States Army historian during World War II. He was a proponent of oral history techniques, and collected many oral histories from the war under the direction of chief Army historian S. L. A. Marshall

Matt Mann

: was a British-born American college swimming coach and was coach of the men's swim team in the 1952 Summer Olympics that won four gold medals, two silver medals and one bronze medal
Related Podcasts You Might Enjoy:
*Disclosure: Books and products denoted with an asterisk are hyperlinked to an affiliate program. We are a participant in the Amazon Services LLC Associates Program, an affiliate advertising program designed to provide a means for us to earn fees by linking to Amazon.com and affiliated sites.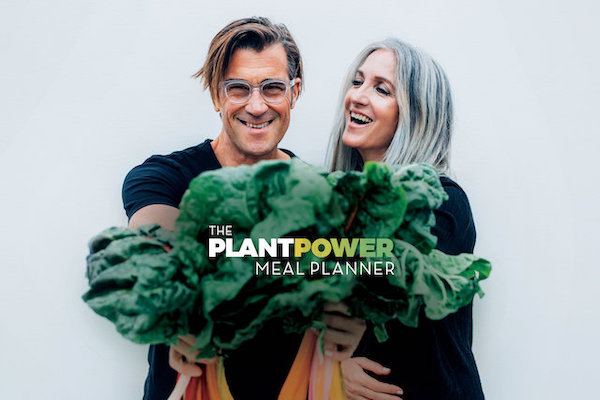 for 1000s of delicious, customized plant-based recipes & so much more, check out our Plantpower Meal Planner
 HOW CAN I SUPPORT THE PODCAST?
Tell Your Friends & Share Online!
Subscribe & Review:  iTunes | Spotify | Stitcher | Soundcloud | Google Podcasts
Donate: Check out our Patreon account
Download Our Free App: Now you can access, stream, download and share the entire RRP catalog in the palm of your hand on any iOS mobile device (iPhone, iPad and iPod Touch) with our mobile app. Never miss an episode, plus special announcements.
Support The Sponsors: One of the best ways to support the podcast is to support our sponsors. For a complete list of all RRP sponsors and their respective vanity url's and discount codes, visit my Resources page and click "Sponsors".