---

"The only permission you need to dream, to explore your potential, and dare I say do what you love is from yourself."

Rich Roll – Finding Ultra
---
Seven years ago, I released my first book. A redemptive memoir chronicling my journey through addiction, sobriety, overweight middle age malaise and ultimately plant-fueled feats of athletic prowess, Finding Ultra* created more impact than I could have possibly imagined. Each year since since its release, the book has sold more copies that the year prior. And every single day I get countless e-mails from people all over the world, moved by the book, sharing with me intimate details of their personal struggles and victories. This touches me beyond words. I'm both proud and humbled by the outpouring of love.
But over the last few years, I couldn't shake the feeling that the book is incomplete. It failed to tell the whole story. Because what has transpired since 2012 is equally if not more dramatic — and perhaps more relatable. And because over the last seven years I have grown tremendously. I have evolved. And I desperately wanted to share what I have learned.
So I decided to rewrite it.
Call it Finding Ultra 2.0 – Revised Ultra – Finding Ultra Redux.
This week I'm thrilled to announce the release of the brand new updated and revised edition of the book that started it all.
Over the course of the past year, I completely overhauled the manuscript from page one to the end. The new edition — 100 pages longer than the original — includes:
30-40% brand new material;
a new Foreword;
a new 50+ page prescriptive chapter with all the specific tools, practices and strategies I employed to transform my life in mind, body and spirit;
a chronicling of my journey from 2012 to present;
a robust recipe section + 7-day eating plan;
my cleanse protocol (due to high demand);
robust & updated resource appendices; and
simply better writing throughout (have you ever gone back and read something you wrote 6 or 7 years ago? It's like that).
In addition, I went through all 856 Amazon reviews, objectively identified consistent themes of negative criticism, took the feedback to heart, then set about redressing them as best I could, while remaining true to myself and the fundamental, core narrative.
For those who did not read the original version of the book, allow me to make one point abundantly clear: This really isn't a book about running. It's not about how to become a better triathlete. It's not intended to appeal to only athletes, or vegans for that matter. My intention was to write a book that would speak to anyone and everyone who feels stuck — my challenges and victories mere metaphor for the reservoirs of potential that reside within all of us, yearning for expression. It's a book that asks you to discover and confront your personal truth. It's about refusing to settle for less, and the path towards a life fueled by meaning and purpose. It's about accessing untapped reservoirs of potential. All told, it's about the path to self-actualization. Because we need not live lives of quiet desperation. And because now, more than ever, we need you to be more of who you really are.
It's finally the book I always wanted it to be — dedicated entirely to your future best, most authentic self.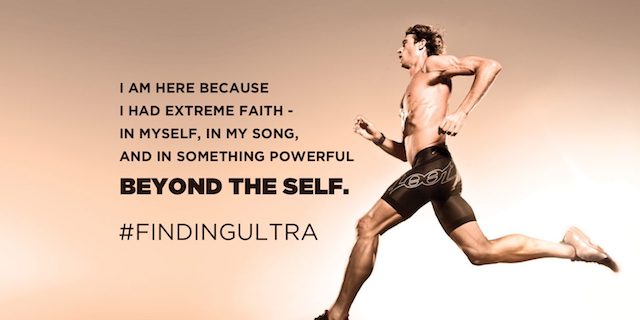 So take my hand. And let's blaze this path, together.
Even if you read and enjoyed the original version, you will find the revised and updated edition more than worthy of your attention. And for those that enjoy audiobooks, I re-recorded the entire thing (after 700+ hours of podcasting I'm much better behind the mic than I was 7 years ago), with downloadable pdf files of all the new appendix materials (something the 1st edition unfortunately lacked).
If you have benefitted from my free content over the years — over 700 hours of podcast content spanning the last 5 1/2 years — it would mean the world if you trusted me with a purchase by clicking one of the retailer links below:
*Disclosure: Books and products denoted with an asterisk are hyperlinked to an affiliate program. We are a participant in the Amazon Services LLC Associates Program, an affiliate advertising program designed to provide a means for us to earn fees by linking to Amazon.com and affiliated sites.
For those interested in obtaining a signed version with a personal inscription, copies are available through my site and we ship worldwide.
NOTE: My current understanding is that this book is only available in the US and Canada. For all my international friends, you can obtain a signed and personally inscribed paperback version through my website — again, we ship worldwide. Alternatively you can purchase through Amazon US to a friend living domestically and have it exported (although this admittedly sounds like a pain). Finally, there has a been a delay with the e-book / kindle version release. I have been informed that this should be available on Amazon, iBooks and other online retailers by March 28 (give or take a day or two).  Apologies for this — these matters are simply beyond my ability to control. I will update this post as this develops.
Thanks for all the love. I am beyond grateful for your support. Without all of you, none of this would be possible.
Peace + Plants,
Photos by Tomasz Jakubowski and John Segesta