Podcast: Play in new window | Download | Embed
---
"Getting out is the first step."

Catra Corbett
---
If Ross Edgley is a real-life Aquaman, I nominate ultrarunner extraordinaire Catra Corbett as a real-life Wonder Woman.
Definitely one of the planet's most colorful athletes, Catra's polychromatic goth-punk aesthetic is a perfect superhero costume match for her sparkling personality. Rocking wild rainbow hair, brightly colored running costumes and tattooed head-to-toe, you can spot the Dirt Diva's smile from a mile out, happily tearing up the trails with her trusty side-kick training partner TruMan — a goggle-adorned mini dachshund. TruMan's superpower? He loves running as much as she does.
Yes, it's all a bit nutty. But don't be deceived — Catra is an absolute beast of an athlete. Over the course of her storied career she has competed in over 250 ultramarathons and is the first American woman to run over 100 miles or more on more than 100 occasions (137 to date).
You might recall Catra from the book Born to Run as the "kaleidoscopically tattooed" woman who ran the 212-mile John Muir Trail from Yosemite to Mt. Whitney. When she reached the end, she didn't stop. Instead, she turned around and ran back — a 425-mile effort for which she holds the fastest known time (FKT), completing it in just over twelve days. Not enough? Catra also holds the FKT for the Muir Ramble – clocking 324 miles in just 7 days. Oh yeah, she also ran 144 trail miles around Lake Tahoe in 43 hours on just 50 minutes of sleep.
Most recently, at age 53, Catra completed three back-to-back 200-mile races to become the oldest woman to win the triple crown of 200's (Bigfoot 200, Tahoe 200 & Moab 240). It's an astounding feat she completed in just 10 weeks. A mere eleven days later she celebrated her accomplishment by running another 100 miles at the Javelina Jundred — dressed as the The Mad Hatter. Vintage Dirt Diva.
To top it off, she's a vegan — a lifestyle she adopted 15 years ago to which she attributes her high performance prowess, race consistency and longevity.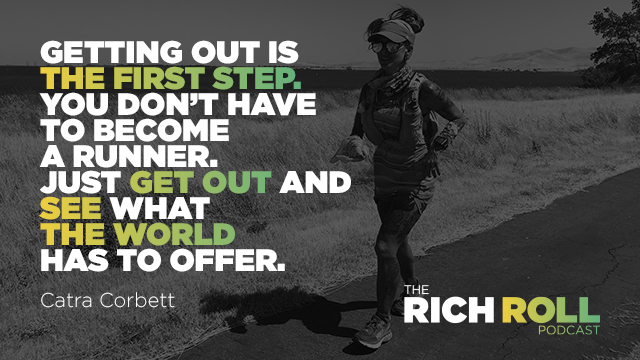 Catra's resume speaks for itself. But most impressive are the obstacles she has faced and overcome to become the shining example of humanity and athleticism she is today.
Twenty-four years ago, Catra was lost in a hopeless spiral of meth addiction, disordered eating, and sexual and emotional abuse. Ultimately busted for peddling crystal, she hits rock bottom in a jail cell that scares her straight. Upon release she commits to getting sober, moves back home with her mother, abandons her lower companions, her boyfriend, and the dark lifestyle that she came to depend on. Her only clean friend pushes her to train for a 10K with him, and surprisingly, she likes it – and decides to run her first marathon after that.
Sobriety saved her life. Running gave her a new one altogether. Along the way she attempts suicide, loses loved ones, falls in love, has her heartbroken, meets lifelong friends and finally faces the past that led to her addiction — all of which is beautifully chronicled in her memoir, Reborn on the Run: My Journey from Addiction to Ultramarathons*.
I sat down with Catra to learn the how and why behind her incredible journey from meth-addicted cosmetologist to world class, vegan ultrarunning phenom.
We cover her goth netherworld days and how she transformed her life in recovery. We track her accomplishments and what compels her insatiable drive to push herself well into her 50's. And we talk about how and why she does it all vegan.
I love this woman, her positive attitude and her infectious zest for life — a hero of sober possibility and the power of running to metamorphose wholesale.
To view my conversation with Catra in all her technicolor glory, click here.
Peace + Plants,

Listen, Watch & Subscribe
Apple Podcasts | YouTube | Spotify | Stitcher | Google Podcasts
Thanks to this week's sponsors
Calm: The #1 App for Meditation and Sleep with 100+ guided meditations covering anxiety, focus, stress, sleep, relationships and more. Plus 7-day and 21-day programs for both beginner and advanced users. For a limited time, my listeners can get 25% off a Calm Premium subscription at Calm.com/richroll. It includes unlimited access to ALL of Calm's amazing content. Get started today!
Outerknown: Founded by pro surfer Kelly Slater Outerknown is "For the people and the Planet" — high quality, environmentally sustainable clothes that fit great and are made to endure. Visit: Outerknown.com today and enter promo code RICHROLL at checkout to receive 25% OFF your full price order.
Harrys.com: A superior shave at an affordable price. Go to Harrys.com/ROLL right now to get a limited edition holiday shave set while supplies last. We've partnered with Harry's to give you $5.00 off your order when you enter code "ROLL" at checkout. FREE Shipping ends December 12th 2018.
*Disclosure: Books and products denoted with an asterisk are hyperlinked to an affiliate program. We are a participant in the Amazon Services LLC Associates Program, an affiliate advertising program designed to provide a means for us to earn fees by linking to Amazon.com and affiliated sites.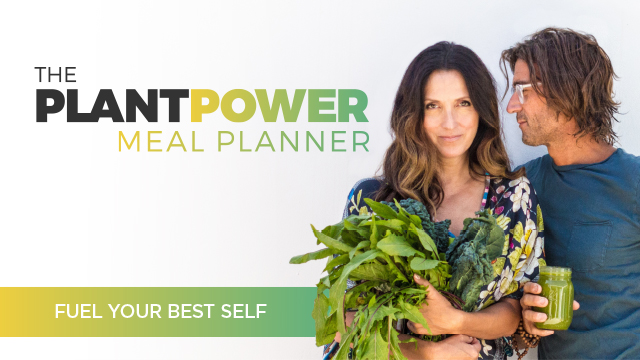 Check out The Plantpower Meal Planner — 1000's of recipes at your fingertips!
HOW CAN I SUPPORT THE PODCAST?
Tell Your Friends & Share Online!
Subscribe & Review:  iTunes | Stitcher | Soundcloud | GooglePlay
Donate: Check out our Patreon account!
Download Our Free App! Now you can access, stream, download and share the entire RRP catalog in the palm of your hand on any iOS mobile device (iPhone, iPad and iPod Touch) with our mobile app. Never miss an episode, plus special announcements, discounts, giveaways. Already downloaded? Awesome. When you have a minute, and it feels right to you, do us a solid and give the app a review in the iTunes Store.
Support The Sponsors: One of the best ways to support the podcast is to support our sponsors. For a complete list of all RRP sponsors and their respective vanity url's and discount codes, visit my Resources page and click "Sponsors".