Podcast: Play in new window | Download | Embed
---
"Run when you can, walk if you have to, crawl if you must; just never give up."

Dean Karnazes
---
Picking up where we left off exactly two years ago, today's podcast marks the return of ultramarathon legend Dean Karnazes.
For the select few unfamiliar with a man whose name has become synonymous with running, let's break it down:
Hailed by TIME as one of the Top 100 Most Influential People in the World, Dean is a New York Times bestselling author of several books and perhaps Earth's most recognized ultra-distance running specialist – a global ambassador of sport who has pushed his body, mind and spirit beyond places most people simply cannot fathom.
Dean's mind-bending feats of two-legged prowess include:
Running 350 miles in under 81 hours, foregoing sleep for 3 days;
Running 50 marathons in each of the 50 states in 50 consecutive days;
Winning the prestigious 4 Desert Race Series in 2008, traversing the Gobi, Antacara, Sahara and Antarctica;
Competing in the Badwater 135 10 times, including victory in 2004;
Running 148 miles on a treadmill in 24 hours; and
Running 3000 miles across the US from Disneyland to NYC in 75 days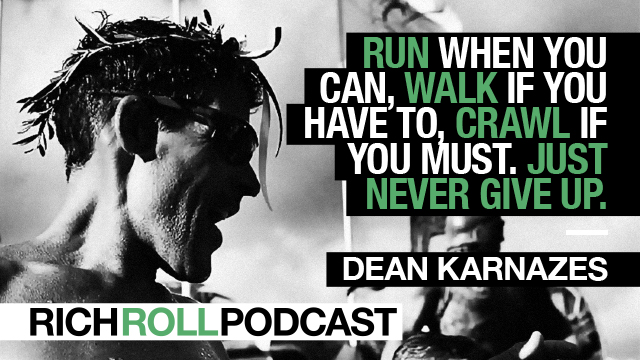 I met Dean back in 2011 and we've been friends ever since. In 2013, I even helped crew him to his 10th Badwater 135 finish. Today we reunite to pickup where we left off in RRP 115 — one of my most popular podcasts to date — to discuss life, running, his latest adventures, and his brand new book, The Road To Sparta: Reliving the Ancient Battle and Epic Run That Inspired the World's Greatest Footrace*.
This is the book Dean was born to write.
It's the story of Dean's ancestral heritage and his deeply personal, genetically hardwired connection to the intrepid ancient Greek ultrarunners known as hemerodromes.
It's also the incredibly well researched historical account of Pheidippides — perhaps the greatest and most heroic hemerodrome of all time — and the crucial role he played in helping Athens defeat Persia in the Battle of Marathon that took place 2,500 years ago. Pheidippides' 153-mile, 36 hour run from Athens to Sparta in 490 B.C. wasn't just critical to Greek victory, it's fair to say it spared Western Civilization and preserved the democratic institutions we so value today.
Finally, the book is a deeply engaging, first-hand account of Dean's attempt to honor his lauded hemerodrome ancestor by replicating Pheidippides' ancient and historic 153-mile run, training and racing on only the few foods actually available to Pheidippides at the time.
Beyond fascinating tales from the new book, this is a conversation about curiosity, consistency, and drive. It's about out-of-body experiences that occur when you are stripped to your very core. It's about what motivates him to continue pushing the boundaries of human capabilities well into his 50's and how his training, racing and nutrition have evolved to meet that challenge.
But most of all, this is a conversation about what it means to be truly alive – and the beautiful embrace of discomfort required to explore the outer limits of performance, potential, and human experience.
I consider Dean a role model. In addition to being one of the great athletes of our time and an inspiration to millions worldwide, Dean is someone I am lucky to call friend and mentor. I'm thrilled to further share his life, wisdom and experience with you today.
I sincerely hope you enjoy our exchange.
Peace + Plants,

P.S. – The interstitial track featured in today's show is Two Runs Make A Right by straight-edge vegan musician & podcast fan Ray Holroyd, who was inspired to write this song by the life lessons Ray learned running a 5K every single day for a year. Thanks Ray for letting us use the track! For more, visit revolutionharmony.com
Listen & Subscribe on iTunes | Soundcloud | Stitcher | GooglePlay
Spots are now available for Plantpower Austraila, Feb. 20-27, 2017. For info visit plantpowerworld.com
Check out Julie's podcast divine throughline
Thanks to this week's sponsor:
Lyft is your friend with a car, whenever you need one. Download the app and get an affordable ride from a friendly driver within minutes. Right now, Lyft is offering Rich Roll Podcast listeners a special deal. First time riders get three FREE rides, up to $10/EA when you enter promo code "RICHROLL".
Dean's Other Books
Notable People Discussed
Pheidippides: central figure in Greek history that inspired the marathon race
Benner Cummings: legendary coach who looked beyond a purely physical approach and educated athletes on the significance of the mental aspects of competition
Paul Cartledge: British ancient historian and academic who had previously held a personal chair in Greek History at Cambridge
Herodotus: Greek historian who was born in Halicarnassus in the Persian Empire widely referred to as "The Father of History"
Socrates: classical Greek philosopher credited as one of the founders of Western philosophy
Aristotle: Greek philosopher and scientist born in the city of Stagira, Chalkidice, on the northern periphery of Classical Greece
Aeschylus: ancient Greek playwright often recognized as "The Father of Tragedy"
Leonidas: warrior king of the Greek city-state of Sparta
Alexander the Great: king of the Ancient Greek kingdom of Macedon and a member of the Argead dynasty
Jason Koop: American ultrarunner & director of coaching with Carmichael Training Systems
Related Podcasts You Might Enjoy
Thanks to Jason Camiolo for production, interstitial music and audio engineering; Chris Swan for production assistance & show notes; Shawn Patterson for graphics. Theme music by Ana Leimma.
*Disclosure:Books and products denoted with an asterisk are hyperlinked to an affiliate program. We are a participant in the Amazon Services LLC Associates Program, an affiliate advertising program designed to provide a means for us to earn fees by linking to Amazon.com and affiliated sites.
The Plantpower Way  is available at these fine retailers!
Amazon  |  Barnes & Noble  |  IndieBound  |  Penguin
Are you a company interested in sponsoring the podcast? Click here to learn more & take our sponsor survey.
HOW CAN I SUPPORT THE PODCAST?
Tell Your Friends & Share Online!
Subscribe & Review:  iTunes | Stitcher | Soundcloud | TuneIn
Donate: Check out our brand new Patreon account!
Download Our Free App! Now you can access, stream, download and share the entire RRP catalog in the palm of your hand on any iOS mobile device (iPhone, iPad and iPod Touch) with our mobile app. Never miss an episode, plus special announcements, discounts, giveaways. Already downloaded? Awesome. When you have a minute, and it feels right to you, do us a solid and give the app a review in the iTunes Store.