Podcast: Play in new window | Download | Embed
---
"If you want extreme results, you need to do extreme things."

Andrew "Spud Fit" Taylor
---
One of the great privileges of hosting this podcast is the occasional opportunity it presents to shift focus from conversations with globally prominent thought leaders to shine a bright spotlight on the struggles and triumphs of the everyman.
Folks living average, relatable lives. Anonymous individuals dealing with issues all too many of us confront and combat — obesity, depression, disease, addiction and/or a sense of general dissatisfaction with their current life status. Authentic souls who reach the limit of their pain threshold and cross that tipping point to finally proclaim,
enough is enough.
On a personal note, nothing gives me more satisfaction than celebrating those who courageously challenge their life paradigm, step outside the cozy comfort zone, and attempt the extraordinary — all in the interest of gaining control of their well being and seizing the reigns of their life path.
Folks like Josh LaJaunie, who lost over 200 pounds to conquer ultramarathons and even grace the cover of this month's Runners World magazine. Or Brett & David Wilcox – the father-son duo who ran across the USA to raise GMO awareness. Luke Tyburski fits the bill — a guy who overcame depression to conquer The Ultimate Triathlon. And I'd add Adam Sud to that list — a young guy who kicked adderal, reversed his diabetes and found a life.
Sharing these experiences is what makes this podcast different from the others — meaningful and special in a very unique way.
So if you enjoy the uplifting everyman story, then you are in for a treat today.
About a year ago, Andrew Taylor stepped onto the scale — 334 pounds. The Aussie didn't like what he saw. He didn't like how he felt. Clinically depressed, medicated and hopelessly addicted to unhealthy foods, his elevator was going down — fast.
Fed up and sick & tired of being sick & tired, he drew a line in the sand and decided to step over it.
It was time to finally wake up and seize the reigns of his physical, mental and emotional health and well being. To once and for all reclaim the life he felt quickly slipping away.
Blessed with self-awareness, he saw his path to freedom would lay not in balance but rather in what most would consider drastic and extreme measures.
Andrew decided that he would eat nothing but potatoes for an entire year.
Nothing. But. Potatoes. For an entire year.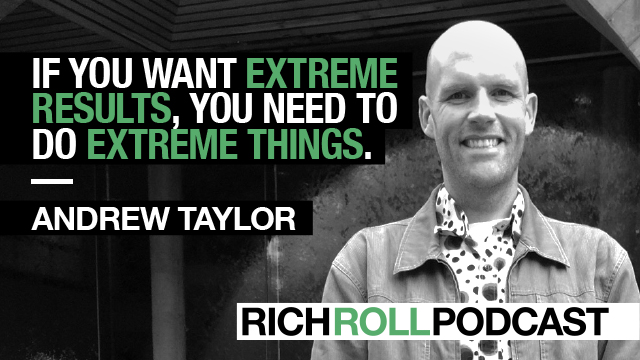 On January 2, 2016, all 334 depressed pounds of Andrew popped open his phone, clicked record, and announced his quest on YouTube — to a subscriber base of exactly zero.
The single video soon morphed into a daily vlog, a raw, personal and authentic look into the highs, lows, how to's and whatnots of a potato-fueled journey Andrew dubbed Spud Fit.
He presumed nobody would care. This was for him. Surprisingly, the world took notice. It wasn't long before the global media picked up Andrew's personal interest story and before he could even blink, his wild adventure was foisted into the white hot spotlight.
Over the last year, Andrew has been profiled in countless publications — everything from The Daily Mail and The Daily Telegraph to Buzzfeed. The Today Show did a story on him. He even made an appearances TV's The Doctors.
As he nears the end of his one year experiment in radical dietary simplicity, Andrew has overcome his depression. He's off his meds. And has lost 114lbs.
I'm proud to share Andrew's wild and crazy story with you today.
This is much more than a conversation about what it's like to only eat potatoes. It's a conversation about the pitfalls of moderation and the shortcomings of balance. It's about the incredible courage required to shuck the rule book, challenge the paradigm, stomp on the comfort zone, step way outside the box and attempt something extraordinary.
But ultimately, this is a powerful discourse on the power we all possess — but all too often deny or overlook — to access and unleash untapped reservoirs of human potential to positively control our health and and radically course correct the trajectory of our lives.
We cover a lot of ground in this conversation, including:
how desperation frames perspective
food addiction and decision-fatigue
Andrew's year-long potato-only diet
the adaptability of the human body
Andrew's social media journey
potatoes as a stepping stone to a plant-based diet
channeling extreme behavior in a positive direction
perspective on balance & moderation
meditation, poetry & fatherhood
Andrew's daily potato dishes
managing cravings & future-tripping
eating honestly & mindfully
simplicity and minimalism
I sincerely hope you enjoy the exchange. Put some wind in Andrew's sails by giving him a shoutout on Twitter @SpudFit.
Peace + Plants,

Listen & Subscribe on iTunes | Soundcloud | Stitcher | GooglePlay
Spots are now available for Plantpower Austraila, Feb. 20-27, 2017. For info visit plantpowerworld.com
Check out Julie's podcast divine throughline
Thanks to this week's sponsors:
Harrys.com: A superior shave at an affordable price. We've partnered with Harry's to give you $5.00 off your order when you enter code "ROLL" at checkout. Go to Harrys.com/ROLL right now to get a limited edition holiday shave set while supplies last + free shipping until December 9th
Headspace.com: Train your mind for a healthier, less-stressed life. Download the FREE app and begin their Take10 program, for 10 days of guided meditation at headspace.com/ROLL
Books Mentioned
Notable People Discussed
Related Podcasts You Might Enjoy
Thanks to Jason Camiolo for production, interstitial music and audio engineering; Chris Swan for production assistance & show notes; Shawn Patterson for graphics.
*Disclosure:Books and products denoted with an asterisk are hyperlinked to an affiliate program. We are a participant in the Amazon Services LLC Associates Program, an affiliate advertising program designed to provide a means for us to earn fees by linking to Amazon.com and affiliated sites.
The Plantpower Way  is available at these fine retailers!
Amazon  |  Barnes & Noble  |  IndieBound  |  Penguin
Are you a company interested in sponsoring the podcast? Click here to learn more & take our sponsor survey.
HOW CAN I SUPPORT THE PODCAST?
Tell Your Friends & Share Online!
Subscribe & Review:  iTunes | Stitcher | Soundcloud | TuneIn
Donate: Check out our brand new Patreon account!
Download Our Free App! Now you can access, stream, download and share the entire RRP catalog in the palm of your hand on any iOS mobile device (iPhone, iPad and iPod Touch) with our mobile app. Never miss an episode, plus special announcements, discounts, giveaways. Already downloaded? Awesome. When you have a minute, and it feels right to you, do us a solid and give the app a review in the iTunes Store.