Podcast: Play in new window | Download | Embed
---
"Once you realize that you can do anything that you set your mind to, how you spend your time becomes a spiritual consideration."

Tom Bilyeu
---
Like most of us, Tom Bilyeu chased money for nearly a decade only to end up emotionally bankrupt.
What this filmmaker and serial entrepreneur came to realize is that the struggle is guaranteed. The money is not. So you damn-well better love the struggle.
Acting on this epiphany, Tom and his partners sold their technology company and founded Quest Nutrition — a play premised not on profits, but rather on creating value for people. Ironically, Quest exploded, becoming a billion-dollar business in roughly 5 years, making it the 2nd fastest growing company in North America according to Inc. Magazine.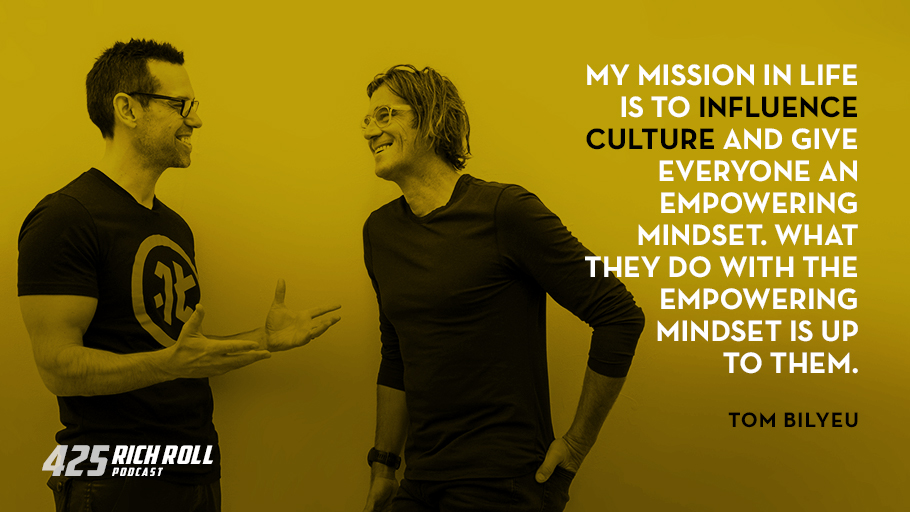 This is all very interesting of course, but it's Tom's next chapter that captured my curiosity. After exiting Quest, Tom embarked on a mission to truly empower people — an act of service aimed at eradicating, at scale, what he sees as an epidemic of impoverished mindset.
Hence was born Impact Theory — a media company with a juggernaut talk show cornerstone in which he goes deep with all manner of inspiring people dedicated to positive transformation. The aim? To influence the cultural subconscious by building a single-minded content creation machine that makes exactly one type of content — content that empowers people.
A long-time fan of Impact Theory, I had the good fortune of being a guest on Tom's show a few months back. I walked away from that experience even more impressed with Tom. Sure, he's über successful. And the legacy he is now building is as masterful as it is laudable. But it's his generosity of spirit, matched with a keen and heartfelt curiosity, that left a lasting impression on me. The more I looked into this man and his mission, the more convinced I became that he would make a great guest for the show. And so here we are.
This is an exchange designed to upend your sense of personal possibility. Shock you out of The Matrix. Change the story you tell yourself about yourself. Facilitate greater expression of the true self within. Access reservoirs of hidden potential. And ultimately become the best version of who you really are.
And it all begins with changing your mindset.
As someone who operates in a similar landscape, I have the upmost respect for Tom's mission and him as a person. Chocked with practical advice and implementable takeaways from the frontlines of business, relationships, personal growth, self-improvement and everything in between, this conversation does not disappoint.
To view our conversation on YouTube, visit bit.ly/tombilyeu425 And don't forget we're also now on Spotify here: bit.ly/rrpspotify
Let the master class begin!
Peace + Plants,

Listen, Watch & Subscribe
Apple Podcasts | YouTube | Spotify | Stitcher | Google Podcasts
Thanks to this week's sponsors
Brandless: Better stuff, fewer dollars. It's that simple. Shop carefully curated, affordable products shipped directly to your home. Gluten Free. Vegan. Cruelty Free. Non GMO. Tree Free Paper Products. Certified Organic. Go to brandless.com/richroll to get free shipping on orders of $48 or more.
Fully: From the popular Jarvis adjustable standing desks to their every-which-way active office chairs, to their many movement supporting accessories — anti-fatigue mats, treadmill desks and more — Fully is all about helping you bring more movement, energy and joy to your work and life. To get your body moving in your workspace, visit: fully.com/RICHROLL.
Native: Safe, Effective Protection Against Odor & Wetness. For Men & Women. Deodorant That Isn't A Chemistry Experiment – No Aluminum, Parabens, Phthalates Or Talc. Nontoxic Ingredients. Paraben Free. Aluminum Free. Lasts All Day. For 20% off your first purchase, visit nativedeodorant.com and use promo code "RichRoll" during checkout!
Note: One of the best ways to support the podcast is to support our sponsors. For a complete list of all RRP sponsors and their respective vanity url's and discount codes, visit my Resources page and click "Sponsors".
SHOW NOTES
Ready to unlock your potential? Check out full episodes of Impact Theory on YouTube!
Background, Context & Reference:
Notable People Discussed:
Yuval Noah Harari: historian, lecturer, author Sapiens: A Brief History of Humankind *, Homo Deus: A Brief History of Tomorrow*, 21 Lessons for the 21st Century* and podcast guest
Tim Ferriss:  podcaster, public speaker, entrepreneur, multiple NYT bestselling author and podcast guest
David Goggins: Navy SEAL, Endurance Athlete and podcast guest
Mark Divine: Nany SEAL, speaker, coach and author
Carol Dweck: Professor of Psychology at Stanford University, Author of Mindset: The New Psychology of Success*
Phil Jackson: American professional basketball executive
Mitch Hedberg: was an American stand-up comedian known for his surreal humor and unconventional, often deadpan comedic delivery
Michael Madsen: actor, producer, director, writer, poet and photographer
Joe Rogan: host of the JRE Podcast, stand-up comedian and retired martial artist
Steve Aoki: electro house musician, record producer, DJ, and music executive
Nassim Nicholas Taleb: essayist, scholar, statistician, and former trader and risk analyst, whose work focuses on problems of randomness, probability, and uncertainty
Walt Disney: entrepreneur, animator, voice actor and film producer. A pioneer of the American animation industry, he introduced several developments in the production of cartoons
Related Podcasts You Might Enjoy:
Thanks to Jason Camiolo for production, audio engineering, interstitial music. Video, editing and graphics by Blake Curtis and Margo Lubin. Theme music by Ana Leimma.
*Disclosure: Books and products denoted with an asterisk are hyperlinked to an affiliate program. We are a participant in the Amazon Services LLC Associates Program, an affiliate advertising program designed to provide a means for us to earn fees by linking to Amazon.com and affiliated sites.