Podcast: Play in new window | Download | Embed
---
"The key to being positive and happy is doing what you love. I'm very lucky to still be able to do that. I don't have a 'Plan B'. I never really had one. I just live my life."

 Toby Morse
---
Tattoos. High intensity sound. Stage diving. For the unfamiliar, it's chaos. Scary. Violent, even. But to today's guest, being hardcore straight edge is magical — a grassroots community dedicated to art, not anarchy. Celebrating life. And making the world a better place.
Best known around the world as the charismatic, energetic and always smiling front man for hardcore punk band H2O, Toby Morse was raised by a single mom in Massachusetts before moving to New York City in 1988 with a dream of becoming a musician. Immersing himself in the burgeoning punk rock scene of Manhattan's Lower East Side, he worked odd jobs. He was a roadie. And in 1994, inspired by Bad Brains, he formed a band that would ultimately become synonymous with the Straight Edge and Positive Mental Attitude ('PMA") movements.
Their self-titled debut album came out in 1996. Over the years, H2O has played alongside acts like No Doubt and Misfits. In 1998 and 1999 they joined the Warped Tour. Still together, the band continues to pack venues the world over, including a recent European tour that featured Toby's teenage son Max on drums.
A dedicated vegan who has never himself touched drugs or alcohol, Toby is also a family man, self-professed "Emo Dad" and the founder of One Life One Chance — a non-profit dedicated to inspiring elementary, middle and high school students to make healthy choices and live a drug-free life. Through public speaking engagements, Toby informs kids how possible it is to maintain PMA, break stereotypes, be a leader, and maintain self-respect.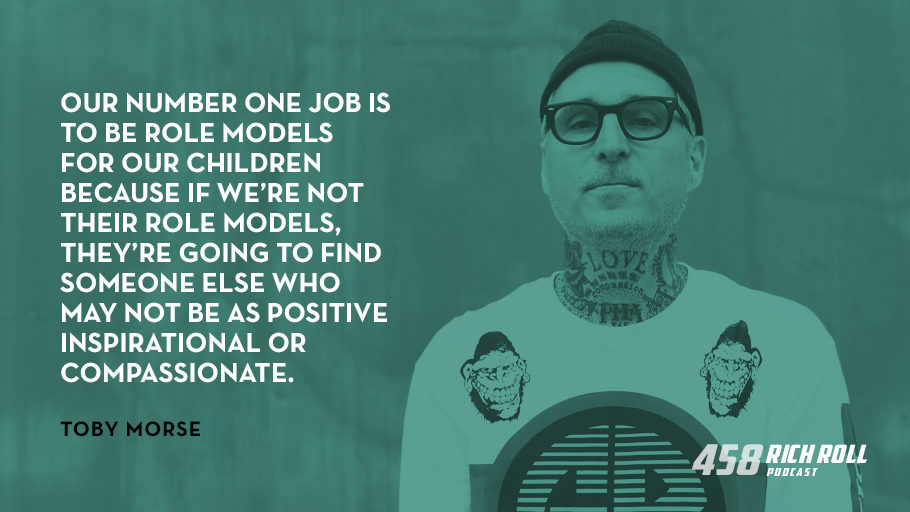 Toby first came on my radar a couple years ago by way of podcast favorite, Cro-Mags frontman and fellow hardcore PMA warrior John Joseph. A friend of JJ's is a friend of mine, so I got hip to Toby's Instagram and quickly fell in love with his consistent flow of uplifting posts. His family-centric high vibe. The gentle, beautiful and uncompromising way he celebrates individuality, honoring the misfits and uplifting the weirdos. And his unwavering commitment to serving kids with his enthusiastic message of hope and positivity.
I needed to know more.
So here we are.
Of course, this is a conversation about Toby's life. Being raised by older brothers who taught him to skate, introduced him to the music that would define his life and scared him straight. It's about what he learned about life from Bad Brains, Cro-Mags and Napoleon Hill. It's about veganism. Parenting. Art. And, of course, PMA.
But most of all, this is a conversation about honoring non-conformity — exalting what makes you uniquely you. It's about the importance of community and family. And it's about the courage to blaze your own path.
The visually inclined can watch our entire conversation on YouTube here: bit.ly/tobymorse458 (please subscribe!) and the podcast is of course available on Apple Podcasts and Spotify.
One thing is for sure — I've found a new friend in Toby. I'm inspired by his wisdom and example. And I'm honored to share his extraordinary life with you today.
Peace + Plants,

Listen, Watch & Subscribe
Apple Podcasts | YouTube | Spotify | Stitcher | Google Podcasts
Thanks to this week's sponsors
Outerknown: For the people and the planet, Outerknown was founded by pro surfer Kelly Slater to provide high quality, environmentally sustainable clothes that fit great and are made to endure. Visit: Outerknown.com today and enter promo code RICHROLL at checkout to receive 25% OFF your full price order.
Tommy John: We fixed men's underwear. Smart design and fabrics mean no more pulling at your pant line. Get comfortable with yourself. No Adjustment Needed. Hurry to tommyjohn.com/RICHROLL now for 20% off your first order!
Squarespace: The easiest way to create a beautiful website, blog, or online store for you and your ideas. Save 10% at checkout when visit squarespace.com/richroll and use the coupon code "RICHROLL" at checkout.
Note: One of the best ways to support the podcast is to support the sponsors. For a complete list of all RRP sponsors and their respective vanity url's and discount codes, visit my Resources page and click "Sponsors".
Notable People Discussed:
John Joseph: punk rock signer for Bloodclot / Cro-Mags and multi-episode podcast guest
Travis Barker: drummer for the rock band Blink-182, musician, producer, author and podcast guest
Moby: DJ, record producer, singer, songwriter, musician, photographer, animal rights activist and podcast guest
Bad Brains: Hardcore punk band formed in Washington, D.C., in 1977. Widely regarded as among the pioneers of the hardcore punk rock scene
Napoleon Hill: was an American self-help author best known for his book Think and Grow Rich* which is among the 10 best selling self-help books of all time
Kevin Seconds: musician, songwriter, lead singer for 7 Seconds
Josh Brolin: actor; has appeared in films such as No Country for Old Men, American Gangster, Deadpool 2, and Avengers: Endgame & played drums in hardcore punk band Rich Kids on LSD
Bam Margera: professional skateboarder, stunt performer, and Jackass television personality.
KRS-ONE: rapper and occasional producer from The Bronx who rose to prominence with Boogie Down Productions
Related Podcasts You Might Enjoy:
*Disclosure: Books and products denoted with an asterisk are hyperlinked to an affiliate program. We are a participant in the Amazon Services LLC Associates Program, an affiliate advertising program designed to provide a means for us to earn fees by linking to Amazon.com and affiliated sites.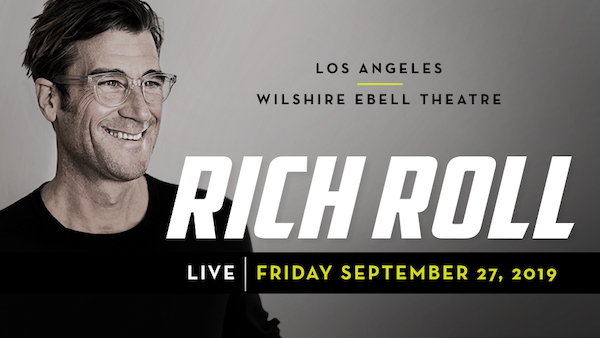 Thrilled to announce my first live show + podcast! Click here for tickets
 HOW CAN I SUPPORT THE PODCAST?
Tell Your Friends & Share Online!
Subscribe & Review:  iTunes | Spotify | Stitcher | Soundcloud | Google Podcasts
Donate: Check out our Patreon account
Download Our Free App: Now you can access, stream, download and share the entire RRP catalog in the palm of your hand on any iOS mobile device (iPhone, iPad and iPod Touch) with our mobile app. Never miss an episode, plus special announcements.
Support The Sponsors: One of the best ways to support the podcast is to support our sponsors. For a complete list of all RRP sponsors and their respective vanity url's and discount codes, visit my Resources page and click "Sponsors".