Podcast: Play in new window | Download | Embed
---
"We will stay crippled in the darkness if we cannot feel compassion for the heart that is the darkest."

 Amanda Palmer
---
Today's guest is many things. A fiercely independent singer, songwriter and musician. A bestselling author and blogger. A playwright and director. A riveting speaker and a viral TED Talk-er. A crowdfunding mom. An ardent feminist. And a fearless activist.
Living and breathing at the cutting edge of expression in all forms, Amanda Palmer is an iconic, bold and sui generis performer constantly innovating what it means to be an artist in the modern age.
Getting her start as a busking eight-foot bride statue in Harvard Square, she would go on to form one-half of the inventive, punk cabaret act The Dresden Dolls before launching one of the most successful crowd-funded solo careers in music history.
Leaning into her devoted audience to support her seemingly endless fount of creativity, Amanda helped resuscitate the ancient art of artistic patronage, giving us all permission to ask. And more importantly perhaps, the encouragement to receive.
Further to this idea, The Art of Asking, Amanda's sensational 2013 TED Talk, would go on to be viewed over 20 million times and led to her New York Times bestselling memoir, The Art of Asking: How I Learned to Stop Worrying and Let People Help*.
Leveraging her legion of 15,000 Patreon supporters, Amanda's career is wholly devoted to her adoring fans eager to support her creations. Her latest offering, There Will Be No Intermission, is a beautiful, haunting and powerful solo album and world tour that grapples with the very personal and social emotional landscape of abortion, miscarriage and death.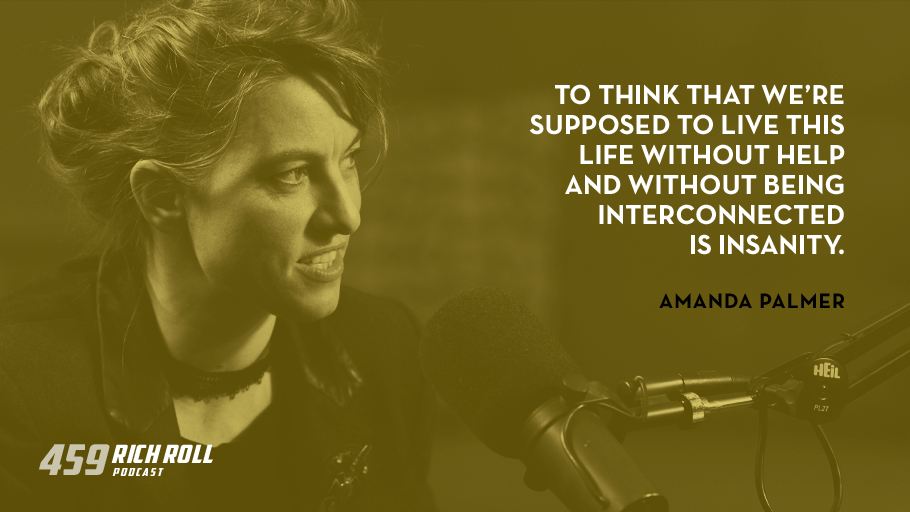 This past May I had the good fortune to witness Amanda's epic 4 1/2 hour show at the Ace Theatre here in LA. I was extremely moved by it. And even more privileged to host this conversation with her the following day.
This is a conversation about what it means to be radically compassionate — open-hearted to even those we deem undeserving — and why humanity depends on empathy for its survival.
It's about the strength that can be gathered when we're courageous enough to be truly vulnerable.
It's about the perniciousness of perfectionism — the true enemy of creative expression.
Why asking help is so hard, but crucial — also welcome.
And some uncomfortable truths about my hero Henry David Thoreau. Hint: it involves donuts.
In the spirit of vulnerability, I'll freely admit I was a bit nervous and intimidated — I mean who wouldn't be?
Nonetheless, it was an honor to spend an hour with one of the great creative voices of our time. I'm delighted to share the experience with you today.
The visually inclined can watch our entire conversation on YouTube here: bit.ly/amandapalmer459 (please subscribe!) and the podcast is of course available on Apple Podcasts and Spotify.
Enjoy!
Peace + Plants,

Photos courtesy of Ali Rogers.
Listen, Watch & Subscribe
Apple Podcasts | YouTube | Spotify | Stitcher | Google Podcasts
Thanks to this week's sponsors
Audible: With more than 180,000 audiobooks and spoken-word audio products, you'll find what you're looking for. Rich Roll listeners are entitled to a FREE audiobook and 30-day trial today by signing up at audible.com/richroll or text RICHROLL to 500-500
DesignCrowd: Custom graphic, logo and web design from over 550,000 designers around the world. Get the perfect custom design, every time! Visit designcrowd.com/RICHROLL or enter promo code RICHROLL at checkout and receive up to $100 off your design project now!
Note: One of the best ways to support the podcast is to support the sponsors. For a complete list of all RRP sponsors and their respective vanity url's and discount codes, visit my Resources page and click "Sponsors".
Notable People Discussed:
Neil Gaiman: (Amanda's husband), author of short fiction, novels, comic books, graphic novels, nonfiction, audio theatre, and films
Brené Brown: scholar, author, and public speaker specializing in vulnerability
Henry David Thoreau: American author, philosopher
Ralph Waldo Emerson: American essayist, poet
Steve Jobs: was an American business magnate and investor. He was the chairman, chief executive officer, and co-founder of Apple Inc. and the chairman and majority shareholder of Pixar

Dzhokhar A. Tsarnaev

: is a Kyrgyz-American convicted terrorist of Chechen descent who was convicted of planting pressure cooker bombs at the Boston Marathon on April 15, 2013, along with his brother Tamerlan Tsarnaev. The bombings killed three people and injured approximately 280 others
Related Podcasts You Might Enjoy:
*Disclosure: Books and products denoted with an asterisk are hyperlinked to an affiliate program. We are a participant in the Amazon Services LLC Associates Program, an affiliate advertising program designed to provide a means for us to earn fees by linking to Amazon.com and affiliated sites.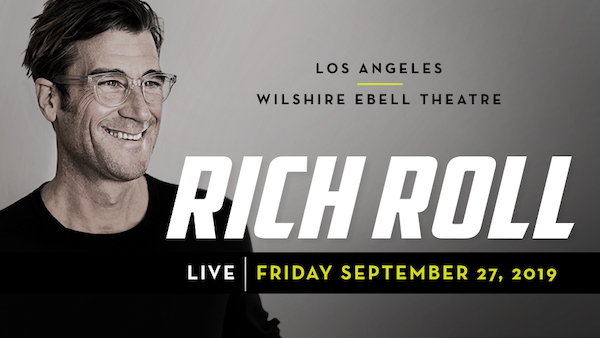 Thrilled to announce my first live show + podcast! Click here for tickets
 HOW CAN I SUPPORT THE PODCAST?
Tell Your Friends & Share Online!
Subscribe & Review:  iTunes | Spotify | Stitcher | Soundcloud | Google Podcasts
Donate: Check out our Patreon account
Download Our Free App: Now you can access, stream, download and share the entire RRP catalog in the palm of your hand on any iOS mobile device (iPhone, iPad and iPod Touch) with our mobile app. Never miss an episode, plus special announcements.
Support The Sponsors: One of the best ways to support the podcast is to support our sponsors. For a complete list of all RRP sponsors and their respective vanity url's and discount codes, visit my Resources page and click "Sponsors".