Podcast: Play in new window | Download | Embed
---

"When we block or suppress or push aside emotions, we actually stop ourselves from being our most effective, successful beings."

Susan David PhD
---
The way we navigate our inner world – our everyday thoughts, emotions, and self-stories – is the single most important determinant of our life success. It drives our actions, careers, relationships, happiness, health; everything. For example: Do we let our self-doubts, failings, shame, fear, or anger hold us back? Can we be determined, persevering toward key life goals, but just as importantly, have the insight and courage to recognize when these goals are not serving us, and adapt?
According to this week's guest, the key to successfully navigating our inner world isn't immunizing ourselves against stress and setbacks. And it doesn't involve ignoring uncomfortable feelings. Instead, it's developing something called emotional agility — the teachable ability to confront difficult emotions, gain critical self-insight from these feelings, and ultimately use this newfound awareness to adaptively align our values with our actions and make changes to bring the best of ourselves forward.
A pioneer in her field, Susan David, Ph.D is an award-winning psychologist on faculty at Harvard Medical School, CEO of Evidence Based Psychology and co-founder of the Institute of Coaching (an affiliate of Harvard Medical School). She also serves on the Scientific Advisory Boards of both Thrive Global and Virgin Pulse.
In addition, Susan is the author of the #1 Wall Street Journal bestseller, Emotional Agility: Get Unstuck, Embrace Change, and Thrive in Work and Life*. Based on a concept Harvard Business Review heralded as a Management Idea of the Year, it's a powerful roadmap for real behavioral change — a new way of acting that will help you to reincorporate your most troubling feelings as a source of energy and creativity, and live your most successful life whoever you are and whatever you face.
Susan is a frequent contributor to the Harvard Business Review, New York Times, Washington Post, and Wall Street Journal. She is a sought-after speaker and consultant, with clients that include the World Economic Forum, the United Nations, Google, Microsoft, NASDAQ, and many others.
If you are new to Susan, start with her moving TED Talk, The Gift and Power of Emotional Courage. A viral sensation and the inspiration for me seeking her out for the podcast, it's accumulated almost 2 million views in the month since it's online publication.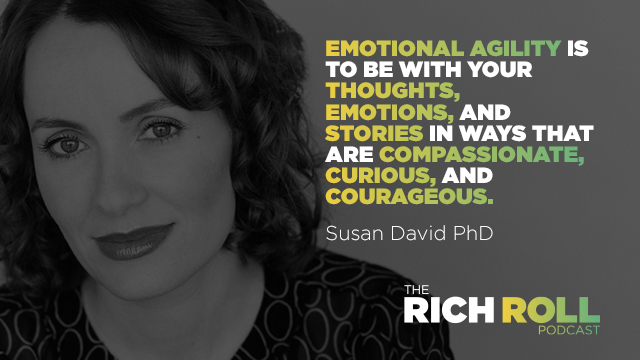 This is a conversation about Susan's life growing up in a South Africa divided by Apartheid, and how this experience informs her work today.
It's about how and why our emotional landscape, the everyday thoughts and stories we often hide from the world and oftentimes ourselves, are the single most important determinant of life success. And why navigating life's twists and turns with self-acceptance, clear-sightedness, and an open mind leads to empowerment and agency.
It's about why we must overcome the urge to ignore difficult emotions and behaviors to instead face them willingly, as a neutral observer, with curiosity and kindness.
It's about identifying your core values as a path to willpower, resilience and effectiveness.
And it's about how developing this skill called emotional agility – essentially mastery over our emotions, thoughts and stories — can benefit not just ourselves but our children, helping even our youngest become better problem solvers and engaged learners more resilient against anxiety and depression.
But more than anything, this is a conversation about the perils of avoiding uncomfortable feelings.
Because the tough emotions are the price we pay for a meaningful life.
Susan is amazing. I'm grateful for this dynamic conversation. And my hope is that you will find it as helpful and entertaining as I did.
Watch & Subscribe on YouTube: http://bit.ly/susandavidrrp
Peace + Plants,

Listen, Watch & Subscribe
Apple Podcasts | YouTube | Soundcloud | Stitcher | GooglePlay
Thanks to this week's sponsors
Quip: Your one stop solution for oral health! Buy a quip toothbrush from $25 and get up to $5 off your first refill pack by visiting getquip.com/ROLL and using promo code "ROLL" during checkout.
Four Sigmatic: A superfood company founded by a group of Finnish friends. They aim to popularize medicinal mushrooms by incorporating them in more mainstream products like coffee and hot cocoa. Visit www.foursigmatic.com/roll and enter the promo code ROLL at the checkout and save 15% on your order!
DesignCrowd: Custom graphic, logo and web design from over 550,000 designers around the world! Get the perfect custom design, every time! Visit designcrowd.com/RICHROLL or enter promo code RICHROLL at checkout and receive up to $100 off your design project now!
Note: One of the best ways to support the podcast is to support the sponsors. For a complete list of all RRP sponsors and their respective vanity url's and discount codes, visit my Resources page and click "Sponsors".
SHOW NOTES
Join over 100,000 quiz takers and get your free Emotional Agility report.
Test yourself at: www.susandavid.com/learn
Background, Context & Reference
Books by Susan David PhD
Notable People Discussed In Today's Podcast
Related Podcasts You Might Enjoy
Thanks to Jason Camiolo for production, audio engineering and show notes; Michael Gibson for videography and Blake C. Curtis graphics. Theme music by Ana Leimma.
*Disclosure: Books and products denoted with an asterisk are hyperlinked to an affiliate program. We are a participant in the Amazon Services LLC Associates Program, an affiliate advertising program designed to provide a means for us to earn fees by linking to Amazon.com and affiliated sites.
Are you a company interested in sponsoring the podcast? Click here to learn more & take our sponsor survey.
HOW CAN I SUPPORT THE PODCAST?
Tell Your Friends & Share Online!
Subscribe & Review:  iTunes | Stitcher | Soundcloud | TuneIn
Donate: Check out our Patreon account!
Download Our Free App! Now you can access, stream, download and share the entire RRP catalog in the palm of your hand on any iOS mobile device (iPhone, iPad and iPod Touch) with our mobile app. Never miss an episode, plus special announcements, discounts, giveaways. Already downloaded? Awesome. When you have a minute, and it feels right to you, do us a solid and give the app a review in the iTunes Store.
Support The Sponsors: One of the best ways to support the podcast is to support our sponsors. For a complete list of all RRP sponsors and their respective vanity url's and discount codes, visit my Resources page and click "Sponsors".